These are rebate apps I love and use to save money. You can maximize your savings even more by using these apps if you use coupons. No long intro here, let's get right to it:

Compatible with:  ios, android
What is it:  This app let's you earn cash back on things you buy by submitting your receipt and/or linking your store loyalty card.
How it works:
Add rebate offers by completing tasks such as completing a survey, watch videos or taking a poll before you shop
After purchasing those items, redeem your rebate on the app by taking a photo of your receipt and the item barcode.
Ibotta reviews your receipt and deposits your cash to your account within 48 hours.
Withdraw your earning via Paypal or Venmo when you reach $20
Or you can opt for a gift card instead.
Compatible with: ios, android, desktop
What is it:  This service is similar to Ibotta and Checkout51.
How it works:
Add your Automatic-Saving Stores (ex. CVS, Rite Aid, Safeway etc) loyalty card numbers in your account.
Add your Receipt-Scan Stores (ex. Target, Walmart) to your account
Activate the offer you want.
Buy in one trip (or many as per offer) at any store.
For Automatic-Saving stores, be sure to use your registered/loyalty card at checkout.
For Receipt-Scan stores, submit your receipt online or via the app.
You will receive an email alert after you've made your purchase and another email when you've earned your reward.
Cash out once you have $5.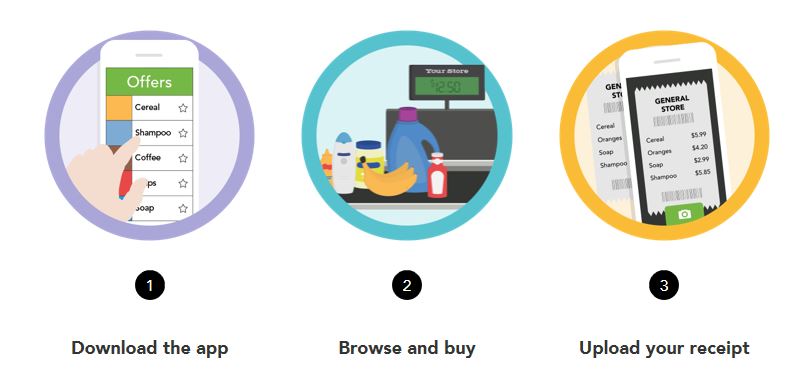 Compatible with: ios, android, desktop
What is it:  Same as Ibotta, the only difference is that Checkout51 offers are only valid for 1 week and new ones are posted every Thursday. Also, there is no need to do anything to unlock the offers – I like that.
How it works:
Pick the offers that you'll be purchasing that week.
Purchase them at any store (some rebates requires you to purchase at specific stores)
Upload your receipt by midnight on Wednesday to earn the cash back.
Cash out when you reach $20.
New offers are added every Thursday morning.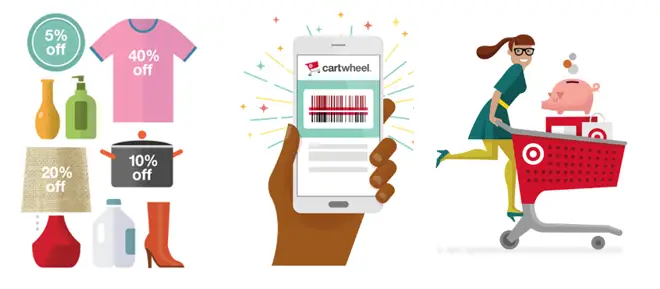 Compatible with:  ios, android, desktop
What is it:  Additional savings at Target that can be used with mobile coupons and internet printable coupons. It also has current Target threshold coupons (ex. $10 off $50 ) and manufacturer coupons.
How it works:
Browse through offers and add the ones you like. View your list by tapping on 'My List.'
Tap on 'Checkout' to view your Cartwheel barcode when you're at the register.
'Checkout' also has current Target coupon offers. Just tap on 'Coupons'
Have the cashier scan the bar code to receive the discount.
Cartwheel is scanned after all Target coupons have been applied and before manufacturer coupons.
Tips:
You can also print your Cartwheel barcode from the website. This comes in handy if your phone runs out of battery.
Keep in mind that you're allowed to combine (1) manufacturer coupon (digital or paper), (1) Target coupon (digital or paper) and Cartwheel offer (10%, 5% off discounts).

Compatible with:  ios, android, desktop
What is it: It's like a virtual price-matcher but you get the difference after your purchase.
How it works:
After your recent trip to Walmart, scan your receipt using the Walmart App (must be within 7 days)
If Savings Catcher finds a lower price, the difference will be added to your account in the form of Rewards Dollars.
You can redeem Rewards Dollars to a Walmart Rewards e-gift Card to use at Walmart or Walmart.com. E-gift cards are sent to your email.
Or you can redeem Rewards Dollars to a Bluebird by American Express and become Walmart Buck$ which can be used at Walmart or Walmart.com.
Tip: You can add your Walmart gift cards and Bluebird account via Walmart Pay in the app.

Compatible with:  ios, android
What is it:  An app that rewards you just by walking into stores and/or scanning product bar codes. You also earn rewards on your purchases when you link your card with your Shopkick account. Kicks are rewards you earn and can be redeemed for gift cards.
How it works:
Be sure your GPS is on and then launch the Shopkick app on your mobile device.
Earn rewards (kicks) when you walk into a store, scan barcodes of featured products, purchase with linked card, purchase an item and submit receipt (like iBotta).
Or earn rewards by visiting mobile sites and apps, viewing select products, make mobile purchases and watch videos.
Redeem kicks for gift cards (500 kicks can be redeemed for a $2 Target gift card)

Compatible with:  ios, android
What is it: Get cash back on fruits, veggies and foods that are organic, gluten-free and non-gmo.
How it works:
Browse the BerryCart offers. Rate the product + learn a small fact about the product to maximize rebate value.
Redeem offers by scanning your receipt.
Receive your cashback within 24 hours of submitting your receipt.
Cashout when you have $5 via Paypal or pick a gift card as low as $5
Compatible with:  ios, android, desktop
What is it: This app allows you to buy discounted gift cards and sell unwanted gift cards.
How it works:
Buy discounted gift cards – before you shop be sure to check out available discounted gift cards which you can use in-store and online.
Sell unwanted gift cards to thousands of shoppers. Just list your gift card at a price you choose. Gift cards and merchandise credits are accepted.
Tip: Sometimes, Raise has promo codes you can use to get a deeper discount on gift cards from stores like Sephora, Macy's, Walmart, Starbucks, etc.
I'm sure there are lots of other apps out there but these are the ones I use most often. Keep in mind that many offers from all of these apps can be used simultaneously. For example, if Ibotta and Checkout51 are both offering $0.50 cash back on a gallon of milk, you can upload your receipt to both apps and earn $1.00 total. Awesome, right? You can also use coupons and still get cash back on the things you purchase unless otherwise noted on the offer.
Want to learn how to use coupons? Check out My Ultimate Couponing Guide + Resources page.