ABOUT THE BLOG
This blog isn't about eating ramen every night or sharing a toothbrush to save – like why? Instead, it's about spending money wisely so that we can afford the luxuries without worry – healthy food, going on vacations, (and going to Dollar Tree without checking the price!)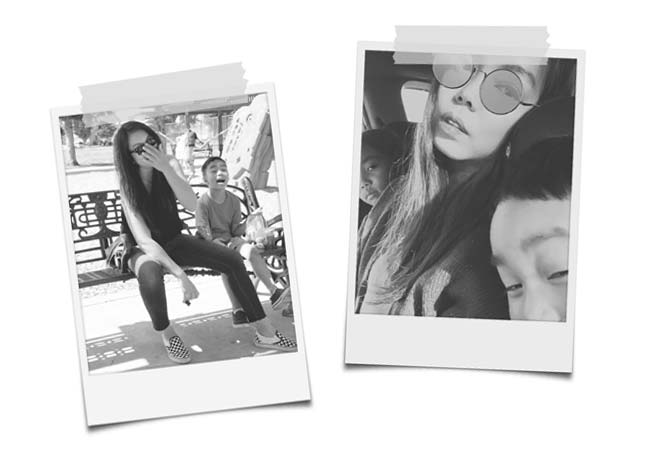 ABOUT THE AUTHOR
Hello, I'm Glenda and I'm really glad you're here!
             
I live in Northern California with my husband and two kids. I love deals and Target! You, too? Ok, let's be friends!
I was a freelance graphic designer, Etsy shop owner, part-time teller, and an engineering student before I became a mom. I loved this season of life. My goals were clear and my inner-artist heart was fulfilled.
I became a stay-at-home mom when we had our first baby in 2009. The first time I met my daughter I thought to myself, "There was no way I'm leaving her with a babysitter." It was a decision my husband fully gave his support. No regrets.
Motherhood was a league of its own! I suffered from sleep deprivation and postpartum depression. It was difficult and even more so with the arrival of our son 21 months later. Being a mom demanded much, much more from me – mentally, physically and spiritually. At the same time, I've lost who I was. Have you ever felt that way? I think it's because I put myself last on the priority list; I didn't take care of me.
This was the time I started to look for answers in books, turned to meditation and also learned couponing.
Ohhh yes, COUPONING! I saw it in the news one evening and the rest was history.
Being a stay-at-home mom gave me an opportunity to learn and grow as a person. I reflected a lot on where I was in my life and how I wanted to live it. I learned about mindfulness and minimalism. I'm not a minimalist but I do incorporate a lot of minimalism philosophies in all aspects of my life.
I am grateful to be able to stay home with my children. I am grateful for couponing which became part of my lifestyle.
I'm grateful for you for visiting and reading my blog.
RANDOM FACTS
STAR SIGN
taurus
FAVORITE MOVIES
the matrix trilogy
star trek trilogy
FAVORITE TV SHOW
all star trek series
MAKEUP UNIFORM
brow pencil + eyeliner + mascara + blush
DAILY UNIFORM
high-rise jeggings + tee + slip-on sneakers
STRONGLY DISLIKES
earthworms, cold weather
FAVORS
anything with peppermint + almonds + pretty papers
FAVE STORE TO COUPON
cvs/pharmacy
FAVE SELF-HELP BOOKS
the awakened family, 7 habits of highly effective people, e-myth, the power of now, the richest man in babylon, the art of communicating