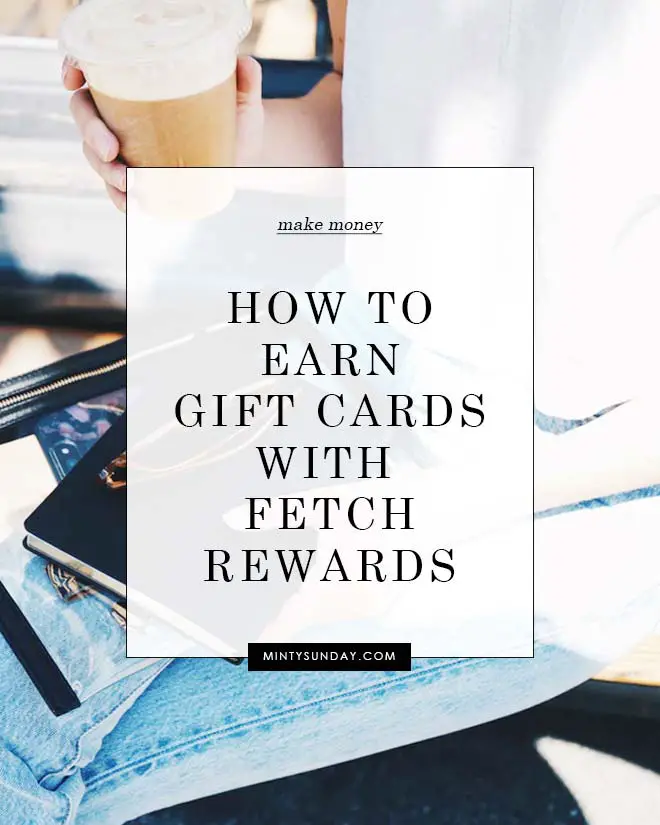 Who doesn't love free gift cards? I love earning extra cash using apps especially if they're fuss-free with quick turn around on my rewards!
I discovered Fetch Rewards recently and have already accumulated over $10 just by scanning my receipts without much effort and time.
Fetch Rewards
What is it? –  This app lets you earn points (1000 = $1) when you scan your grocery receipts.
Compatible with –  ios, android
Rewards – As low as $3 on gift Target, Starbucks, Amazon, Panera, Barnes & Noble, Best Buy and many more! There's over 100 merchants available.
How to Earn Free Gift Cards with Fetch Rewards
REGISTER
Go to the app store on your phone and download the free Fetch Rewards App.
Sign up for an account – enter my referral code GB3QR to receive an instant $2 free when you scan your first receipt!
TIP – Create a separate email account for your rewards apps. This way it's easier to track and your main email won't get a lot of spam.
NAVIGATE THE BOTTOM MENU
SAVE – Tap on this to view current offers available. Tap on that offer to get all the details.
PLAN – This is a place for enter your grocery list and the app will automatically show current offers to match that entry. This section also has Recipes available for you!
SCAN – Tap on this icon when you are ready to scan your receipt.
REWARDS – This is where you can view how many points you currently have, types of gift cards you can earn and current rewards you recently redeemed.
ME – This is your account page, referral code, help center and view your lifetime points!
UPLOAD YOUR RECEIPT
Tap the SCAN icon on the bottom menu.
Tap on the SCAN RECEIPT.
Scan your receipt. It can take several minutes to 48 hours to receive your rewards – any longer, contact their support team.
You can upload grocery receipts up to 14 days old.
There's a limit of 14 receipts per week.
TIP – Upload every receipt you have, most of the time you'll get bonus points for just uploading a receipt!
CASH OUT
You'll need a minimum of 3000 points ($3) to redeem points for a gift card.
You earn 250-3000 points per offer and 25+ points per receipt.
Each time you redeem your points for gift cards, you'll receive instructions on how to use them in an email.
TIP – Save up your gift cards for specific occasions or events like the holidays or vacations. I save my points to get Target or CVS gift cards so that I can roll onto rewards and more gift cards.
REFER FRIENDS
Earn more points by referring your friends and family! You can find your own referral code under the ME section on the bottom menu.
Each time you refer a friend that uses your code, you'll both receive 2000 points or $2 bonus.
You'll receive your bonus once your friend scans his/her first receipt.
Here's my referral code if you want to use it – GB3QR
Final Thoughts
This is the most fuss-free earning app I've ever used! I don't have to purchase the special offers from specific stores and I earn points for almost every receipt I scan! So far, I've scanned my receipts from grocery stores, big box stores, drugstores and even specialty stores like Whole Foods. Here's a list of the stores they'll accept. Most of the time I get bonus points so it's super easy to reach the 3000-point threshold.
The app has some minor glitches at times where it will freeze or I can't submit a scanned receipt. To remedy this, I just close the app and try again in a couple of hours. Fetch Rewards is a fairly new app so I'm willing to overlook that.
This app is definitely worth the effort. It takes me about 1 minute to upload a receipt. To keep it even more low maintenance, I don't even pay attention to the special offers. I just upload my receipts! But if you're a couponer, be sure to look at those special offers because I've seen products we normally get for cheap with coupons and rewards! So yay!