"Alexa, what are my deals?"
Are you ready for Amazon Prime Day?
What the heck is it anyway?
Well, it's the days (used to be a day) when there are amazing deals on Amazon!
But we aren't saving if we're buying just because it's a good deal.
In this blog post, I'll let you in all the details and shopping tips to help you save time and money!
Also, I created a dedicated blog post for The Best Amazon Prime Day Deals, you can check it out here.
Amazon Prime Day 2020 Delayed
Amazon Prime Day is usually held in July. 
However because of the current global situation, Amazon has not announced when this epic retail event will happen in 2020.
It's rumored to have been delayed by 2 months, so around September.
Check out this Amazon page for updates. 
I'll definitely keep this post updated.
In the meantime, you can read on to prepare for this event!!
Don't have time now? Pin it for later!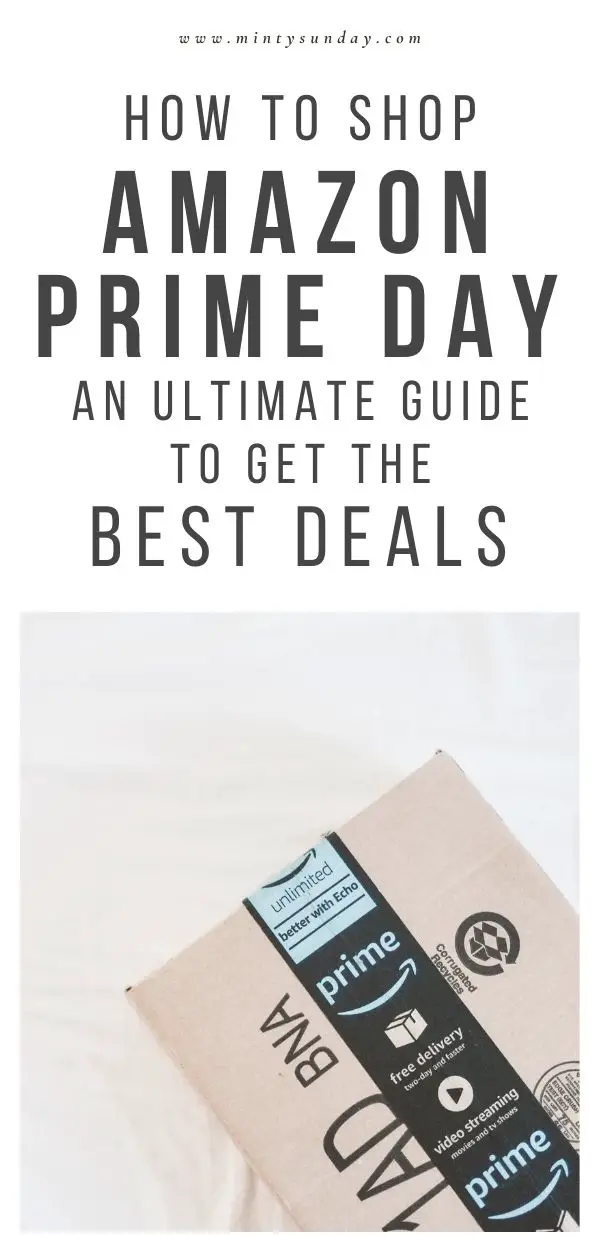 Amazon Prime Day 2019 Details
When

– Prime Day begins on 12 AM PT on Monday, July 15 – 11:59 PM PT on Tuesday, July 16

Reminders

 

Time to use your Amazon credit you received from shopping at Whole Foods.

Prime Day Twitch deals and Prime Day Whole Foods deals have already started.
What is Amazon Prime Day?
Prime Day is an annual celebration with epic deals and new product launches exclusively for Prime members. 
It started in 2015 to celebrate Amazon's 20th anniversary. Since then, it grew into a massive success being celebrated in 16 different countries.
This year, Amazon is extending the length of sale to 48 hours as opposed to last year's 36-hour extravaganza.
Should I sign up for Amazon Prime now?
Prime Day is exclusively for Prime members – the annual subscription costs $119 or $12.99 per month.
If your main purpose is to get deals during Prime Day, you have these choices:
sign up for a free 30-day trial and then cancelling that membership before it expires

sign up for a monthly membership
But don't forget that  other major retailers will compete with Amazon prices namely eBay, Target, Walmart, Old Navy (offering 50% off everything!), Nordstrom, and Macy's.
For example, I've seen Macy's offer this Instant Pot Duo 6-Quarts for just $59.99 and, you guessed it, It's also available on Walmart.com for the same price!
How to Gain Access to Amazon Prime Day Deals for Free
I definitely recommend signing up for a free 30-day Prime trial – for new customers only – to participate during Prime Day.
I want to sign up for a free 30-day Trial
Remember to cancel BEFORE your trial ends to avoid paying for the membership if you don't want to continue.
If you've already used your trial membership, here are other ways you can get it on the cheap.
Government Assistance
Amazon Prime is only $5.99 a month to families who are on government assistance such as TANF, Medicaid, or SNAP (also known as Food Stamps).
Get all the details and sign up here.
College Student Discount
If you're currently a college student you can get Prime for 50% off or $6.49 a month. 
All you need is an .edu email address or prove that you're a college student.
Get more info and sign up here.
Share Prime Membership
Did you know you can share a Prime membership via Amazon Household?
Maybe you and a buddy can share or you know someone who's willing to share their membership with you temporarily.
I personally share mine with my sister.
You can easily set up your Amazon household here.
Sign up for a Short Term Plan
This is ideal if you're planning to purchase a big ticketed item and the savings make it worth it.
The Prime membership $12.99 a month, so it'll be up to you if it's worth it or not. If you do sign up, be sure to cancel before the month ends.
Here are some benefits you can enjoy being a Prime member even after Prime Day.
What do I get with an Amazon Prime Membership?
Click here for more membership benefit and information
How and Where do I find Amazon Prime Day Deals?
Find sneak peeks of upcoming Prime Day Deals here or via the Amazon App – you can download it here.
You can shop deals on:
Amazon.com

using the Amazon App

Alexa and Alexa-compatible devices – remember to configure Alexa for voice purchasing!
Have you heard of Amazon Smile Program? It's free and an easy way to shop while donating to a charity. How cool is that?
How to get extra savings to use on Prime Day?
Get $10 Amazon credit when you sign up to the Amazon App for the first time. Then, you'll get another $10 Amazon credit after your first in-app purchase.
Install Amazon Assistant and get $10 off your next $50 – this is my SECRET WEAPON during Prime Day! Install it here!
Earn $10 bonus when you reload $100 or more to your Amazon Gift Card Balance for the first time.
Do you shop at Whole Foods? Get $10 credit to spend on almost everything at Amazon on Prime Day when you spend $10 at Whole Foods Market (either in-store or on Prime Now) between July 3-16.
How to Shop Amazon Prime Day 2020
There are literally thousands of deals happening daily during Prime Day.
It is overwhelming!
In this section, I'll help you create a sense of direction so that you can snag all the best deals you want/need without having to wander around Amazon's virtual shopping aisles!
Make sure you have a Prime Membership –

click here to sign up for a trial.

Download the

Amazon App

– also great when you're on the go.

Install the

Amazon browser extension.

You can receive notifications on the upcoming deals you're watching.

Did you know there are different deal sections? Be sure to be familiar with these:

Create your list of things to buy – don't forget Christmas and back-to-school.

Add them to your Amazon list for easy access during Prime Day.

Using Amazon.com go to Account > Lists

Using the browser extension click on Add to List tab

Using the Amazon app, click on the hamburger menu on the top left corner > You Lists > View Lists > Create List

You can also just bookmark the products using your browser – works, too!
Check prices on CamelCamelCamel
I love using this one when looking for deals!
CamelCamelCamel will give you data on the price history of a specific product.
This information will help you decide whether the Prime Deal you're getting is a good deal.
You can also use this information to create a budget for the wish list you created above.
Add the CamelCamelCamel browser extension to make it even easiest to compare prices.
Amazon Prime Day Best Sellers 2019
So, what did people buy last year?
The Fire TV Stick was the most popular item people purchased worldwide (among the 16 countries mentioned above).
People from the US purchased the Instant Pot Pressure Cooker, while the Lifestraw Water Filter was a best seller in Canada.
Here's a list of best sellers from the other 14 countries.
Best Amazon Prime Day Deals 
Amazon offers the biggest discounts on their own products and brands such as:
along with other Alexa-enabled devices during Prime Day.
Obviously, right? Also, expect discounts on new Amazon product releases (if any).
Expect to see lots of other gadgets like headphone deals from Bose, Sony and Beats, kitchen gadgets, laptop accessories etc!
I'm excited for beauty and skincare deals – check out this Facetory 4pc mask box for $4.90.
Go check out this blog post dedicated to The Best Amazon Prime Day Deals!
Early Amazon Prime Day Deals Happening Now!
Grocery & Household
Snacks, Drinks + More! (up to 25%)
Frito Lay Fun Time Mix Variety Pack 40 count, $13.42
Pay $9.42 (after $4 digital coupon + Subscribe & Save discount)

$0.23 each bag!
Tropicana Apple Juice Box $4.23oz 44 count, $13.29
Pay $11.29 (after 15% off digital coupon + Subscribe & Save discount)

$0.26 each juice box!

NOTE: These are perfect juice boxes for kindergartners and maybe even 1st graders. My kids don't drink a lot of juice, this is a good size making for less waste.
Pure Leaf Iced Tea Unsweetened Variety Pack, 18.5 fl oz. 12 Pack – $17.10
Pay $13.68 (after 20% off digital coupon + Subscribe & Save discount)

$1.14 each bottle!
Save up to 30% off Household Essentials by Amazon
Save $10 off orders of $40 or more with grocery and household
Beauty & Personal
Philips Sonicare ProtectiveClean 4100 Toothbrush
now $34.95 (after sale + $5 digital coupon)  – reg. $69.99
Kitchen
now $99.99 – reg. $139.95 
KitchenAid Artisan Mini Series Tilt-Head Stand Mixer, 3.5 quart, Contour Silver
now $247.49 – reg. $399.99
Lodge Cast Iron Skillet, 10.25 inches
Lodge 3 Quart Cast Iron Combo Cooker, Fryer, Dutch Oven, and Convertible Skillet/Griddle Lid
Home
Save up to 30% off on Off-to-College
Scroll down to about half of the page to see current deals!
Save up to 40% off on home and electronics from woot.com
Tech & Gadgets
LG Stylo 4 – 32 GB (Unlocked)
now $159.99 – reg. $299.99
Ring Video Doorbell Pro + Echo Dot (3rd Gen) Bundle
$1 for the first 4 months, reg. $31.96
Free for the first 3 months, reg. $29.97
Save 50% off movie rentals from Prime Video
$4.95 per month for the first 3 months, reg. $14.95 a month

Sign up for an annual Audible membership and get an Echo Dot for $0.99
Fire TV Recast, over-the-air DVR, 500 GB, 75 hours
now $129.99 – reg $229.99
How to Shop Amazon Prime Day – Final Thoughts
Prime Day is overwhelming with the millions of products they offer.
I hope that this how-to Shop Amazon Prime Day guide helps you weed through all of that.
It's crucial to create a list.
Just like going to the supermarket hungry with no list – you'll end up buying things you don't need.
Remember to only buy things you'll use, love, and value.
And I hope that you can cross things off your Christmas list.
 Good luck!
xx, Glenda
PS. I posted a dedicated blog post just for The Best Amazon Prime Day Deals – HERE! I'll update it frequently during Prime Day!
And I post deals here daily – including Amazon!