The temperature is getting just a bit warmer here in Northern California and I'm finding myself bringing out the pairs of shorts I currently own.
I only own 2 pairs, yup, an olive twill (similar here), and these jean shorts.
I tried on several pairs available at my Target store and I decided to purchase the button-fly pair with reasons I'll talk about in a bit. Also, this one reason convinced me that these shorts have to be part of my summer capsule.
But pictured above is an all Target outfit including this non-floppy wide-brimmed hat I'm still on the fence on purchasing. I'm going to pair the outfit with this 2-strap in leopard and black slides; also from Target.
So, now I own three.
OUTFIT DETAILS: Hat – A New Day with black band $16.99 // White V-neck Tee by Universal Thread $8 // Button Fly jean shorts by Universal Thread $16.99
Target Try On Shorts – Mom Summer Uniform
Because #momlife, I have 3 criteria when it comes to jean shorts:
Won't show my butt crack when I crouch down – mom life is demanding like that.
Long enough to not show my butt cheeks when I bend down or walk.
Flattering for my body type – of course!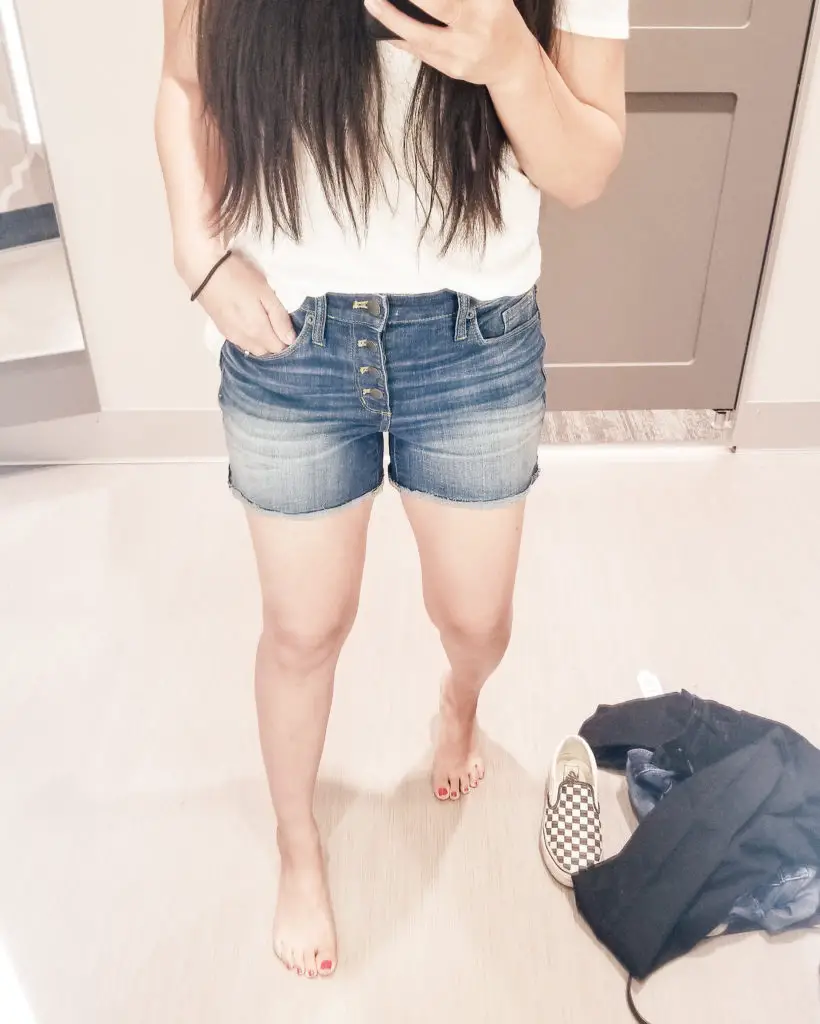 High-Rise Button Fly Midi Jean Shorts – Universal Thread
This is by far the most flattering among the shorts I tried. It checks all 3 criteria AND sucks in my mom pooch to boot! Yes! Sold!
The rise is high enough to eliminate muffin top and the 4-inch inseam hits just above mid-thigh. I'm 5″5′.
It's made of 91% cotton, 2% spandex and 7% polyester. It's soft and comfortable especially when you're running around, bending, crouching and living your best mom life.
CLICK HERE TO SHOP MIDI JEAN SHORTS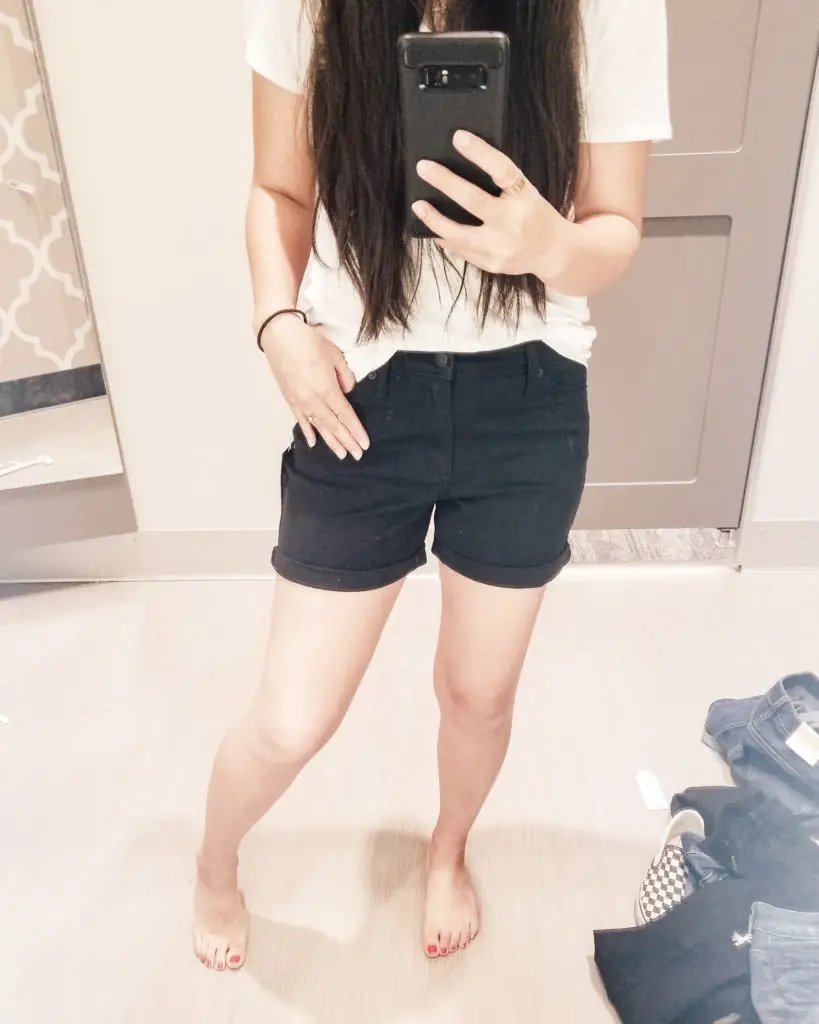 Black High-Rise Double Cuff Midi Jean Shorts – Universal Thread
I really hoped that this pair worked for me. This particular pair is size 6 and I'm usually a size 4 or 6.
The rise is high enough and the double cuff kind of gives an illusion of thinner thighs, imo. But it has this weird fit in the crotch area. Maybe I should've tried a 4?
This pair checks 2 of my mom shorts criteria and if you want to check it out maybe try on different sizes.
CLICK HERE TO SHOP BLACK CUFF MIDI JEAN SHORTS
Mid-Rise Rolled Hem Boyfriend Jean Shorts – Universal Thread
This pair is a total no. Boyfriend cut bottoms are not flattering for my body type.
However, if you like a boyfriend style anything, you might like this pair. Like the previous pairs, this one is soft because of the spandex blend. Again, maybe I should've tried a smaller size but my time was limited.
This boyfriend jean shorts check 2 of my criteria except for the flattering bit.
CLICK HERE TO SHOP BOYFRIEND JEAN SHORTS
Striped Pull-On Shorts – Universal Thread
This striped pull-on shorts, regularly priced at $17.99. It runs big for me and unfortunately, the smaller size wasn't available for me to try.
It feels more like loungewear than regular shorts because it's thin. It could work as beach shorts. You'll need that extra coverage to ensure that none of your goods will show.
As much I LOVE stripes and this is on sale for only $12, I didn't bother adding it to my summer capsule.
There are many colors available in this style including this chambray. You can purchase to try for yourself.
Final Notes & Thoughts
The jean shorts are on sale this week until Saturday (5/24) for $15, regularly $16.99.
The pull-on shorts are also on sale for $12, regularly $17.99.
Keep in mind though, that just because they're on sale doesn't necessarily mean you should purchase. If you aren't going to wear them then it's a waste of money.
Be sure to purchase something that fits your wardrobe, lifestyle and something you know you'll wear on the reg.
You can find more Target Fave Finds blog posts here and here.