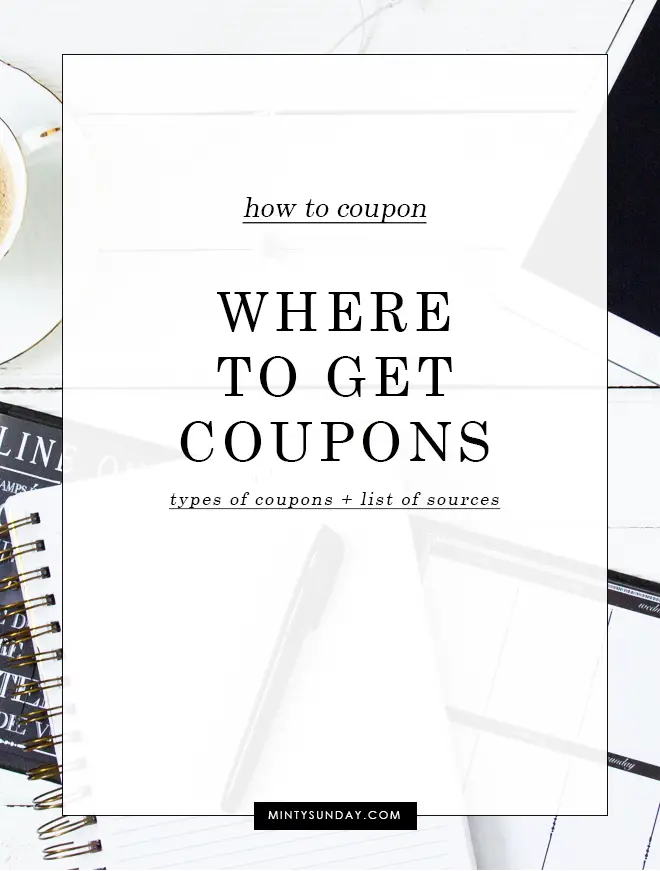 You'll need coupons if you want to start couponing. Where to get coupons? I've compiled different sources for you below:
Paper Coupons
SUNDAY PAPER INSERTS
BLINKIES – a small machine that spits out coupons at the stores; many are found at the grocery stores
TEARPADS – a pad of coupons usually found on products displays, free-standing or on the shelves
PEELIES & HANGTAGS – coupons found attached to the products.
CATALINA – coupons that print at the register. It looks like a receipt printer – grocery stores, Target, Walgreens and Kmart have catalina machines
STORE BOOKLETS – found at the store entrance, by the Pharmacy or at the Customer Service area. Target, Walmart and Walgreens usually have them.
MAGAZINES 
HOME MAILERS – coupons sent in the mail by companies
Printable Coupons
You are limited to print 2 coupons per computer/device but there are times when you're allowed to print just 1. Printers are now mostly wireless and you can print from your phone using an app.
Remember to NEVER photocopy your coupons!
What I mean by that is to not make copies of your printed coupons to have more to use. This is because each coupon has a unique code (set of numbers). And using duplicate printed coupons is fraudulent. Think of it like making copies of money. Don't do it.
I use an  HP monochrome laser jet printer to print my coupons and it has saved me money on ink. It's been years and I haven't changed the toner even once! I've never had any problems with printing my coupons in black and color. It might be different in your case; ask the manager at your store to be sure.
This HP LaserJet Pro M15w Wireless Laser Printer is the world's smallest laser printer regularly priced at $99 which is not bad considering laser printers used to be expensive and bulky. Also I see this go on sale all the time – keep your eyes peeled if you want to save money.
If you want a multi-functional wireless printer, this Brother monochrome laser printer is highly rated. This is regularly $160 but I also see it often on sale for $99. I like that there's an automatic 2-sided print mode.
TOP PRINTABLE COUPON SITES
ADDITIONAL PRINTABLE SITES
STORE PRINTABLE COUPONS (coupons that can only be redeemed at the specific store)
E-COUPONS/MOBILE COUPONS
Pro Tips
Check your favorite companies' websites and look for printable coupons there. It's usually located under "Offers" or "Coupons."
Check your favorite companies' Facebook pages. Many also offer printable coupons exclusively for Facebook fans.
Email your favorite companies and ask for coupons.
Tools
Read next: How to Organize Coupons