I used to think that coordinating family outfits is a hassle and expensive.
Mommy and Me or Daddy and Me outfits have to be matchy-matchy or else they won't work.
But I found that approaching a coordinated family outfit differently can be easier and affordable.
Coordinated family outfit is great throughout the year and especially during the holidays because photos will turn out lovely no matter what!
We all have that one kid who won't cooperate.
This blog post will show you how to achieve that look and find versatile holiday pieces you can wear year-round – not just for the holidays.
Plus, your family will be ready for a planned or spontaneous photoshoot!
Coordinate Colors and Patterns – Not Matchy-Matchy
The easiest way to have a cohesive look for a coordinated family outfit is by choosing colors and/or patterns that GO together.
You don't have to all wear one color or pattern.
Instead, choose a color palette that contains several colors that look good together.
Here's how to easily do that:
Look at a color wheel (you can search on Google).
Any color opposite of each other in the color wheel goes together.
Any color adjacent to each other also goes together.
You can even pull out colors from one pattern. In the example coordinated outfits above, I chose the plaid pullover sweater to build the other outfits.
Be sure that the other colors you choose for your palette are in the same family.
A bright red wouldn't go with the dark and dusty green hence I choose darker reds to keep the same color tones.
Doing this will take the stress out of finding the exact sizes for everyone because sometimes things sell out.
Choose Classic Patterns and Colors
As much as your little one loves Cinderella, for example, it's not something you'd want in a coordinated family outfit because it's too distracting in a photo.
You'd probably want to display these photos right?
By choosing classic patterns and colors, your photos will never go out of style – timeless.
They'll never feel dated.
Janie and Jack always release several collections of holiday clothing pieces for your littles. Sometimes they release Mommy and Me and/or Daddy and Me collection. You can check it out here.
Here's an example of a family outfit: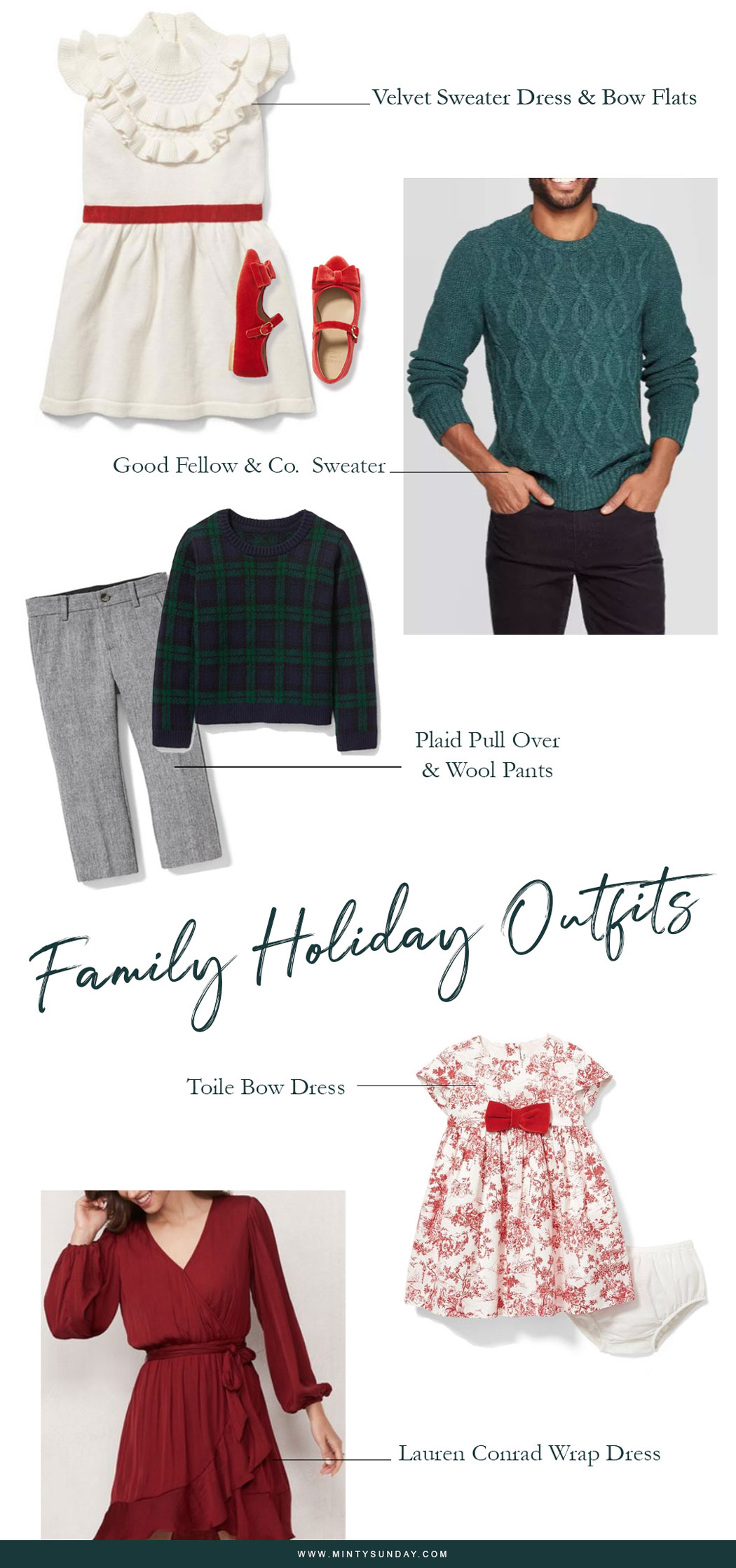 (Links for above photo: Janie and Jack Velvet Sweater Dress, Janie and Jack Velvet Bow Flats, Target Good Fellow & Co Crew Sweater, Janie and Jack Boy's Plaid Pull Over, Janie and Jack Boys Wool Pants, Janie and Jack Baby Girl's Toile Dress, Lauren Conrad Wrap Dress)
Family Photo Outfits on a Budget
I don't like buying things and using them only once.
I'm all about versatility and affordability and I know you are, too.
The first place you need to look when coordinating family outfits is what you and your family already own.
This way, you'll have less to buy if necessary.
If you have time, be sure to check out second-hand shops first.
You can also find women's and men's clothes at Kohl's and Target like the dress and sweater I found.
These stores are already budget-friendly but you can still get additional discounts during sales and coupon offers. Check out their website and Target app.
Another way to save money is to utilize accessories to coordinate.
Use bow tie, shoes, hats, scarf, etc to add color and pattern! Accessories cost less than clothes!
Janie and Jack releases really fun and coordinated accessories for your littles during the holiday! You can check it out here – Don't forget to check out the sale section here!
Coordinating Family Outfits for the Holiday
Choose patterns and colors that can be worn throughout the year.
Don't choose a snowflake or Christmas tree patterns – try plaid/tartan, gingham, stripes and argyle.
The picture below is from an old Janie and Jack Mommy and Me Holiday collection. This is a good example of a non-Christmassy pattern used for the holidays.
I love that you can wear the outfits throughout the year and the pieces can be worn separately!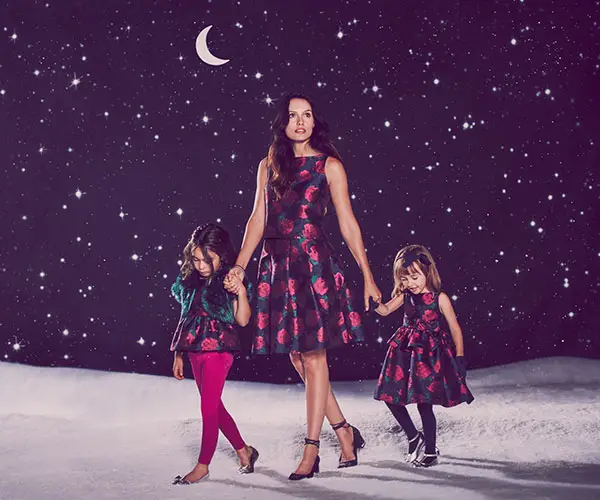 Coordinating Family Outifts for Photos Final Notes
I hope that this blog post gave you some ideas on how to approach coordinating family outfits with less stress.
And in case you missed some tips, here are the main ones again:
think versatility – choose classic prints and colors so that you can wear the pieces over and over
keep it simple – don't have a lot of patterns
create a color palette – you can start with a pattern
keep it budget-friendly – use what you already own first and check out sales and discounts, use accessories to tie outfits together
Janie and Jack releases several collections of classic holiday pieces including accessories that don't break the bank and can be worn throughout the year. There are sales heading towards and during the holiday season. Be sure to check out the sale section, too.
Don't forget to have fun and embrace that one child who always makes a face – makes for fun photos to remember!
Good luck!
xx, Glenda