First things first, disclaimer! Deck of Scarlet sent this palette to me for free to review.
I really only wanted the Scentbird because I thought the palette was something I wouldn't buy myself but they sent it anyway.
The good news is that I get to check it out for you!
Don't have time? Pin to read later!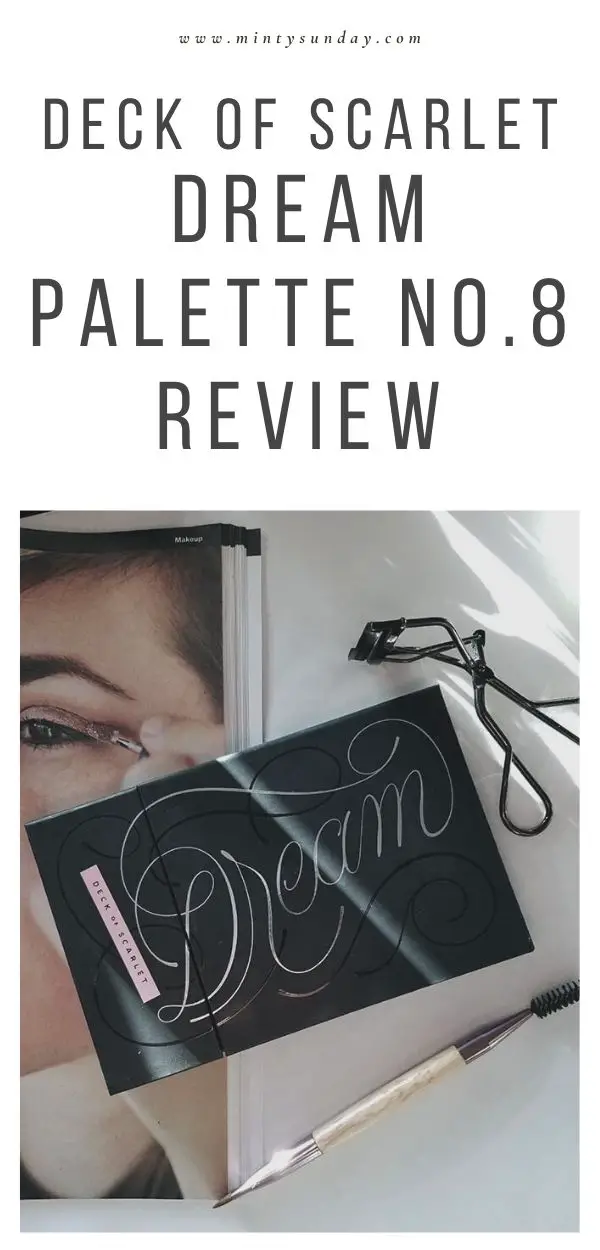 What is it?
Deck of Scarlet is a cruelty-free makeup subscription box where you receive a full-sized palette every 2 months. Sometimes it comes with a lip or eye product(s). Each palette is made in collaboration with a popular beauty Youtuber. Like many subscription boxes, you're allowed to skip a month and cancel any time. Each palette is also available for a one-time purchase (without signing up for a subscription) of $44.95.
Price
The subscription price is $29.95. Yah, I know but they always have a promo on your first subscription (ex. 30% off). That's only $20.96 (with 30% off) plus free shipping! If you don't see the promo on the main page, here's my referral link where you can get $10 off your first subscription and I get $5 when you use it. Click here to sign up using my link.
What I Received
I received the Edition No.8 Palette by Kim Thai. The palette has 3 eyeshadows – 2 of them matte, 1 highlighter, 1 matte blush, 2 cream lip colors and 1 high-shine lip gloss.
Packaging
A very sturdy cardboard packaging with magnetic closures. I love that the lip colors have their own cover – genius! It keeps the particles from the powder products from sticking to the cream lip colors.
The outside feels velvety soft similar to that of Nars – also a magnet for fingerprints. This is evident in the main photo above – I wanted to show you that. The lip gloss packaging is a thick acrylic and feels substantial. The flat doe-foot applicator makes for a less messy application.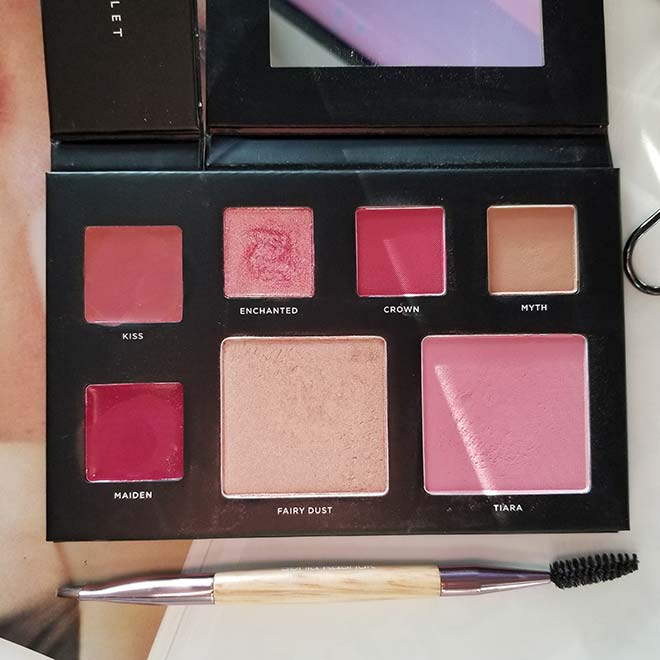 Eyeshadows
All 3 eyeshadows are buttery soft and blendable. There's some fall out though but because I don't do smokey eye looks it isn't a problem for me.
I'm really impressed with Enchanted, a shimmery eyeshadow with ultra fine glitters. I like to just sweep it across the lid for a dewy, effortless look. My eyelids get oily throughout the day and many shimmery shadows cake up along my crease whether I use a primer or not; Enchanted did not do this. After a long, busy day I still have slightly shimmery lids.
I love using Myth to give my eyes a subtle definition.
I hardly used Crown eyeshadow because my complexion doesn't give it justice on my lids.
Highlighter/Blush
Like the eyeshadows, these are also buttery soft and blendable.
The highlighter, Fairy Dust, has ultra-fine glitters and gives me just enough glow without blinding – if you know what I mean.
Two of my favorite blushes are Nars Orgasm and Deep Throat. If these two blushes had a baby it would be the Tiara blush. It gives me a youthful, natural flush without glitters like Orgasm has. Yes, love that! However, the blush only lasts about half a day for me.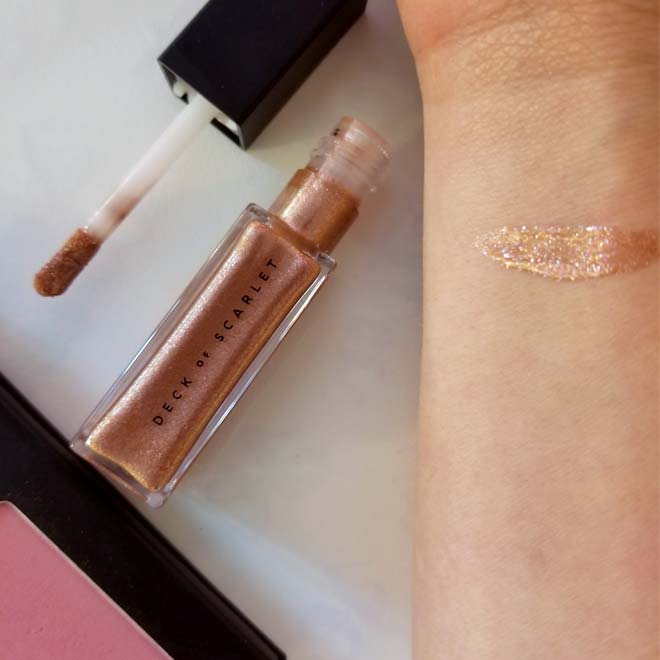 Lip colors
Kiss is the nude-y brown and Maiden, a pretty red. Both are comfortable on the lips and very pigmented. Because these are cream products, the staying power is not quite there and they transfer. Really pretty colors though!
I tried Maiden as a blush as I usually do with my other lip products but it isn't as blendable. Instead, I apply a little (like a dot because it's so pigmented) at a time and build up my desired color. The result is a natural and pretty flush in the cheeks.
The lip gloss is really shiny! If that's your cup of tea, then you'll like it. I'm not a lip gloss girl, it's a little thick and sticky. It has a slightly sweet scent but not obnoxious.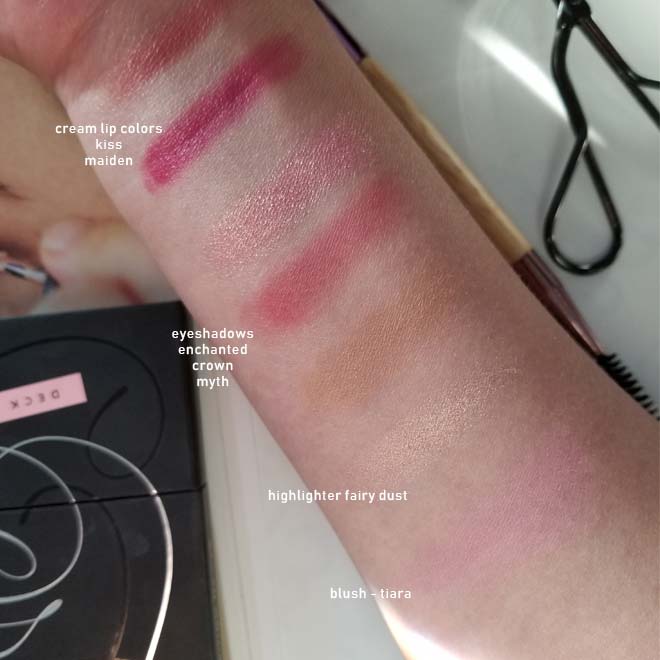 Final thoughts
The idea of a subscription makeup palette is perfect for someone who loves makeup. For an average girl, maybe not so much. However, you'll be allowed to preview the upcoming palettes and skip if needed so maybe it can work.
I can't speak for the eyeliners available in other palettes but the quality of the products I received are up there with the likes of Tarte, Mac and Urban Decay. Dare I say maybe even more buttery soft as far as the texture of the eyeshadows is concerned? Yes, I think so. I own palettes of said brands above.
I've been reaching for this palette for the last 2 weeks since I received it. This would be a perfect palette for me if it had a taupe/gray matte eyeshadow for my brows. Nevertheless, I'm enjoying this palette and will continue using it.
Is it worth $29.95? For me, no. Is it worth it with the 30% off? Maybe. While I love the idea of having just one palette for my everyday makeup this particular one had other things in them I hardly used – lip colors, lip gloss and Crown eyeshadow. I prefer to buy items I know I'll use.
However, if you want to still try it, you can browse the available palettes here.