Are you dreading the holiday season?
I feel you. I had a love/hate relationship with the holiday season.
I love it but I stressed out a lot about money and gifts.
So, I began to wonder, is it even possible to have a magical Christmas even if you're broke?
How can you survive Christmas with little to no money?
In this blog post, I'm excited to share how you can:
celebrate the holiday season on a budget,

make it a little more magical for your kids, and

simple ways to avoid being more broke after the holidays
After all, it's supposed to be the most wonderful time of the year and it should be just that!
Don't have time now? Pin it for later!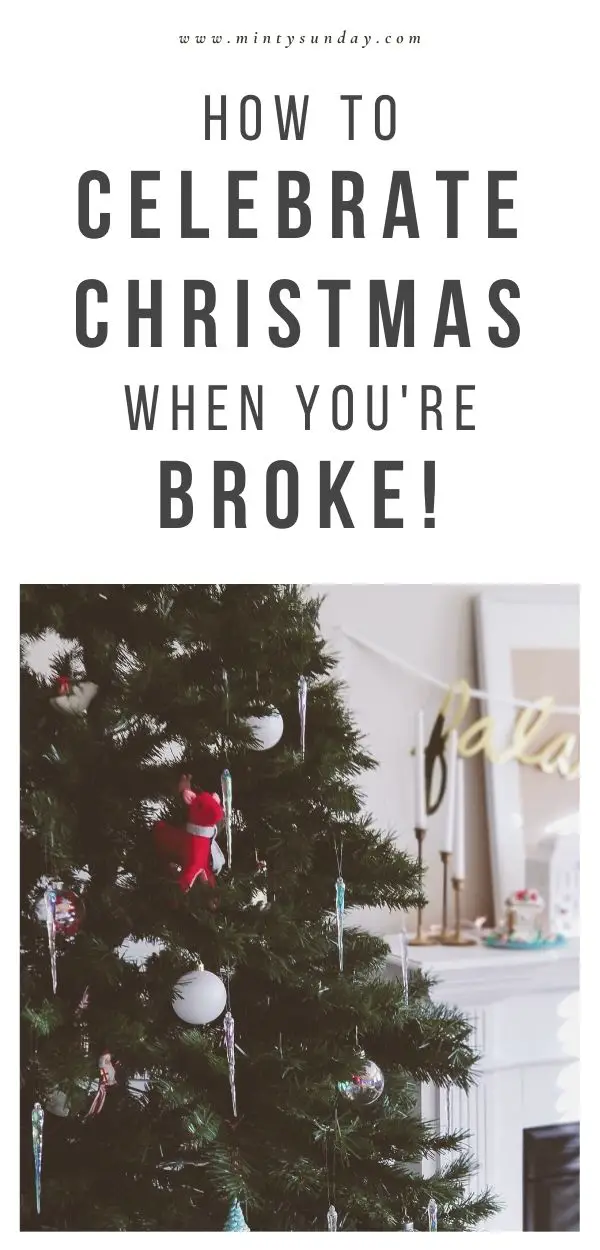 Shift Your Mindset about the Holiday Season
The holiday is about the memories you create and the people you celebrate it with! 
It's not about the biggest or most expensive presents you can give to your children and love ones.
Presents are just part of the fun.
I think this is where most of us struggle because we equate the value of the gift to how much we value the recipient of that gift.
But it isn't supposed to be that way at all!
Think about your fondest Christmas memory. 
Do you remember what you got for Christmas?
Do you remember the things you did and with whom you spend Christmas? 
Which memory do you remember most?
You don't need to have an extravagant Christmas decor, amazing holiday feast, and expensive presents to celebrate.
Kids want to spend time and do activities with you! 
Think of how you can create that magical holiday experience for them!
Set Expectations
Children are receptive to your stress and anxiety. It's a fact.
You also don't want to promise them anything you can't keep. You'll lose their trust.
So, tell them you don't have a lot of money for presents this year. 
It isn't necessary to tell younger kids this but older kids need to know.
And there's no shame in telling your extended family that there'll be no extravagant gift this year.
Most will understand but some might not be happy about it.
There's always that one family member, right?
How to Celebrate Christmas with Little to No Money
Make the days before Christmas as much fun as Christmas day.
Focus on things you can do with your kids in December.
Here are some ideas for you:
Decorate the house with your kids
Involve the children in decorating the house. The teens might not want to be involved but the little ones love to help out!
Here are some ways to decorate on a budget:
make the decor using found things like evergreens, acorns, pinecones, and dried oranges to make ornaments, centerpieces, garlands, and wreaths

buy them second hand from the thrift shop, flea market, yard sale

reuse old decor (of course)

use your children's Christmas school projects!
Related article: How To Simplify Decor and Enjoy The Holiday Season More
Write a letter to Santa and get a letter back!
This is super fun and kids love it! I wrote how to do this here along with a free Official Letter to Santa printable.
Since you're on a budget, you can tell your kids that Santa wants to make toys for all the children in the world (and there are millions of children!). Tell them to be considerate and help make Santa's job easier by asking for easy and inexpensive things so that everyone can get something for Christmas.
I remind my children this whenever they write a letter to Santa. You can read more of what they ask for under Minimalist Gift Ideas below.
Christmas Countdown Using Advent Calendars
Kids love advent calendars. You can make it 12 days or 25 days. 
I pinned a lot of easy DIY advent calendar ideas here.
Here are some ideas for fillers on a budget (a variety is always fun!)
You can wrap holiday-themed books to open and read each day. You can collect them from flea markets, garage sales, and thrift shops. You can also use books they already own and/or check out books from your local library.

Fill it with candies! Save some candies from Halloween, your kids will never know. You can also find Halloween candies on clearance after! 

Fill it little toys and trinkets – check out your local thrift shops, Target dollar spot, Dollar Tree. You can start collecting these early. I also save little toys they receive from treat bags (from parties or school).

Fill it with coins (bonus if you have gold $1 coins or half dollars!)

Fill it with activities like baking, crafts, etc.

Fill it with found things – interesting rocks, shells, branch – my son loves to collect these.
Wear matching pajamas
It doesn't have to be matchy-matchy. 
Think colors and prints that go together or in the same family! This is my favorite way of matching actually and I do it when we go to a formal party, too.
You can also sew pajamas for your kids! I followed this easy-to-follow video tutorial to sew my son's Halloween costume by hand which took about 1 hour to finish. You'll get it done faster if you have a sewing machine.
Here's the stitching tutorial I used if you want to sew by hand.
You can find inexpensive flannel or cotton fabrics at Joann's. Don't forget to check out the coupons and sales on the flyer or website! You can also find them at Walmart or thrift shops!
TIP: Check out the clearance section AFTER Christmas at Target or Walmart to get ready for next year's Christmas pajamas. Here's last year's small clearance haul.
Save on Christmas Feast
You don't need to go all out for Christmas dinner or serve traditional holiday food.
Trust me when I say this:
It'll save you money and your sanity!
Cook simple dishes that everyone will enjoy. 
Want to add more fun?
Here are some ideas on how to start dinner conversations:
What's the craziest thing you've ever eaten?

What's one good thing that ever happened to you?

One thing you can't live without?

Or my kids' favorite question to ask: Would rather (insert 2 scenarios to choose from here)?
Simple food enjoyed with family creates the best Christmas memories.
Keep Christmas Day fun with games
To keep opening presents longer and fuel more excitement, call out the name for each present one by one instead of all at once!
You can also wrap all stocking stuffers individually. Kids love to open presents!
After opening presents, then what?
Play games!
The games you choose will depend on your children's age. Pick games so that everyone can participate.
Here are some ideas:
Punch – I made this last year and everyone loved it! I filled it with coins, lottery tickets, and chocolates.

Christmas Bingo

Board games

Musical chair

Charades

Name that Christmas jingle
Christmas Shopping on a Budget
A lot of people complain about being more broke after the holidays.
Why? Because they dug themselves a deep hole of debt trying to impress people that don't matter.
Let's not be one of those people.
Here are ways you can do that:
Make a budget – set a budget for your holiday expenses and stick to it!

Make a list of people you want to give presents to (hint: your priority is your kids!)

Use cash and ditch the plastic – we tend to be more mindful if we see our money leaving our pockets

Shop early for sales and clearance – some people shop throughout the year – I've done this and it works

Use coupons – you can check out how to coupon tutorial here

Shop with cashback and rebates

Shop second hand – thrift shops, yard sales, flea markets local or online
Budget-friendly Gift Ideas!
My cousins and I spent most of our summer break at my aunt's house in Vegas. We bonded a lot and my aunt paid close attention to the things we like.
The gifts she gave us for Christmas weren't expensive but it made the most impact because they were things we love! She gave me an anime magazine that I still have today! She also wrapped our own things we left at her house which was the funniest thing. 
Gift exchange
Stop stressing over what to get everyone for Christmas.
Gift exchanges eliminate this stress because you'll only need to buy one present! 
Here's how to do that:
Decide how: Secret Santa, White Elephant etc.

Decide on the limit ($10, $5, $1) or a theme (mugs, handmade item, etc.)

Decide where and when for the exchange.
You can use Elfster to pick out names for Secret Santa digitally. This is handy when not everyone lives in the same town or state.
Kids should definitely participate! It'd be fun for them too!
Minimal Christmas gift ideas
You don't need to give your children lots of presents to be happy for Christmas.
Try adopting a minimal approach to presents. Get them…
something to read

Something to wear

something they want

something they need
I made a free Official Letter to Santa – you can download it here.
Always check out the clearance section at Walmart and Target!
Don't forget to check out thrift stores and flea markets for books, toys, and clothes!
Give handmade gifts!
The mere thought that someone made an effort to create something for me tugs on my heartstrings. I love handmade gifts!
Create something special you know the recipient will use or can eat!
Here are some ideas to get you started:
Kitchen Linens such as tea towels, fabric napkins, apron (I want to attempt it this year!)

Cookies, pies, cakes, pastries

Bath salts, bath bombs

Notebooks

Pajamas

For kids – scarves made out of fleece; no sewing required, just use fun patterned fleece and cut into desired dimension

Knit
Check out my Pinterest boards for more ideas and tutorials!
Shop your couponing stockpile (if you have one)
I've made gift sets from the products I collected from couponing.
Everybody needs toothpaste, body wash, soap, and shampoo right?
You can also make gift baskets for prizes to your games during Christmas day!
You're Not Alone – Charities that Can Help
There's broke and then there's flat broke! 
If you're totally broke, know that you're not alone.
There are organizations out there that can help.
Here are a few I found:
Grocery stores like Raley's usually work with your local food banks to help feed families.
If you're not flat broke, consider helping out this holiday season. 
This is also an opportunity to teach children compassion and gratitude.
My children and I have created gift boxes for Operation Christmas Child. We create a gift box for a child of the same age.
Seniors also need help! Your local senior community usually has a wish tree you can participate in.
How to Create a Magical Christmas Even if You're Broke – Final Notes
I hope that these ideas help you enjoy the most wonderful time of the year without spending a lot of money.
It's possible. I do it every year even if we're not totally broke.
It reduces a lot of holiday stress and makes room to be truly present with my family.
I know you can do it, too.
And just in case you missed some tips, here they are again:
Shift your mindset – focus on creating memories and rather than presents

Set expectations – be upfront about it to everyone including your children

Cheap ways to celebrate Christmas

Simplify your holiday decor and keep it on a budget by making your own decor, use things from nature, second hand and sales/clearance
Do holiday activities and traditions for free or little money – here's a free printable Official Letter to Santa
Save money on gifts by shopping sales, clearance, couponing, cashback and digital rebates, second hand (thrift shops, yard sales, and flea markets), or handmade gifts

Utilize gift exchanges for large groups so that you'll need to buy one present plus it's more fun!

You're not alone – there are many people who can help. It also doesn't take a lot to help people in your community if you have some resources to share.
May you and your family have a wonderful holiday!
xx, Glenda