I stopped buying these 10 things I thought I needed in my life.
And save my family thousands of dollars in the long run!
We are victims of FOMO (fear of missing out) whether we want to admit it or not making that "necessary" purchase regularly.
So in this blog post, I'll tell you why I quit buying these things and of course, shared cheaper but better alternatives!
Don't worry, I didn't give up toilet paper and I don't share or reuse floss. #justsaying
Don't have time to read it now? Pin it for later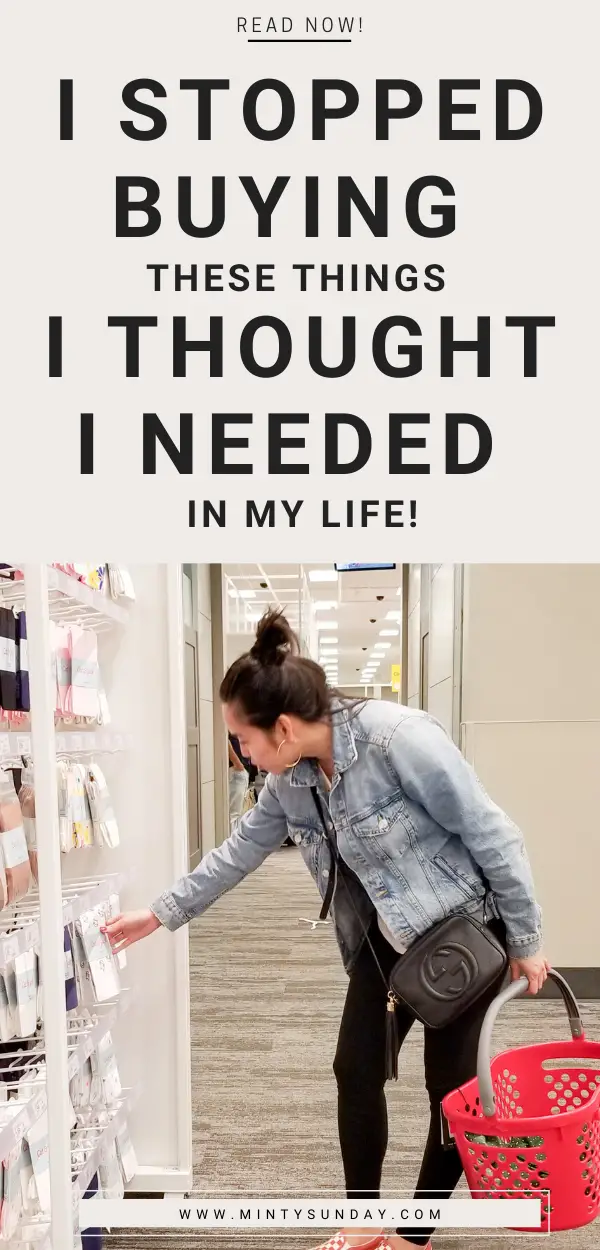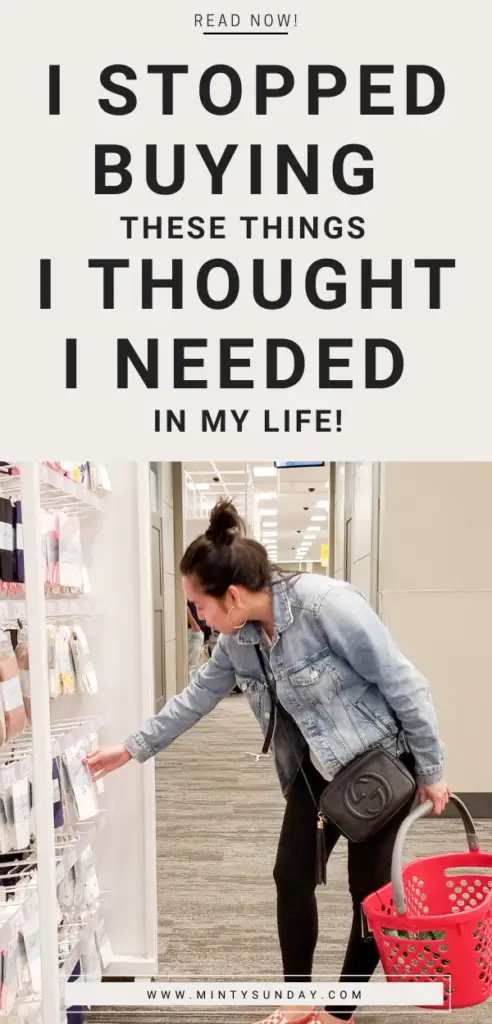 So, here are 10 things I stopped buying to save money and live with less.
1. I Stopped Buying Expensive Skincare Products
I love skincare! In fact, I was a huge Origins fan for many years.
My skincare routine consisted of at least 5 steps morning and night!
And then my skin started to develop redness and irritation.
Turned out that I developed allergic reactions to the products I slathered on my face daily.
After watching these videos (sets of playlists: 1, 2, 3) and reading more about skincare, we only really need to know 2 sets of certain key ingredients:
Things that will actually help our skin

Things that irritate our skin
What are the ingredients to look for? 
Here are a few of them according to this article:
Hyaluronic Acid

Ceramides

Retinol

Antioxidants 

Peptides 

Niacinamides
What are the ingredients to avoid?
Fragrance – this is often listed as linolool, limonene, etc.

Dyes

Citrus 

Certain Essential oils
You'll be familiar with these ingredients if you watch the playlists of videos I linked above.
And the most important product we need to use:
sunscreen of at least 30 SPF applied every 2 hours to avoid sun damage and premature aging. 
Zinc oxide is the best sun protection ingredient that we have available in the US, so be sure to use one with that ingredient.
Here are the drugstore products I've tried and use:
Face wash

Face moisturizers

Sunscreen

Babyganics

– works for my whole family; It's the only one I found that doesn't irritate our face and doesn't leave a visible white cast on my family's different complexions

Spot treatment

Magic Ointment/Balm – I use this on my lips, cuticles, heels, everywhere that's extra dry
Though it isn't expensive, I also no longer use this St. Ives Apricot Scrub. Redness on cheeks and around the nose has diminished. That's one less thing to do!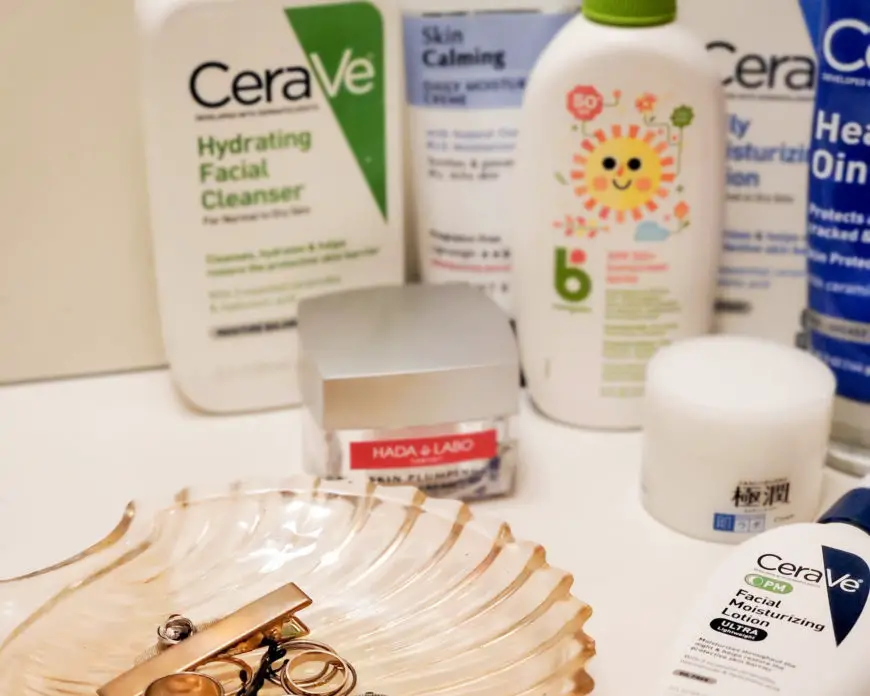 2. Shaving Cream
I stopped buying shaving cream to use when shaving my legs!
The reason why I used this shaving cream (which was my favorite for the longest time) was to keep the razor from scraping my skin while shaving and keep my skin hydrated. If you shave your legs, too, you probably know what I'm talking about. 
Have you tried dry shaving?  It's not pleasant!
The tendency of getting nicks while shaving is also higher.
But I found that hair conditioner works just as well!
Do you ever notice when you run out of shampoo, your conditioner still half full?
So, it makes sense to use it and that's one less thing for us to buy!
I also use coconut oil as a hair mask and have tried it as a shaving oil – also works!
Check out this quick video about 4 mistakes you might be making shaving your legs!
3. Scented Expensive Lotions
We all want to smell good. Am I right?
But the problem not only lies in the price of scented lotions but also the fact that they're not good for our skin.
Also, scented lotions exacerbate my eczema-prone skin – that's a fact.
Even if we don't have any skin issues, we'll eventually develop some type of allergic reaction or irritation – also a fact.
So, here's what to do instead:
Look for fragrance-free, dye-free, cream products with ingredients such as ceramides, peptides, glycerin, fatty acids like shea butter, colloidal oatmeal for soothing properties, etc.
I love these Cerave and Eucerin lotions which can also be found on sale at the drugstore.
Then, if I want to smell like oranges or vanilla, I'll dot perfume oil!
Sometimes I'll use scented creams on my hands. I'd still smell good but won't stay on my skin long since I wash my hands a lot.
4. Trendy Clothes and Shoes
Fast fashion has become such a huge industry for the last 10 or so years.
There are so many new arrivals coming week after week, it's hard to keep up with the trends.
I'm at a point in my life where trends no longer serve a purpose and add value.
So, I've been editing and improving my wardrobe and only acquiring timeless, quality pieces. 
But please don't equate quality with price. I've had a Forever21 shirt for many years now.
Instead, create a wardrobe that fits your lifestyle:
Asses your wardrobe – figure out what's working and not working for your lifestyle

Buy classics – timeless pieces you can wear year after year

Have only pieces you love to wear – clothes are meant to be worn not stored in the closet

Quality over quantity –

this video

will show you how to look for quality pieces!
5. Dryer Sheets
I've mentioned previously that I have eczema.
Unfortunately, my daughter's eczema is worse than mine and I had to get rid of any laundry products with fragrance and dyes. 
So how do I make our towels soft and fluffy and how I do stop my skirt from clinging to my legs?
I found and tried 2 solutions:
Vinegar – the smell of vinegar is non-existent when the wash cycle ends.

Wool balls

– check out

this lady's amazing review

comparing 3 kinds of wool balls used in 8 months!
Related Articles:
I've seen these balls on sale before which I've posted here – Smart Sheep Wool Dryer Balls 6-Pack – Amazon Deal
6. Paper Products: Towels and Napkins
I grew up in a household where we seldom used paper towels and paper napkins so this was an easy change for me.
Using cloths for towels and napkins is economical considering the price of their paper counterparts.
I found that microfiber cloths are the best to use for cleaning especially when dusting.
Bonus, they're easy to clean!
You can also use old socks for dusting – they work great for dusting blinds if you have them.
If you have old shirts and towels that can't be donated, you can also cut it up to use as rags.
Not only are these alternatives good for your wallet, but also good for the environment! Win, win!
There is one paper product I will keep buying though: 
Nothing can replace toilet paper. EVER.
7. Books and Magazines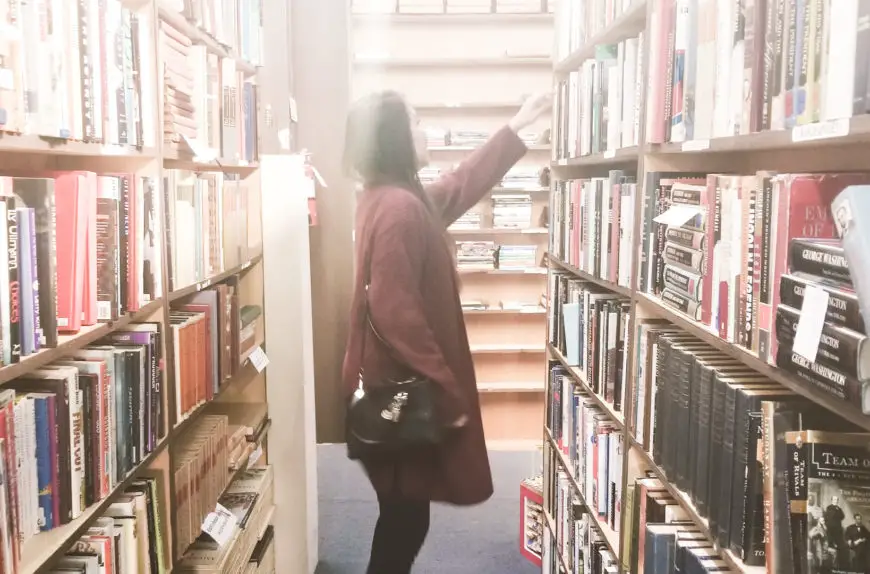 I've stopped buying books and unsubscribed from my favorite magazines.
If you're an avid reader, hear me out, my kids and I are also avid readers.
So, I'm not here to tell you to stop reading.
The problem lies in the fact that we don't even read most of the books we buy and they're taking up spaces in our home.
Here are alternatives to try:
The services we've kept so far are Prime Reading (since free with Prime Membership), Audible and we're still trying out the FreeTime Unlimited. For us, we found that it's worth it to pay for these services.
I highly recommend trying these services and discover which ones add value to your life and work with your lifestyle.
Related Article:
I talk about Kindle Unlimited here – Free Amazon Kindle Unlimited Offer
50+ Free Kindle Books You Can Download Today!
8. Home Decor Items + Knick Knacks
One of the chores I had growing up was dusting. 
Our house was littered with knick-knacks and figurines, specifically Capodimonte! 
Heck, our chandelier was Capodimonte; it was huge!! And it was a pain to dust! 
And I swore that when I grew up to never have knick-knacks in my own home.
But life happens…
and purchases were made…
and I faced the same problem in my adulthood!
So, how did I solve this?
I edited my home and only kept things that have a purpose (even better if multipurpose) and became more intentional with purchases.
You see, my goal is to only have things in my home that I truly love and use – bonus if those things are multipurpose. Jenni Kayne's simple living philosophy and aesthetics are goals!
I also edit my cart (especially when I'm Target) before I check out; questioning even that $1 item from the Dollar Spot!
This has been a long process for me, but it might not be for you. 
I recommend visualizing the kind of home you'd love to live in and how it serves your lifestyle. 
This artist designed his home to suit his lifestyle. I think he has mastered the art of living!
Related Article:
Target & Walmart Clearance – How to Shop Clearance Without Hoarding
9. Coffee + The Latte Factor
I love coffee. You too? Okay, let's be friends!
But let's say we buy a tall hot mocha every day from Starbucks, that's about $1800 a year!
That's just a tall, but imagine how much more it would cost if we factor in some pastries and maybe another cup on the way home from work?! 
That's a lot of money spent on just "a cup of coffee"!!
Have you heard of The Latte Factor?
It's a book which claims that you can live a rich life if you can afford a latte. It's about utilizing the power of compounding effect and that little changes can lead to big results.
I've realized that these two powerful tools are true but you see, I still love my coffee, too.
So, I came up with a compromise:
Since I can't completely give up my $5 coffee, my husband and I started going on coffee dates where we try coffee places around our area.
Our coffee dates cost about $240 (for 2) a year versus $1800 (just for one person!)
Instead of buying coffee every day, we made it part of something that adds value to our relationship.
Now, $240 on coffee is well worth the investment!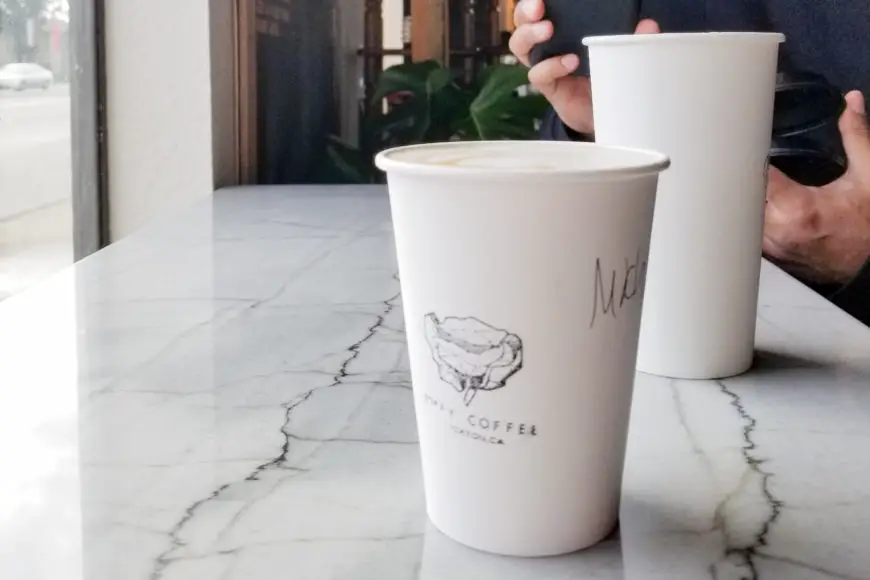 So, what do we do in between our coffee dates to save money?
We make it at home!
Here are some things you can try:
I use this electric pour over kettle along with this tumbler which keeps my coffee hot for hours! I no longer have to reheat my coffee during hectic days.
If Starbucks is your favorite, you might want to check out Fetch Rewards where you can earn free gift cards just by scanning receipts. 
It's so easy to earn points, it's my favorite rebate app ever! 
You can earn your spontaneous Starbucks run for free! Yes!
Related Articles: 
How Earn Free Gift Cards with Fetch Rewards + Review
PS. I highly recommend The Richest Man in Babylon if you want to learn how to manage and create wealth! I read this book to my children and even listen to the audiobook on long drives.
10. Gym Membership + Home Equipment
Disclaimer: I'm not a dietician or a doctor. Be sure to check with your physician if you want to change your diet or try a new workout.
Several years ago, I neglected my health.
I had postpartum depression, barely had quality sleep, gained weight and my haggard level was beyond the scales. 
My turning point wasn't even any those things!
It was when I was fatigued every.single.day. and left me feeling miserable; no longer enjoy motherhood.
My sister was (still is!) a sweetheart that she even signed me up for a 1-year gym membership. 
She wanted to help me get back that energy, my health.
My friend introduced me to the Whole30 diet and we did the challenge together.
My husband bought resistant bands, dumbbells, and other equipment.
I'm grateful for them! I really felt their love!
But I only ended using the gym membership for 2 months and the only home equipment I used (still use) is my yoga mat!
It took hard work and time but I got my health back!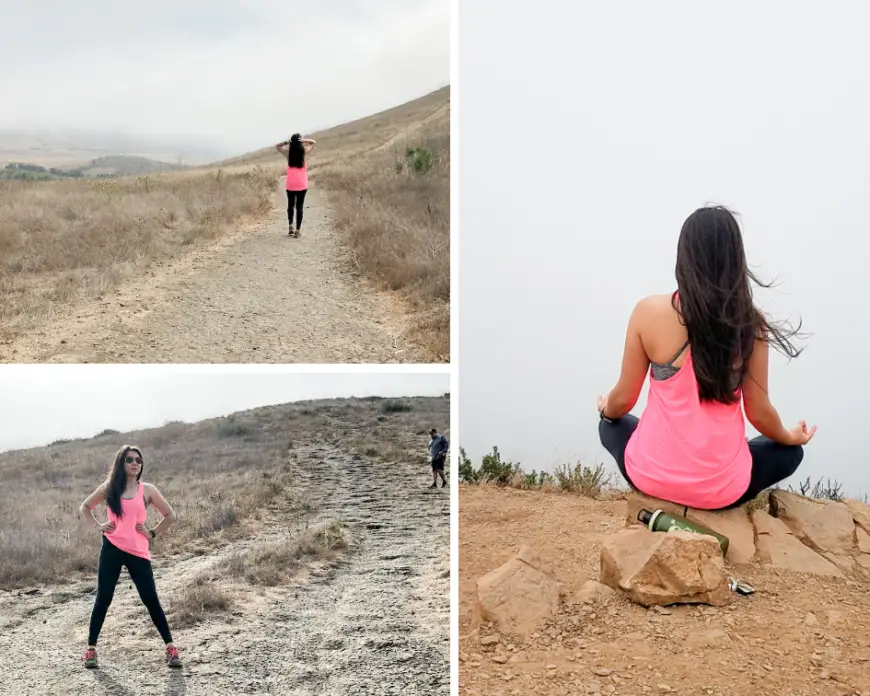 And can you believe I can now keep up with my kids! You can imagine kids' energy levels, right?
As you can see in my photo above, I don't even have a fit body or even a skinny body.
It really boils down to how our body feels – the energy we have and our mental state.
In retrospect, I want to share with you is:
you don't need a gym membership and equipment to be healthy!
Here's what you can try to be healthier:
Assess your diet – this is important!

Tracking what you eat is super helpful because you become more aware and mindful of what you eat.

Tracking includes meal times, frequency, and water intake. 

Personal note: With Whole30, I found out that sugar gives me headaches, not caffeine from coffee and rice makes me bloated (just to name a few of my discoveries when I did the challenge the first time.

Physical activity throughout the day is an essential part of our daily life!

We don't need to do crazy workouts.

Walking makes a big difference! Have you heard of the Blue Zone?

Check it out here

.

Personal note: I thought I needed to be huffing and puffing to get results but it wasn't true for me. LIttle, consistent effort leads to big results!

Try different workouts and find one that you actually like to do.

It's easier to create a workout routine if you enjoy it.

You can check out HIIT, Pilates, Zumba, Barre (my fave), Yoga (also a fave). These are free on Youtube.

Listen to your body – be mindful and aware of your body.
10 Things to Quit Buying to Save Money – Final Notes
Yay, you made it to the end!
But just in case you missed something, here are the things I quit buying that have saved my family money and my sanity over the years:
Stop buying expensive (or having excessive) skincare products – sunscreen is the number one anti-aging product!

Use hair conditioner or coconut oil instead of shaving cream

Ditch your expensive scented lotions and stick to drugstore products that actually help your skin

Become more mindful with your wardrobe – choose classic over trendy pieces

Try dryer wool balls or vinegar instead of dryer sheets
Use cloth napkins and towels instead of paper products to save money

Use subscription services and only buy books and magazines you'll actually read

Stop buying unnecessary home decor and knick-knacks that only collect dust!

The Latte Factor – how I did not completely quit buying what I enjoy
You don't need a gym membership or fancy equipment to be healthy – simply assessing your diet and physical activity makes a big difference
One last reminder before I end this post:
I wish that you accomplish your self-improvement and/or financial goals this year!
Good luck.
Xx, Glenda
Related Articles
How Earn Free Gift Cards with Fetch Rewards + Review
Target & Walmart Clearance – How to Shop Clearance Without Hoarding
I talk about Kindle Unlimited here – Free Amazon Kindle Unlimited Offer
Smart Sheep Wool Dryer Balls 6-Pack – Amazon Deal
Walmart Grocery Pickup Review – How to Save Time and Money 
Over to you!
What are some things you stopped buying you thought you needed?
Enjoyed this blog post? Don't forget to share it with your friends and follow me on Pinterest!