Raise your hand if one of your least favorite chores is grocery shopping! 
Yeh, it's right up there with cleaning toilets! 
Grocery shopping is stressful especially when you have kids in tow and can take up to 2 hours if you're lucky.
But I found a solution and I hope that it'd be helpful for you, too.
I'm talking about Walmart Grocery Pickup! I've been using this service for 2 years – it's the best thing ever!
You literally save time AND money because you won't be tempted to shop around aimlessly and buy more stuff.
Don't have time? Pin to read later!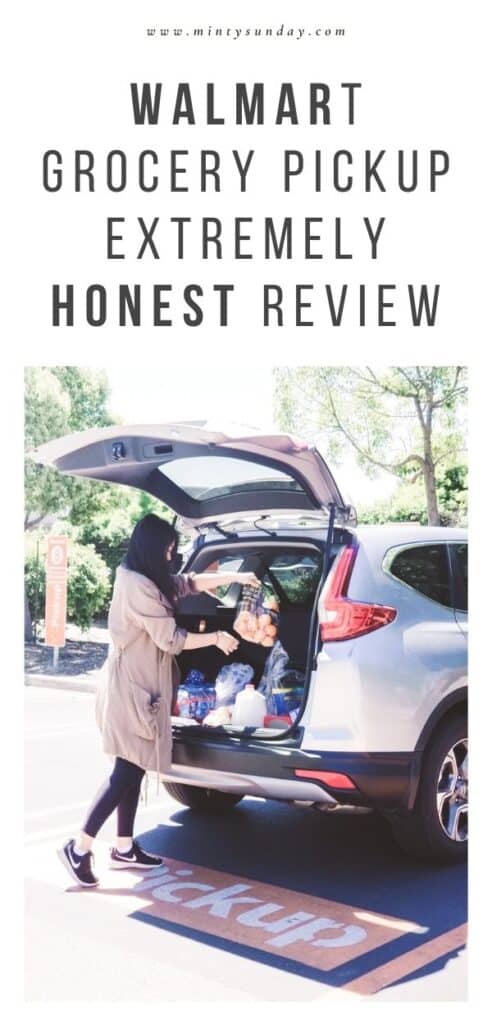 Now, before I go on with this Walmart Grocery Pickup review… 
What is Walmart Grocery Pickup?
You're probably wondering what the heck is it?
It's a free service that allows you to order groceries and many household items online and drive up to your local Walmart to pick up your order without leaving your car!
Here's a list of more things you can order using this service: pet supplies, party and craft supplies, home/kitchen/dine, office and electronics, garden and tools, sports and outdoor, and toys.
If you're interested in trying the service, you can always get $10 off your first $50 order using my referral link that way you won't need a code.
Click Here to Try Walmart Grocery Pickup
After you sign up, you can also get your own referral link. Your friend can get $10 off $50 purchase and you get $10 any time he/she signs up using your link.
Where is Walmart Grocery Pickup available?
Walmart grocery pickup is available in many locations, however not all offer it. In my area, only the Supercenters offer this service but the neighborhood Walmart does not. 
To check for Walmart Grocery Pickup locations near you, click here.
How does Walmart grocery pickup work? – step-by-step
You can order your grocery online via a desktop computer or the Walmart App on your smartphone.
Here's a step-by-step guide of what you'd expect as a new customer:
Sign in to your account, create an account if you don't already have one. The login email you use is where they'll send your order receipt and notifications, so I don't recommend using a spam email.

Choose your preferred store location where you want to pick up your groceries.

Choose a pickup time and date, usually available as early as the next day and as far as one week ahead.

Add items to your cart. There's a $30 minimum order.

Checkout. You'll enter your payment information here and choose whether you'll allow substitutions on certain items. You'll receive an email when your order is ready for pickup. You can also make a change to your order even after you've sent it – the quantities of what you already ordered, pickup timeslot and/or add more items.

Check-in via the Walmart App before you head to the store, you can also enter the color of your vehicle so they can easily spot you in the parking lot. You can also call the number to check in which visible at the reserved parking spot.

Park at the designated Walmart Grocery Pickup reserved parking and wait for Walmart employee(s) with a blue vest to come out with your grocery.

The employee will let you know if there were any substitutions or out of stock items in your order and then ask for your digital signature. You can refuse those substitutions, as well.

The employee will load your groceries in your trunk.

Finally, you'll receive an email of your final receipt and you're done!
I Want to Try Walmart Grocery Pickup Now!
What are substitutions?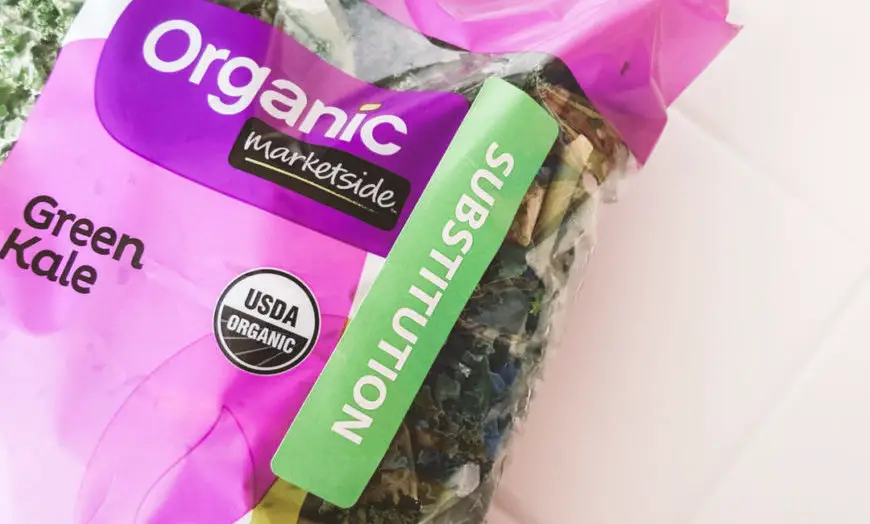 Substitutions are just that – an alternative choice for the item in your order when it's out of stock. 
For example, if you ordered a bag of fuji apple but it's out of stock, they'll substitute it with an organic variety or a larger quantity. However, you'd still get charged the same as your original order even if the substitute costs more.
Who is Walmart Grocery Pickup Good For?
I think Walmart Grocery Pickup service is good for everyone.
If you're very particular about picking produce, you can still order non-perishable household items and pantry staples.
Organic Options
If you like to shop only organic, non-GMO or specialty products such as paleo or Whole30, Walmart is constantly growing organic and brand selections. I've seen Aidell's, Primal Kitchen, Tessamae's and Mother In Law's Kimchi to name a few. Walmart also have their own organic brands Great Value and Sam's Choice.
The only people who won't benefit from this service are those who don't shop at Walmart and/or don't have one nearby. 
Walmart Grocery Pickup Review – My Personal Experience: Pros
It's hassle-free!
I love that I can get order my grocery the night before and pick it up after I drop off the kids at school in the morning! Base on my experience so far, the employees are always pleasant and can help me whenever I have a question.
You don't have to get out of the car
This would've been extremely helpful when my kids were still small! I remember when I have one strapped in a car seat and one in the cart. My groceries didn't fit!
But now Walmart Grocery Pickup is helpful for days when I have the kids with me and tired right after school. Or it's been a busy morning still in sweat pants and I haven't showered yet.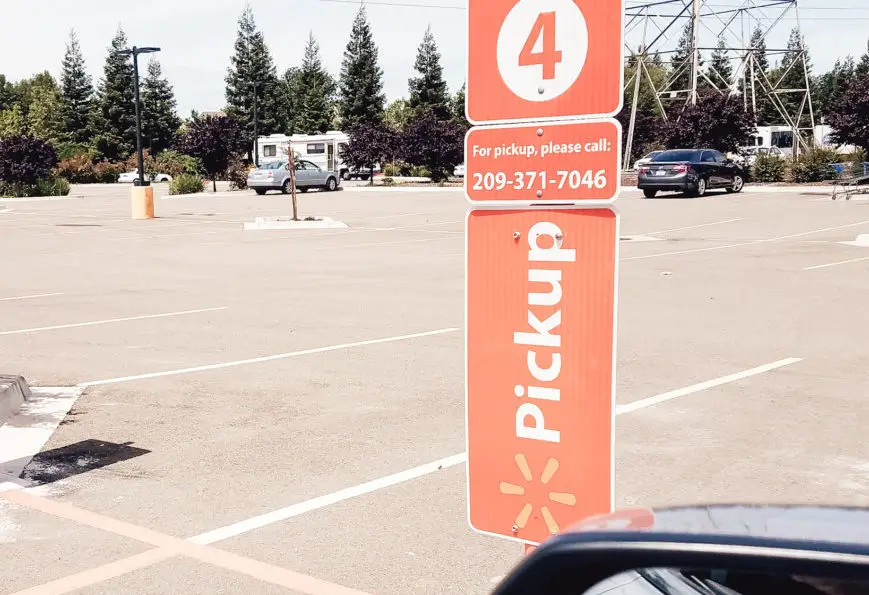 Walmart keeps a record of your past orders
It would be so annoying if they didn't. 
I can easily add items I've ordered in the past to my cart without searching for them again. There's also a favorite section where you have a list of your favorite items so you can easily add them to your cart.
Walmart Grocery is not just for groceries!
I love that I can order all of household essentials including items from the beauty, baby departments, toys, and office supplies.
I haven't tried ordering from other departments though I have seen fellow Walmart Grocery customers pick up dog food.
Walmart grocery pickup is really free
It's really free! There's a $30 minimum purchase though but even if you're ordering for yourself you can easily reach that threshold.
When I started using the service, the minimum threshold was $50.
What happens if you can't pick up or you're late to pick up your Walmart grocery order?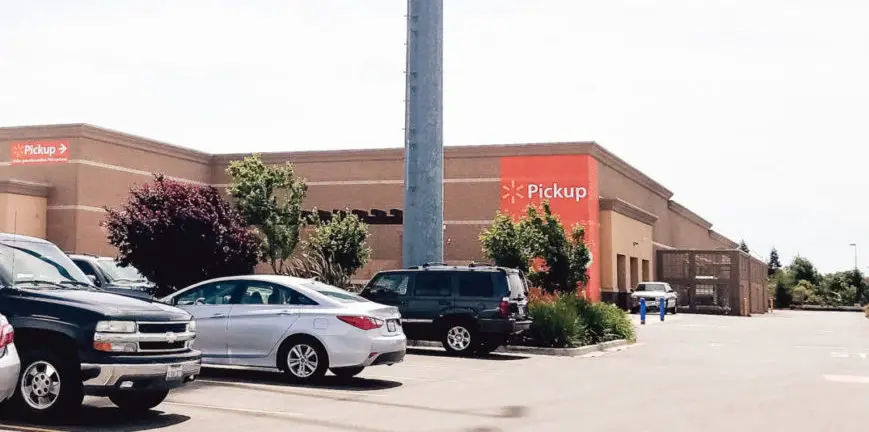 Your order doesn't transmit to the store right away giving you enough time to make changes. Right after you send your order, your receipt will tell you the cutoff time to make any changes.
If you can't make the timeslot you initially scheduled, you can cancel your order as long as you do so before the cutoff time. 
If you totally missed it, they'll call you to reschedule your pickup or cancel your order, though there may be fees.
I've had to make a quantity and timeslot changes for a couple of my orders and it was easy peasy.
I've also been late to pick up my order. I just had to call the number and let them know that I was late and will be arriving soon. 
Can someone else pick up my Walmart grocery order?
I've had my husband pick up my grocery order with no problems. I just make sure he has a copy of my receipt to show proof but he never needed to show it. The employee usually just asks for the name I used in my order.
Are you supposed to tip Walmart grocery pickup?
No tip required or accepted. However, reviews are greatly appreciated. I talk to the employees and they've said that reviews help them.
So, don't forget to leave a review for your shopper especially if he/she did a great job!
Walmart Grocery Pickup Review – My Personal Experience: Cons
I have one major complaint.
As a couponer, it pains me that I can't use any coupons, not even digital coupons. I hope that they'd incorporate this soon, like CVS. Also, I can't use my receipt towards any Ibotta rebates or Fetch Rewards.
Related: 7 Legit Ways to Earn Free Gift Cards, The Ultimate Guide to Couponing + Resources
I'm just nit-picking with the following complaints because there are way around each issue.
Asian food produce and products are limited
I don't expect Walmart to have a vast selection of Asian things. It's a con because it's not a one-stop-shop for me – I still need to go to Asian grocery shops. However, I notice that Walmart is constantly adding new Asian products on their shelves. Just last week, my local Walmart now sells small clear rice wraps for making spring rolls!
Sometimes they're out of stock of what I need
Again, it's not a big deal for me so far because I've always been happy with their substitutions. I've also refused a substitute which was not a big deal for them. 
There also have been a few instances when there were no substitutes for the items in my order. 
This is not a big issue for me because I plan our meals throughout the week and I also have backup meals for days when I can't get the ingredients. But I can easily drop by Raley's to get what I need if it's urgent – which is usually never!
You can't pick the specific produce you want
I don't order bananas or avocados because I'm picky with those. Maybe I can put in the notes section of my order? But I haven't tried.
Does Walmart Grocery Pickup charges for bags?
California is one the of states that have banned thin plastic grocery bags and we're required to pay a minimum $0.10 fee per bag. 
Yes, there's a section during checkout if you want bags and you'll be charged for the bags accordingly.
I never purchase any bags because even if I forget mine I can just dump everything in my trunk and I'm good to go – granted I usually keep my trunk kind of clean. 

Walmart Grocery App Review – Final Notes
From time to time, they'll give out a goodie bag with samples and coupons like the one pictured above.
Walmart Grocery Pickup is one of those modern conveniences for which I'm extremely grateful. I no longer dread grocery shopping and have since simplified that part of my mommy life. 
It also makes it easier for me to stick to my grocery budget. I love that I don't get tempted to roam around the store looking for clearance things I'll never need.
And because grocery shopping is my least favorite thing, I feel super productive ticking it off my to-do list first thing in the morning!
This service is especially helpful, not only for moms but also for disabled or older individuals. 
If you're interested in trying the service, you can always get $10 off your first $50 order using my referral link that way you won't need a code.
Click Here to Try Walmart Grocery Pickup and Get $10 off $50 Purchase
Recently, WalMart added EBT payment option. You can also pay EBT in partial. You just need to bring your EBT card with you when you pick up.
I hope that this Walmart Grocery Pickup review helped and answered your questions!
Good luck!
xx, Glenda
Enjoyed this blog post? Don't forget to share it with your friends and follow me on Pinterest!