Don't you just hate it when you need a gazillion points to earn rewards?
Your time spent trying to earn that first $1 is not even worth your while!
While I love using apps to earn extra cash, I don't want to spend too much time on them.
And I know you don't, too.
I discovered Fetch Rewards 3 years ago and it's been my favorite rewards app since!
All you have to do is scan your receipt to earn! 
That's it – no surveys, no searching for offers, no unlocking offers – none!
In this blog post, I'll show you how to use Fetch Rewards and earn free gift cards fast!
Don't have to read now? Pin to read it later!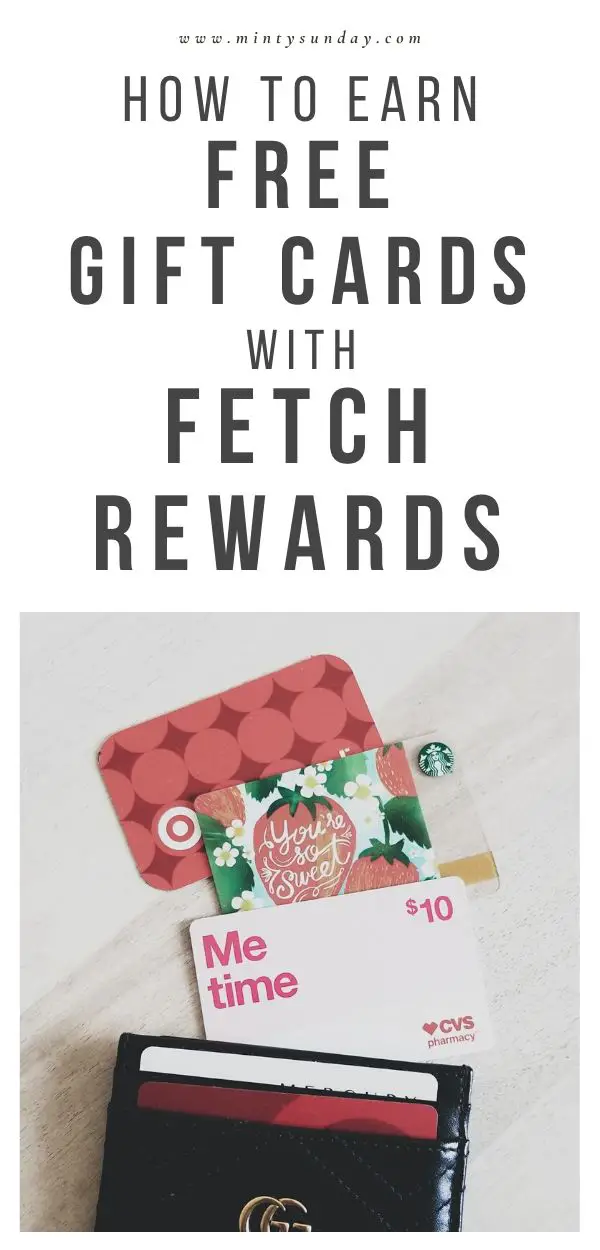 If you're just here for a referral code:
Fetch Rewards Referral Code
Enter referral code:

GB3QR

You earn 2000 – 4000 points when you scan your FIRST receipt and I earn 2000 points!

Yay, we both win!
Click Here to Get Started + Get 2000 Points Bonus!
What is Fetch Rewards? 
Fetch Rewards is an app where you get rewarded with points for scanning your receipts and then redeem those points for gift cards!
points equivalent – 1000 points = $1
compatible with –  ios, android
rewards – as low as $3 gift cards from Target, Starbucks, Amazon, Nordstrom, Ulta, Walmart, Barnes & Noble, Best Buy, and many more. There are over 100 merchants available!
How to use the Fetch Rewards App
Sign Up and Register
Download the Fetch Rewards app –

here

.

Or go to your app store and search for it there.

Sign up for an account – enter my referral code

GB3QR

to receive an instant $2 – $4 free when you scan your first receipt and I receive 2000 points.

You can do the same when YOU refer your friends – more on this later in the post.
Tip – Create a separate email account for your rewards apps. This way you won't miss out on bonuses like this one: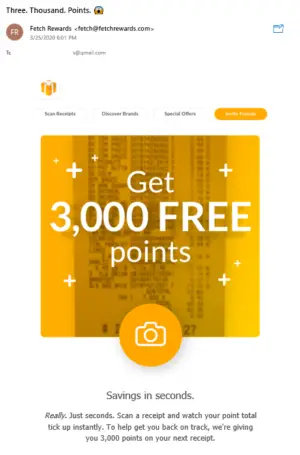 Navigate the Bottom Menu
Discover

– Tap on this to view the current offers available. Here you can view Special Offers and participating brands that give you extra points.

Activity

– Here you can view your lifetime points earned and total amount spent (sum of all receipts you uploaded) – you can view it weekly, monthly, and yearly.

Rewards –

This is where you can view the gift cards you currently qualify for with your points and search for all participating merchants. You can view gift cards by category or by points.

Me –

This is your account page where you'll find your referral code, eReceipts and Single Care settings, and help center.
Upload Your Receipt
Tap the floating camera icon which shows when you're either on Discover or Activity page.

Line up your receipt accordingly and tap on the camera icon again to take a photo ("scan" it).

If your receipt is longer than the screen, tap on the + icon to add another section. Do this until you've taken a photo of your entire receipt.

Tap the Submit button when finished.

That's it!
Upload Your eReceipt
One of the updates Fetch Rewards did is for eReceipts which I'm super excited about because I've been doing my grocery shopping via the Walmart Grocery App!
Here's how to "upload" your eReceipts:
Go to the Me page.

Then tap on eReceipts (located under Refer for Points)

Here you can connect your Amazon account and email account where you receive eReceipts.

Whenever you receive an eReceipt in your email just simply tap on the floating, blue "e" icon next to the camera icon.

It will take a minute to scan your email for eReceipts.

Once it detects it and you'll have a screen tell you how many points you've earned!
A few things to remember:
You can upload grocery receipts up to 14 days old.

There's a limit of 14 receipts per week.
Tip – Upload every receipt you have, most of the time you'll get bonus points for just uploading a receipt!
Click Here to Get Started + Get 2000 Points Bonus!
5 Simple Ways to Earn Points with Fetch Rewards
So, you're all set up. Let's talk about how to get a lot of points on Fetch Rewards!
Scan your receipts 

Must be 14 days or less old 

Upload every single receipt you have! – the worst thing that can happen is they don't accept it. You don't get penalized for that. 

There's a limit of 14 receipts per week so ask friends and family for their receipts – I don't shop 14 times a week so this is how I do it.

Special offers 

Special offers usually have 500 – 4000 points or even points multiplier when you purchase participating brands.

Don't forget to check out the special offers page whenever possible – make it part of your grocery shopping planning! 

You'll earn extra points when completing special offers – this means whenever you purchase those participating products.

Most participating merchants are most likely a brand you are already using!

Combine with couponing and iBotta! – brands like Love Beauty and Planet, Dove men+, Shea Moisture, St Ives, Axe, Suave are always part of rewards deals at the drugstore.

Refer friends!

Earn more points by referring your friends and family!

You can find your own referral code in the Me section on the bottom menu.

Post that in your social media accounts – especially Facebook!

Each time you refer a friend that uses your code, you'll both receive 2000 points ($2) and can sometimes go up to 4000 points!

You both receive your bonus points once your friend scans his/her first receipt.

Here's my referral code if you want to use it – GB3QR

E-receipts 

If you order your groceries (like via the Walmart app) or if you frequently order from Walmart, and Amazon, then be sure to connect your accounts!

Fetch Rewards currently accepts Walmart, Target, Shipt, Costco, Instacart, Sam's club, Boxed, Peapod, and Jet Blue eReceipts.

All you need to do is connect your email and Amazon accounts – do this under Me section.

eMail!

Check your email for bonuses from Fetch Rewards! Did you see that 3000 points email pic I posted at the beginning of this post? 
Tip: Create an email dedicated to your online and grocery orders so you won't miss any bonuses!
How to Redeem Points for Gift Cards
Yes, the fun part. Let's redeem our points but first:
You'll need a minimum of 3000 points ($3) to redeem points for a gift card.

You can also use 100 – 500 points to enter a giveaway or sweepstakes.

You earn a minimum of 5 points – these are receipts from clothing stores, electronics, restaurants. Receipts from grocery, wholesale club stores, hardware, pet stores, or convenience retailers will earn at least 25 points. 

Each time you redeem your points for gift cards, you'll receive instructions on how to use them.

Keep in mind that some gift cards can be used both online and in-store but sometimes they can only be used either online or in-store.

You are allowed to redeem 1 gift card every 6 hours.
To redeem:
Located on the bottom menu, go to the Rewards page

Select the gift card you want and reward amount

Validate the redemption by entering the 4-digit code they texted you.

Fetch Rewards will email you with a link to redeem your gift card.

You can also view your current gift cards on the Rewards page under the My Rewards Tab (located on the top menu)
Click Here to Get Started + Get 2000 Points Bonus!
Frequently Ask Questions
Fetch Rewards versus iBotta?
iBotta was my favorite for the longest time until Fetch Rewards came around.
I still use both apps to earn, though.
Here's why:
(Enter a table of comparison here)
Do my points expire?
If your account has been inactive for 90 days, your points will expire and you will be notified via email.
How many points do you need for Fetch Rewards?
You need at least 3000 points to redeem for the lowest denomination of gift cards.
How much are Fetch points worth?
1000 points = $1
Is Fetch Rewards legit?
Yes, it is! I've been using it since 2017.
How to Use Your Rewards like a Pro?
Okay, so you found a legit awesome app where you can earn extra "cash."
You've earned 3000 points and redeemed it for a $3 gift card.
Obviously, we won't get filthy rich with Fetch Rewards.
So, how can we actually use this newfound earning power to our advantage?
Here are some ideas:
Save your gift cards to add to your Christmas presents budget

Save it for major sales of the year like:

Amazon Prime Day Deals

Nordstrom Anniversary Sale

Black Friday

Redeem gift cards for drugstores to use for couponing so that you can roll onto store rewards to further stretch that extra earning.
How to Easily Earn Gift Cards with Fetch Rewards – Final Thoughts
This is the most fuss-free earning app I've ever used!
I don't have to purchase the special offers from specific stores and I earn points for almost every receipt I scan!
This app is definitely worth the effort. 
Scan your receipt right away so that you won't forget! It takes me about 1 minute to upload a receipt. 
Since I also coupon at CVS, I can complete the special offers easily on a budget.
If you want to learn – here's a quick guide to get your started today!
xx, Glenda
Related Articles:
Click Here
to Get Your 2000 Points Bonus on Fetch Rewards!