But where can you get them?
In this blog post, I've listed different sources of coupons for you plus a huge list of printable coupon sites!
And if you scroll all the way to the bottom, I included common FAQs and a couple of tools that can help with your search.
Don't have time right now? Pin it for later!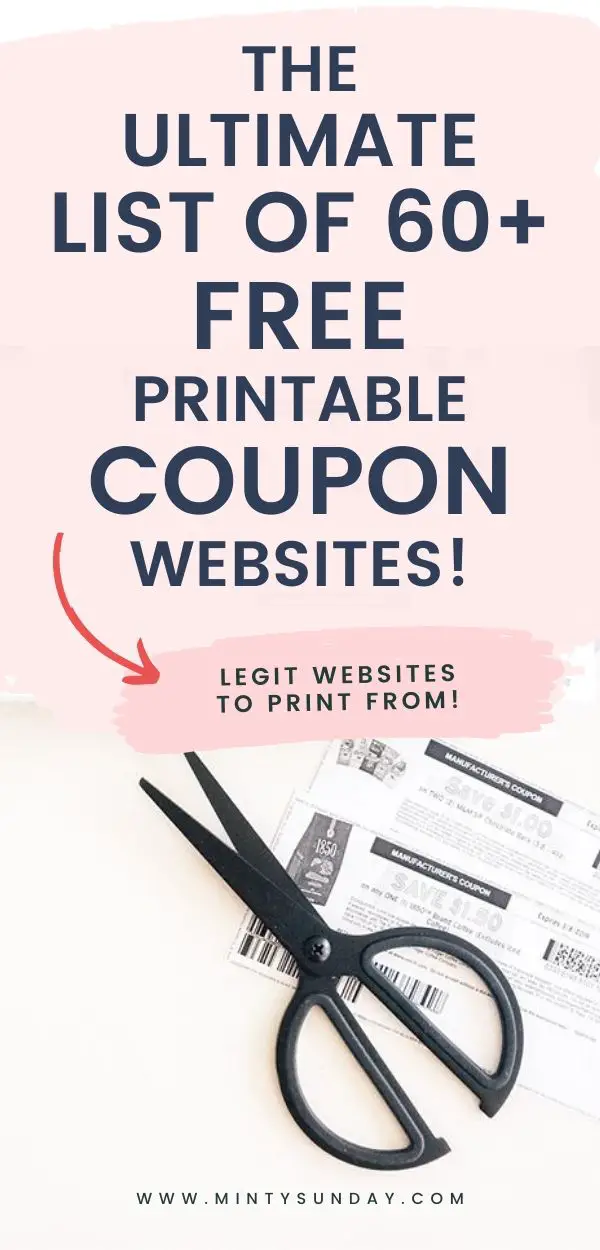 Paper Coupons
SUNDAY PAPER INSERTS – found in the Sunday newspaper – no coupon inserts during major holidays
BLINKIES – a small machine that spits out coupons at the stores; many are found at the grocery stores
TEARPADS – a pad of coupons usually found on products displays, free-standing or on the shelves
PEELIES & HANGTAGS – coupons found attached to the products.
CATALINA – coupons that print at the register. It looks like a receipt printer – grocery stores, Target, Walgreens and Kmart have catalina machines
STORE BOOKLETS – found at the store entrance, by the Pharmacy or at the Customer Service area. Target, Walmart, and Walgreens usually have them.
MAGAZINES 
HOME MAILERS – coupons sent in the mail by companies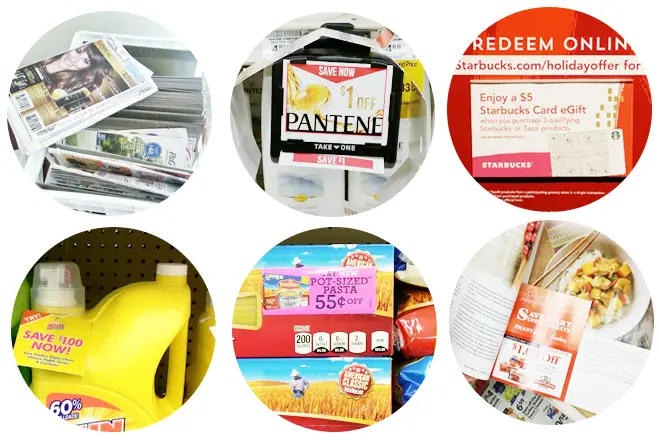 Printable Coupons
You are limited to print 2 coupons per computer/device but there are times when you're allowed to print just 1. Printers are now mostly wireless and you can print from your phone using an app.
Remember to NEVER photocopy your coupons!
What I mean by that is to not make copies of your printed coupons to have more to use. This is because each coupon has a unique code (set of numbers). And using duplicate printed coupons is fraudulent. Think of it like making copies of money. Don't do it.
Just a quick side note: There were many printable coupon websites and companies offered their own printable coupons when I started couponing in 2009. Now, there's just a handful of them because of the widespread couponing fraud. Even the value of coupons decreased since. So please let's work together to keep couponing great for everyone!
I use an  HP monochrome laser jet printer to print my coupons and it has saved me money on ink. It's been years and I haven't changed the toner even once! I've never had any problems with printing my coupons in black and color. It might be different in your case; ask the manager at your store to be sure.
This HP LaserJet Pro M15w Wireless Laser Printer is the world's smallest laser printer regularly priced at $99 which is not bad considering laser printers used to be expensive and bulky. Also, I see this go on sale all the time – keep your eyes peeled if you want to save money.
If you want a multi-functional wireless printer, this Brother monochrome laser printer is highly rated. This is regularly $160 but I also see it often on sale for $99. I like that there's an automatic 2-sided print mode.
Where to Get Free Coupons
Though I try to keep this post updated, you might encounter links that aren't working.
Here's what you can do:
Simply search the website for "offers" or "coupons" or check out the company's Facebook pages for exclusive offers
Some of these websites use the same coupon database so you'll see some that are identical. However, they do feature their own printable coupons usually at the top of the page.
Several reminders for you:
some require you to sign up to be able to print the coupons
some require you to sign up for the newsletter and receive printable coupons via email
some allow you to print coupons from their website AND send you exclusive offers via email
Pro Tip: Have a dedicated email for printable coupons, especially when you're signing up for the newsletters. This way it'll be easy for you to see the printable coupons you want rather having them buried in your already full inbox.
Related article: How to Organize Coupons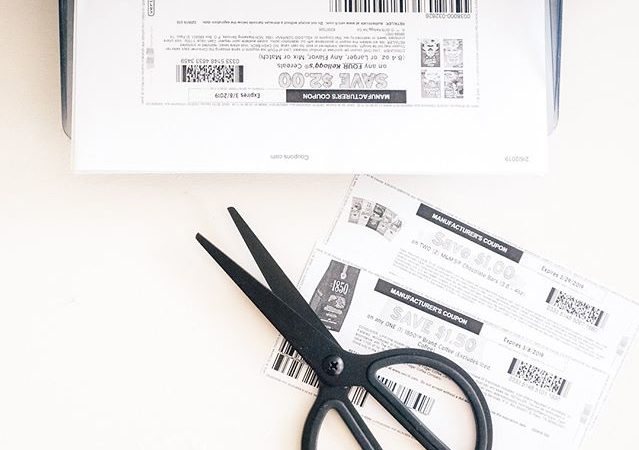 Best Sites for Printable Coupons
Check these printable coupon sites first because they're often updated and have a lot of coupons available!
Smart Source –

www.smartsource.com
Red Plum – www.redplum.com
Coupons – www.coupons.com
Procter & Gamble – http://www.pgeveryday.com/tag/coupon
Healthy Essentials – Johnsons & Johnson product coupons
Best Websites for Printable Grocery Coupons
Personal Care Printable Coupon Sites
Health Printable Coupon Sites
Baby Printable Coupons Websites
Beauty Printable Coupons
Printable Household Products Coupons
Store Specific Digital Coupons (No Printer Required)
These are coupons that can only be redeemed at that specific store. These are usually grocery stores that require you to sign up for their loyalty cards.
Be sure to check your favorite grocery store's website for their digital coupons and sometimes coupons are found by the entrance.
Printable Coupon FAQs
How many coupons can I print?
You can print up to 2 printable coupons per device. Though sometimes companies will limit it to just one print!
Some of my coupons didn't print, what happened?
If you printed several coupons, especially from a coupon network sites like Coupons.com, there are several possibilities of why some of them didn't print:
the coupon is no longer available
maximum print reached – companies usually only allow a specific total number of coupons that can be printed (ie. only 10,000 available)
you've already reached the limit (ie. 1 or 2 prints per device)
Why did my coupon print without a barcode?
Most require you to download a software to print coupons – be sure that you've installed it properly. Please refer to each website's Help section to troubleshoot.
Why are my coupons not printing?
There are several possibilities:
your printer may be offline
you have your printer set to PDF
you've already reached the maximum print
Final Notes
I hope this resource is helpful to you.
There are lots of websites that offer printable coupons.
Always check your favorite brand's website and Facebook page for their latest offers and promotions.
If you really love their product, let them know via email and in most cases, they'll send you coupons!
Want to learn how to coupon? Check out my Ultimate Coupon Guide + Resources page.
xx, Glenda