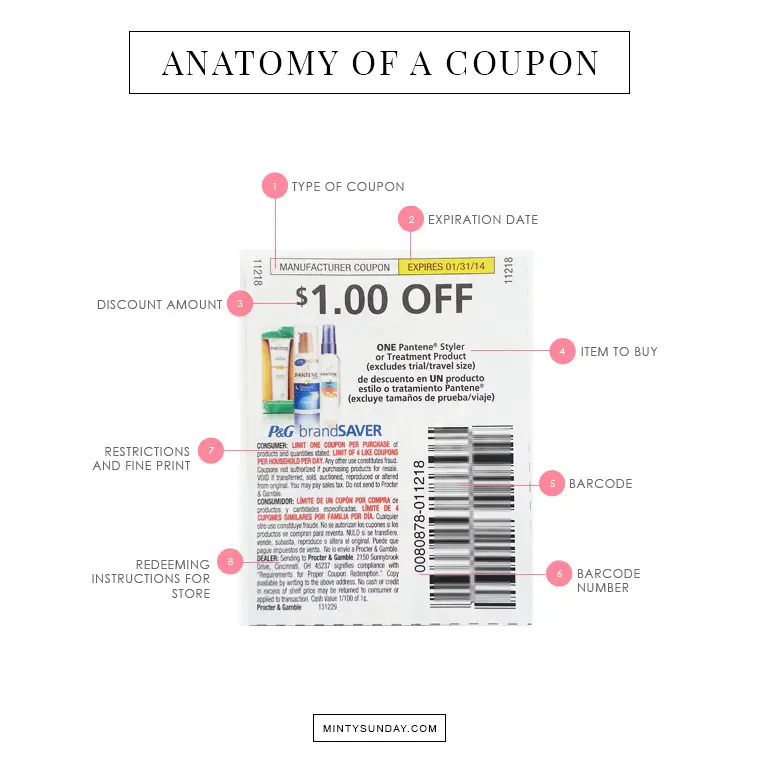 Knowing how to read a coupon is an essential part of couponing. So, here's a simple breakdown that will help you identify the basics.
1. TYPE OF COUPON
This indicates whether the coupon is manufacturer's coupon or a store coupon. Sometimes it says it's a manufacturer's coupon but there's no redeeming instruction (see #8) – that means it's a store coupon.
2. EXPIRATION DATE
You have until midnight to use the coupon on the day it expires.
3. DISCOUNT AMOUNT
The dollar amount that the register will take off when the coupon is scanned.
4. ITEM TO BUY
The picture of the product is NOT important – notice how I didn't give it a number? You don't always have to buy the item on the picture.
This area includes the following important information and overrides the product picture on the coupon. 
the quantity of the item you need to purchase – if no quantity is stated (sometimes it will say "ANY" then it is assumed as ONE item)
specific product covered by the coupon
size of the product
5. BARCODE
The cashier scans this. (obviously, hahaha!) All joking aside, the barcode is what the cashier scans to make the redemption flow faster at the register. But sometimes a coupon scans fine at the register even on the wrong product. (Read Glittering Here) It's actually the verbiage on the coupon #4 that determines what products qualify. So just because the coupon scans at the register doesn't necessarily mean you used it properly.
6. BARCODE NUMBER
If the barcode doesn't scan sometimes the cashier (if allowed) will key in this number.
7. RESTRICTIONS AND FINE PRINT
This part is important. Don't skip this. ALWAYS READ IT!
What's a transaction?
A transaction is completed when you receive a receipt for the things you purchased. So, one receipt means one transaction.
What's a purchase?
A qualifying item or items is a purchase. In the coupon example above, it says "Save $1 Off ONE Pantene Styler," this means you can use this coupon per ONE Pantene Styler product you have in your cart. Per ONE Pantene Styler is a purchase. 
Don't use TWO coupons on ONE product to save $2.
Some coupons will have something like "Save $5 off THREE Colgate products." In this case, your purchase will contain THREE Colgate products.
This particular coupon has 2 restrictions:
Limit 1 coupon per purchase
Limit 4 like coupons per transaction
Here are other restrictions you'll come across:
Limit one coupon per transaction
Limit one coupon per day/visit
Limit one coupon per person/customer/household
8. STORE REDEEMING INSTRUCTIONS
This is for store use. If there are no redeeming instructions in the coupon, it usually means it's a store coupon.
---
Final Notes
Not too complicated, right?
Next post: Couponing Language - Codes and Definitions. Let me know in the comments if this blog post helped you or if you have additional questions.
Wanna learn how to coupon? Check out my Ultimate Guide to Couponing + Resources page.