That moment when you look at your total at checkout…
And it says $400!!!!! Like how!? Right?
Even worst, you don't even have a clue on what to feed your family when you get home.
In this blog post, I'll share with you several costly mistakes you probably don't know you're making at the grocery store.
This is not a post about slashing your weekly grocery budget to $20 a week.
But you can significantly decrease the damage to your wallet and sanity at checkout!
Don't have time to read? Pin to read it later!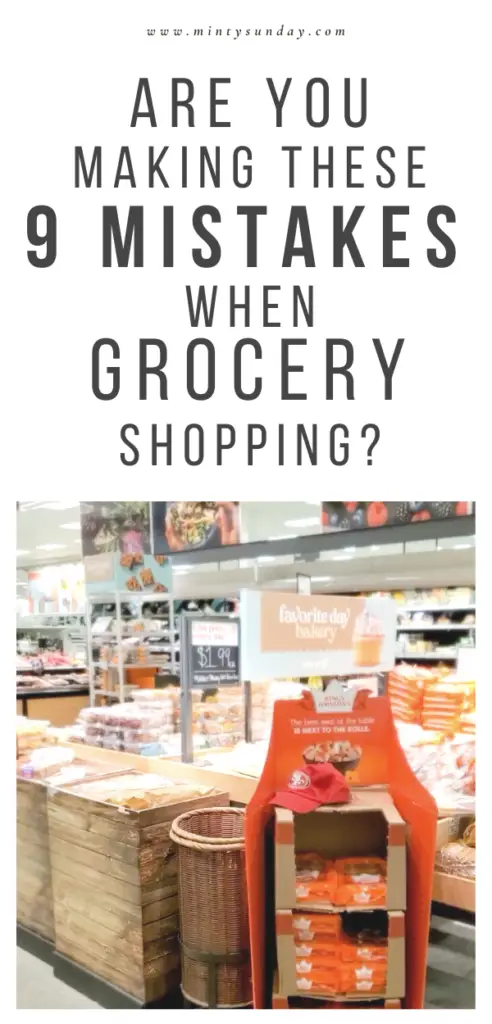 Are you making these 9 costly mistakes when grocery shopping?
Mistake 1 – Going to the Grocery Store Without a Plan
If you have no idea what to cook for dinner then you would be spending a lot of time and money figuring it out at the grocery store.
Plan your meals BEFORE grocery shopping!
Or else you'll end up coming home with groceries but ordering pizza for dinner.
Meal planning saves time, money, sanity, and food!
Seriously, a game changer.
Here's a free printable menu planner I designed just for you!
Mistake 2 – You Don't Shop Your Pantry or Fridge Before Grocery Shopping
Huge food waster!
I've had this happen to me before.
I bought things I thought I didn't have so I ended up having multiples on hand.
This should be part of your meal planning.
This way you're not buying unnecessary items and you're able to use up ingredients you already have.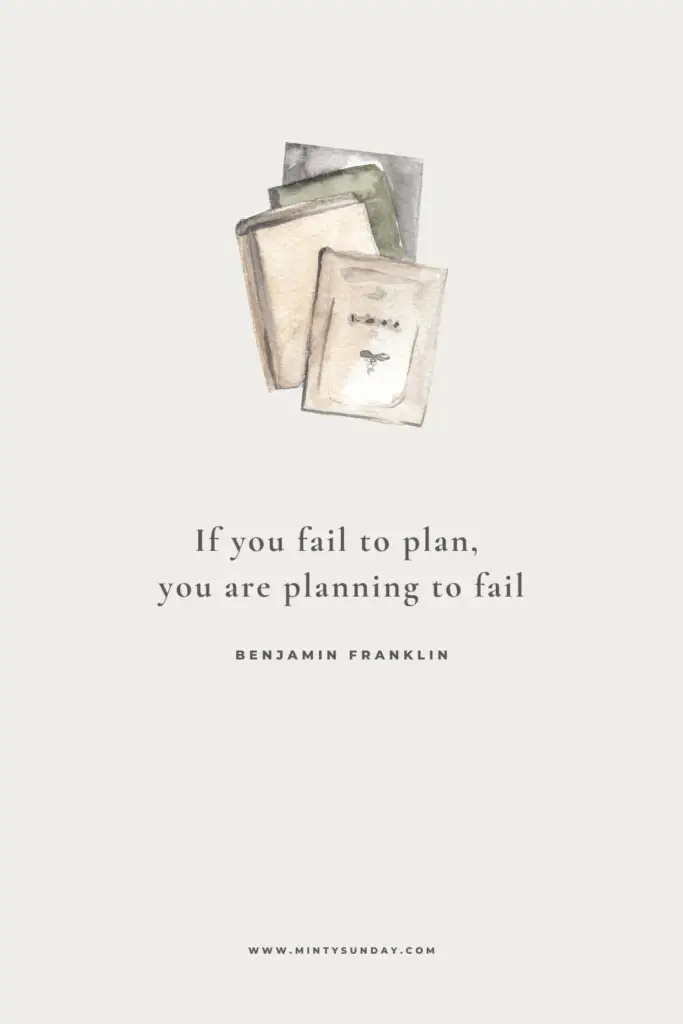 Mistake 3 – You Go to the Grocery Store with Kids and/or Spouse
There are some instances when this can't be avoided.
And for those times, I'd give them a pep talk to set boundaries before going to the store.
For example for my kids, I will tell them that they can choose one small item. Sometimes, I set the dollar amount usually $1 – $3.
Or you can avoid going to the grocery stores all together by ordering your groceries online.
This service is free at Walmart, Target, and even your local grocery stores.
There are also services like Instacart to get your groceries delivered right at your doorstep!
Here's a free Instacart delivery when you first sign up – this was really helpful for me during lockdown. I also used it to shop for my mom who lived in Southern California.

Related Article:
Mistake 4 – You Don't Look at the Weekly Grocery Store Ad
It literally takes less than 1 minute!
Pay attention only to the front and back of the pages because that's where they put the best deals.
Stores post their ad on their apps or website.
Take note of the items that you need that are actually on sale!
And if your budget allows and it's something you can freeze, buy an extra one.
That's one less item to buy on your next grocery run.
Efficiency for the win!
Mistake 5 – You Don't Bother Using Coupons
No, you don't have to be an extreme couponer to use coupons.
Now, you might think it takes too much time to search, print, and clip coupons.
I know, I'm like that sometimes.
But did you know there are more stores now that offer digital coupons than ever before?
Local grocery stores usually have loyalty programs you can join for free!
This is required to get the discounts.
Look at your local grocery store ad when you plan your meals for the week.
There are digital store and manufacturer coupons you can send to your card/account, so physical coupon clipping is no longer required!
Here's a scenario at Raley's (a grocery store near me):
Oroweat Bread is on sale for $2.99 (reg $4.99) (which is located on the FRONT page of the ad!)
Clip a $1.90 digital coupon
Pay just $1.09!
Wait there's more!
I also love using Fetch Rewards where I scan my receipts and connect my email address for my online grocery receipts to receive points!
That's extra savings! Woohoo!
Related Articles:
Mistake 6 – You Go to the Grocery Store Hungry
I think this one takes the cake.
If you, your spouse, and/or kids go to the grocery store hungry, you'll end up:
with unnecessary items in the cart
tantrums
spending more time at the store
bigger grocery bill at checkout
Make sure everyone is fed and well-rested.
Seriously, makes all the difference.
And you avoid getting stressed out at the store, too.
Everyone wins!
Mistake 7 – You Make Multiple Trips to the Grocery Store
So, we already know that going to the store without a plan or really hungry is dangerous for your wallet.
But making multiple trips is one of the biggest money waster of all time.
You will most likely buy extra items each grocery trip.
You can completely avoid this by meal planning.
Mistake 8 – You Always Buy Multiples to get a "Deal"
You know those tags at the store that says "buy 10 for $10?'
Yeah, you usually don't need to buy 10.
Keep in mind that there are instances that the tag will specifically say you need to buy a certain number of items to get the discount.
Otherwise, you will still get the discount even if you buy one item.
So, read those tags carefully.
Ask an associate if you're not sure.
Mistake 9 – You Treat the Grocery Store Like a One-Stop Shop
I don't buy personal care items or household items unless they're heavily discounted at the grocery store.
Big brand stores like Walmart and Target, even Costco will usually have those on sale.
Drugstores like CVS, Riteaid, and Walgreens will also have toothpastes for as low as free when you combine sales, coupons and store rewards.
Bottom line, I buy only groceries at the grocery store.
Final Notes
Grocery shopping is one of my least favorite household task.
It truly is a chore.
I've made all of these mistakes and these tips are based on my own experiences.
My goal is to help you become aware that this necessary household chore may be a money, time, and sanity leak in your life.
So, are you making these mistakes when you're grocery shopping?
You go to the grocery store without a plan.
You don't shop your fridge and pantry before going shopping.
You don't look at the weekly grocery store ad for sales.
You don't use coupons.
You go to the grocery store with kids and/or spouse.
You go to the grocery store hungry.
You make multiple trips to the grocery store.
You always buy multiples to get the "deal" when you really don't need to.
You treat the grocery store like a one-stop shop.
The biggest time, money, and sanity saver for me is ordering my groceries online and meal planning.
I made these meal planning printables to help you plan your weekly meals! They're free!
Good luck!
xx, Glenda
Over to you! Have you made any of these mistakes when grocery shopping?