The holiday is right around the corner!
There are busy days ahead.
And let's be honest, there's still prepping to do even if you want a simple holiday.
But really our main goal is to create fun holiday memories for our family to cherish.
So why not create more magic with this one simple Christmas tradition:
Write a letter to Santa Claus!
But what if Santa writes back complete with a North Pole postmark?!
It's totally legit and did I mention it's free?
Don't have time? Pin for later!
Write a Real Letter to Santa
My children don't like the idea of meeting Santa at the mall.
They NEVER wanted to take pictures with Santa Claus.
In fact, they told me that he didn't seem real. 
I told them that he's probably a Santa helper because the real one is busy preparing for Christmas.
So to keep the Santa magic alive, I've had my children write a letter to Santa instead. 
It's become a holiday tradition.
There are 3 purposes for this:
It's simple yet creates a magical memory.

It teaches them how to write a letter properly – hence I designed the printable with a proper letter format. 

A sneaky way to discover your child's wish list!
I created 3 free Official Letter to Santa printables for you:
fill-in the blanks Official Letter to Santa for kids who are younger

fill-in the blanks Official Letter to Santa for a minimalist Christmas

blank Official Letter to Santa for kids who love to write
How to Receive a Free Letter From Santa Claus by Mail
Your child can receive a response back from the Santa complete with a North Pole postmark!
I think this is great for children who are 4 and older – maybe even 3 years old.
Here's how it works:
Have your child write a letter to Santa. 

Your child can put it in an envelope addressed to the North Pole.

Tell your child that you'll mail it for them.

Then when they're asleep, you can read their letter and write a response! You can even write a response on the back of the letter!

Put the letters in a new envelope addressed to your child. 

Include Santa Claus, North Pole as the return address on the envelope.

Add a first-class mail stamp so that it's ready to be mailed back!

Place the whole thing in a larger envelope and send to:
NORTH POLE POSTMARK
POSTMASTER
4141 POSTMARK DR
ANCHORAGE AK 99530-9998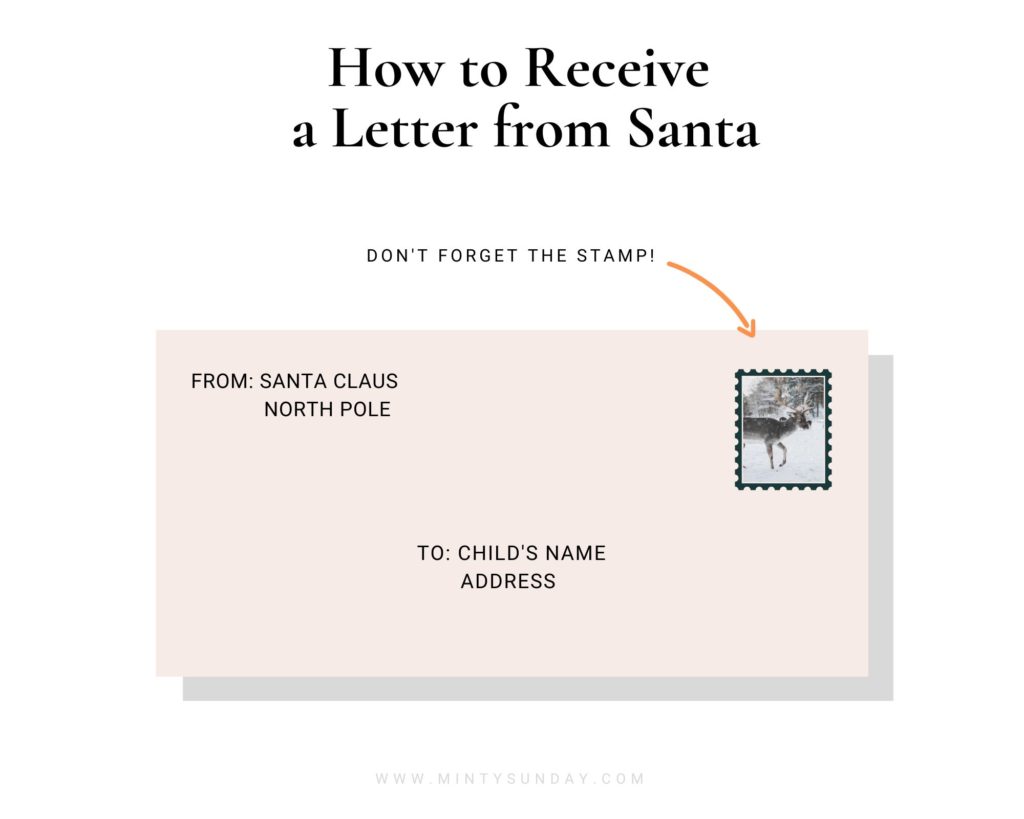 The Anchorage Postmaster will open the envelope, remove Santa's letter address to your child (if it's separate from your response), apply the North Pole postmark, and mail it back to you!
NOTE: The United Postal Service recommends sending the letter by December 7th!
I recommend making a copy of your child's letter to Santa if you're going to write the response on a separate paper because you won't get it back!
You can easily do this by taking a photo of the letter this way you have a copy for your memory album etc.
Don't forget! You need a stamp for both envelopes!
Sign up below and I'll send you a free Letter to Santa printable PDFs right to your inbox!
I designed these printables so that it looks good even if you ran out of colored ink! Plus there are no heavy images so you won't use a lot of ink.
Final Notes
This is one of the easiest holiday traditions I implemented for my kids.
Though it's nice to have a fancy printable, you don't need it. Simply give your child a pencil and blank paper, have them write a letter to Santa, and them ask them to decorate if they want.
This tradition goes well with leaving milk and treats for Santa and his reindeers on Christmas Eve.
If you couldn't make the December 7th deadline, you can write a letter from Santa and place it near the milk and cookies for your child to find in the morning!
You don't need to make it perfect!
I truly wish that you and your family have a magical and wonderful holiday!
xx, Glenda