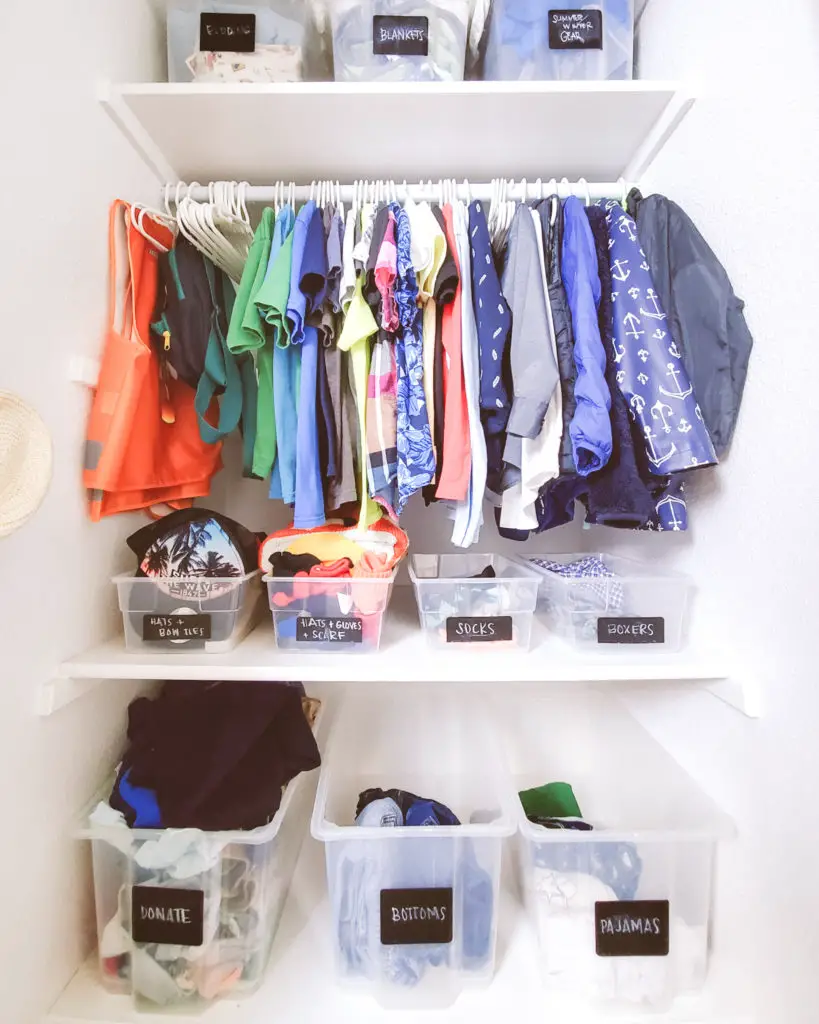 If you're scratching your head about how in the heck you can start to declutter and organize your kid's closet (or any closet!), this post is for you!
Over the years, I've developed a simple system to tackle this problem.
It's super easy, you'd want to declutter everyone's closet! (Not that you will – ha!)
Even if you don't already have an organization system in place, you can still follow the steps below!
Move over Marie Kondo, there's a new organizing genius in town! (That's you! :))
1. Create Sorting Piles
The first thing you have to create every time you start a decluttering project is sorting piles.
This way you won't end up with another pile of miscellaneous things that you need to sort through – one less step!
Here's how to do that:
ACTION STEPS:
Grab 3 boxes, bags or whatever you may have to contain stuff. 

Label each container: Donate, Trash, Don't Belong
You can even take it a step further and create an additional pile: "To Sell" – more on this later.
2. Clear Things Out
I love Marie Kondo and her book, The Life-Changing Magic of Tidying Up, but I don't agree on the step where you take EVERYTHING out and create a massive pile. 


There's a reason for that, I know, but it's not for me.
It's too messy and creates additional steps to the decluttering process.
I'm lazy; I want easy and simple.
Do the following instead:
ACTION STEP: 
Take everything out of the closet that shouldn't be there and put in the "Don't Belong" box.
Easy peasy! This step shouldn't take long.
3. Declutter Kids Clothes and Make Extra Cash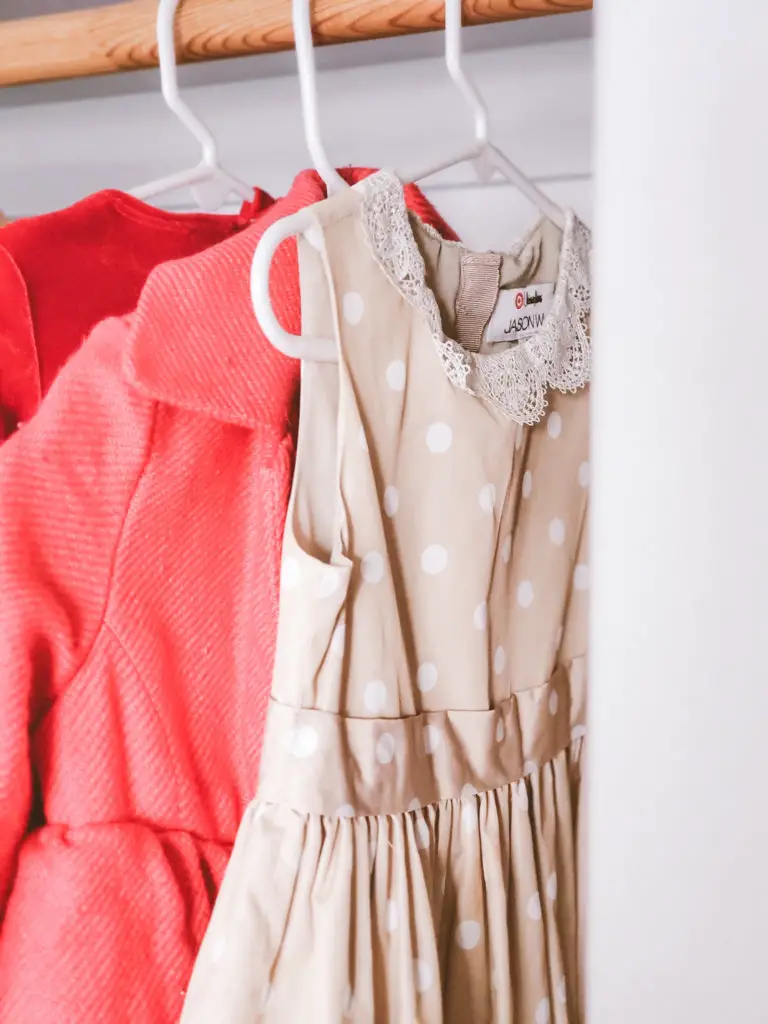 Unless your kid has a massive wardrobe, this step shouldn't take that long either.
One more thing before you start.
Did you know you can recycle clothes? H&M takes clothes to recycle and you'll receive a discount on your next purchase. How cool is that? Check it out here.
ACTION STEPS:
Look at each item in your kid's closet.

Take everything he/she can no longer wear.

Clothing full of holes – put in "Trash" pile

Clothing that no longer fits but in good condition – put in "Donate" bin

Clothing your kid doesn't like to wear but in good condition – put in "Donate" bin
Want to make extra cash? Sell used kids' clothes in good condition online or locally.
Charity shops already have tons of donated clothes.
So, why not sell your unwanted kids' clothes online and make extra cash.
EXTRA ACTION STEPS:
Take new, fairly new, brand name items and put in another pile label it – "To Sell"

Sell these items on:

Facebook merchants, groups

Mercari – sets of clothes or individual listings do well here

EBay – lots (read: a large set) of kids' clothing do well here

Poshmark – mostly brand names

Your local consignment shops like Plato's Closet, Once Upon a Child, etc.

ThredUp
4. Organize Kids' Clothes By Grouping Like Items
The secret to any organizing projects is grouping like items together because it creates a built-in, efficient organizing system for you and your child.
Here's how to easily do that:
ACTION STEPS:
Hang tees, sweaters, coats, jackets, vests, etc. 

Group together like items (put all tees together, long sleeves, sweaters, jackets).
Hanging these will keep them from getting wrinkled. 
And you'll see exactly how many of the same clothing items your child owns.
You'll also save money because it'll prevent you from buying items you thought your child needed.
Before we go on to the folded items, we need to talk about containers if you don't have already have a chest of drawers. 
ACTION STEP: Look around your home for containers like shoe boxes, plastic bins, baskets, boxes (diaper boxes you can cover with a pretty wrapping paper), etc
(You can also find plastic bins and baskets at Target, Ikea, Walmart, Dollar Tree, 99 Cents Only Stores, thrift shops – they're everywhere.)
(Side note: I wrapped this diaper box many years ago, when my kids were still wearing diapers. My kids are now 8 and 10 years old.)
TIP – Before you go out and buy – be sure to measure where they'll be placed to maximize the use of the space.
Keep in mind that your goal is to organize and declutter the closet NOT design it. 
So, don't worry about making it pretty; you can do that once you've created and maintained it.
Focus on making it functional!
And now onto the "folded" items:
ACTION STEPS:
Group together pants, jeans, shorts.

Group together, pajamas and play clothes.

Group together socks and underwear.

Group together seasonal clothes such as snow/winter gear and swimwear.
OPTIONAL: Group together bedding. I put my kids' bedding items in their closet. Each has 2 sets of sheets, this way I have a replacement for when one set is in the wash.
Important! Now, label each container or drawer of what it contains. 
Notice how I put FOLD in quotes?
Because folding neatly, like how Marie Kondo does, is optional. 
I only do that when I have time (but let's be honest, it's not a priority).
I work at home, have 2 kids, a husband, a 2-story house to keep clean and want to take care of myself, too.
I will, however, kind of fold them to keep from getting too wrinkled (aka using the Fold in Half Method – see more below on how to do this!)
Plus, that kind of high expectation deters me from my goal of creating and maintaining an organized space. 
5. Do the Laundry After Decluttering and Organizing
Now is the time to wash your kids' clothes.
You need to do this AFTER you declutter because it makes it easier for you to fold and put away clean clothes.
I know this because it's a problem for me, too.
If the closet is bursting and I can hardly close the door, my mind will avoid putting clean clothes away.
This means I'll have a pile in the basket or dryer that will stay there for who knows how long!
My kids and husband will constantly ask me questions like,
"Mom where are my pants?"

"Babe, do I have any clean underwear?"

"Mom I need socks."
You feel guilty and irritated at the same time.
Trust me, it stops and life is quieter once you implement the steps above.
---
More Decluttering and Organizing Kids' Closet Hacks
Now that you've decluttered and organized your kid's closet, here are several more tips to take it to the next level!
Read on, friend, I have more things for you.
The Life-Changing Closet Hack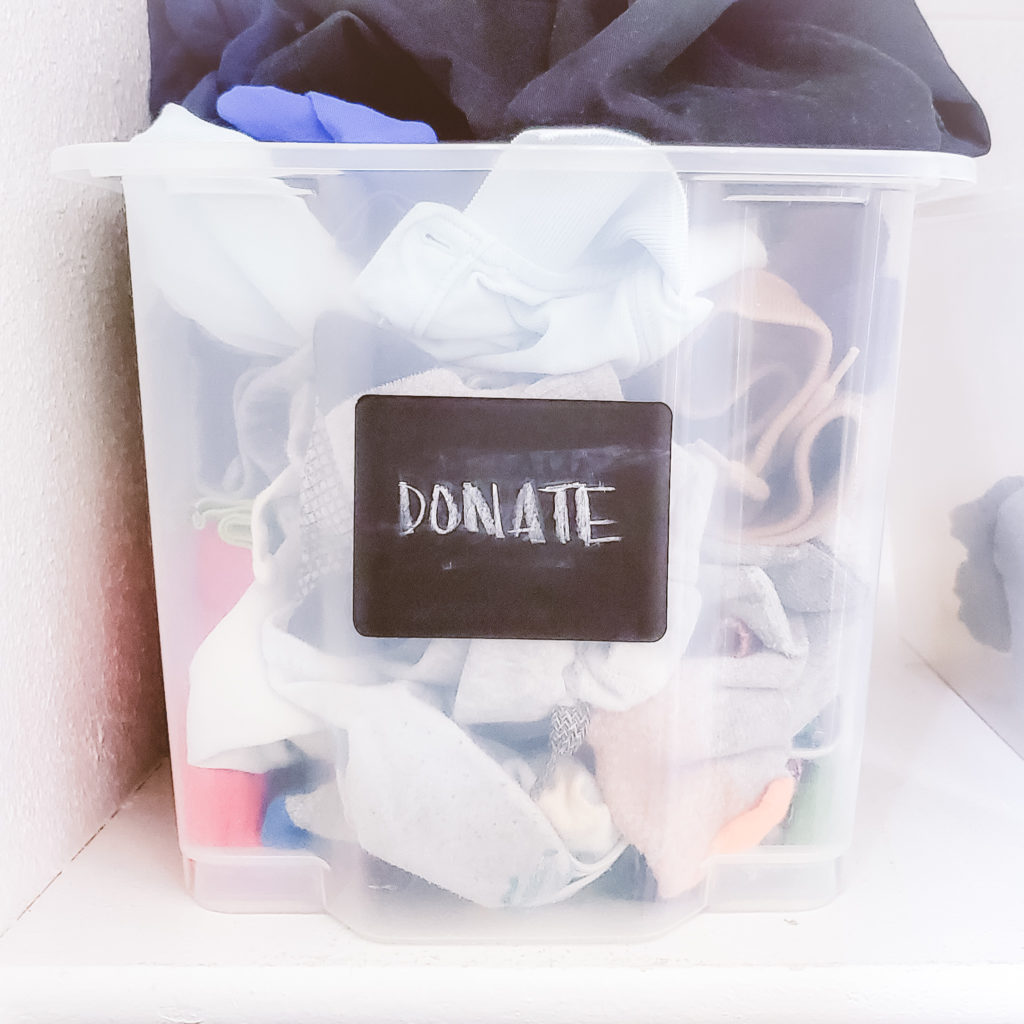 I have this in many places in our home because it makes decluttering easier.
Are you ready for this?
Here it goes:
Have a dedicated space or bin especially for items you want to donate (aka get rid of)!
This way, you can easily take it to the charity shop whenever the bin is full.
Boom! (drops the mic)
Create a Capsule Wardrobe for Kids
If tidying up is life-changing, creating a capsule wardrobe for your kids is also life-changing!
And it isn't a tedious or difficult task either!
My kids don't even realize they have a capsule wardrobe.
ACTION STEPS:
Observe and take note of what your child likes to wear to school, at home, and going out.

You'll discover that they each have their own go-to outfits (aka uniforms) daily.
Why is this so? Because we're all creatures of habits. 
We all have a reason why we gravitate towards a certain piece of clothing – it's usually because it's comfortable. 
Plain and simple.
Base on that, buy and keep only those types of clothing pieces.
And purchase clothes that don't require special clothing care – (looking at you wool coats)
The Reverse Hanger Hack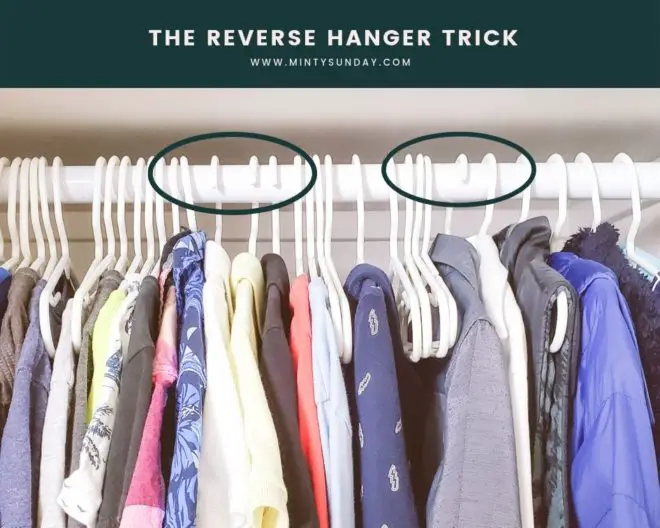 Here's another decluttering hack that can help figure out what your child likes to wear.
Invert the hangers to keep track of clothing pieces your child wears constantly.
Here's what you need to do:
Hang all of your child's clothes backward so that the open side of the hanger hook now faces you.
Hang back the clothing item your child has worn with the hanger facing normally.
How to Teach Kids to Put Clean Clothes Away
Make it simple.
Our minds are wired to keep us away from anything that will harm us. This includes feelings of discomfort and pain (aka any chores that seem daunting!)
If it's simple, we are likely to do it – children are the same.
Label everything! 
One less thing to think about, one less decision to make because the label already tells you where to put them. 
This not only helps your child, but it also helps you.
Use images instead of words for younger children.
Help them. 
This is something I remind myself daily. 
After all, our job is to teach and let our children know that we're here if they need us. 
But this doesn't mean you have to do it for them.
How to Save Time Folding Laundry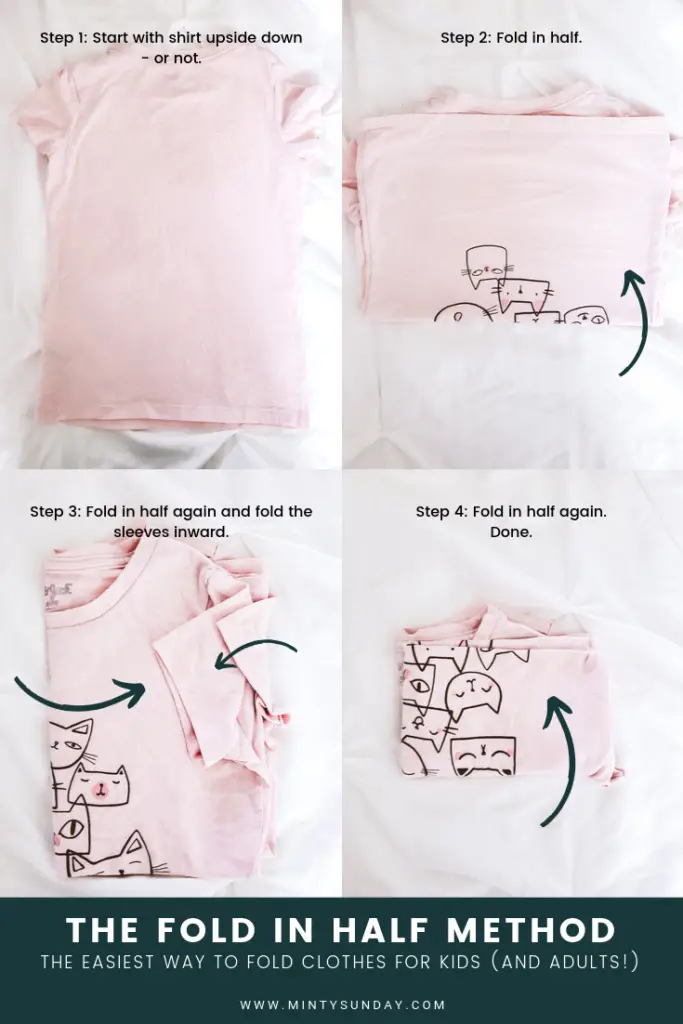 As I said earlier, I love Marie Kondo and her laundry folding method is awesome.
But it's not for me and it's too tedious for small children.
So I created a technique and I call it The Fold in Half Method.
It's easier and faster for my children because all they do is fold in half until they achieve a desired size – usually about 2-3 folds depending on the clothing.
THE FOLD IN HALF METHOD
Fold clothing in half. (lengthwise or widthwise whatever strikes your fancy). I recommend folding kid's shirts so that the graphic shows at the end. This way, it's easier for your child to find a shirt they prefer to wear without asking for help or unfolding every shirt in the drawer.

Fold in half again.

Done! 
Don't worry about making it perfect, especially when your children are folding, because it will never be!
I use this method for my clothes and husband's clothes as well. I achieve that neat Marie-Kondo fold without making it too complicated.
How to Teach Kids to Wash Clothes
I don't know the perfect age to start teaching children to wash their clothes but I started my kids at age 5. 
I had them help me load the machines and they pressed the buttons to turn them on.
I found it's easier if kids have a capsule wardrobe because:
Fewer clothes to wash and manage

Every clothing item go together

Each item doesn't require any special clothing care
Because of the above, you can do this:
Have only ONE bin for dirty clothes – the ones with wheels are easy because it's fun hauling it to the laundry room. This eliminates the need to sort dirty laundry.
Next, show them how to:
Haul dirty clothes to the laundry room or carry the bin to the laundry room for them.

Show them how to load the washing machine

Show them how to add detergent into the machine – my kids like doing this.

Show them how to turn the washing machine on

Show them how to clean out the lint catcher

Show them how to turn on the dryer
And like any habit or chore the easier the more likely you'll succeed in teaching them.
---
Final Notes
Decluttering and organizing ANY closet is a daunting task indeed!
I hope that reading this post alleviated some of those feelings.
As you can see, my son's closet is so not Pinterest worthy but it's functional for him.
I find the most difficult part of any decluttering or organizing is starting.
But I always ask myself this, "How do you eat an elephant?
Take a small bite at a time.
You can start now even if it's 10 minutes daily, the result will be exponential!
Believe me when I say that quality of life is better on the other side which then ripples to every member of the household!
You got this, friend.
xx,
Glenda