Do you run around the kitchen like a headless chicken in the morning? 
It doesn't have to be that way!
So if you want to:
Save time.
Stop dumping food in the trash!
Teach your children independence and gain confidence.
And more importantly, save.your.sanity!
Then, you'll love these tips to make your lunch packing life faster, easier, and stress-free!
Don't have to read it now? Pin it for later!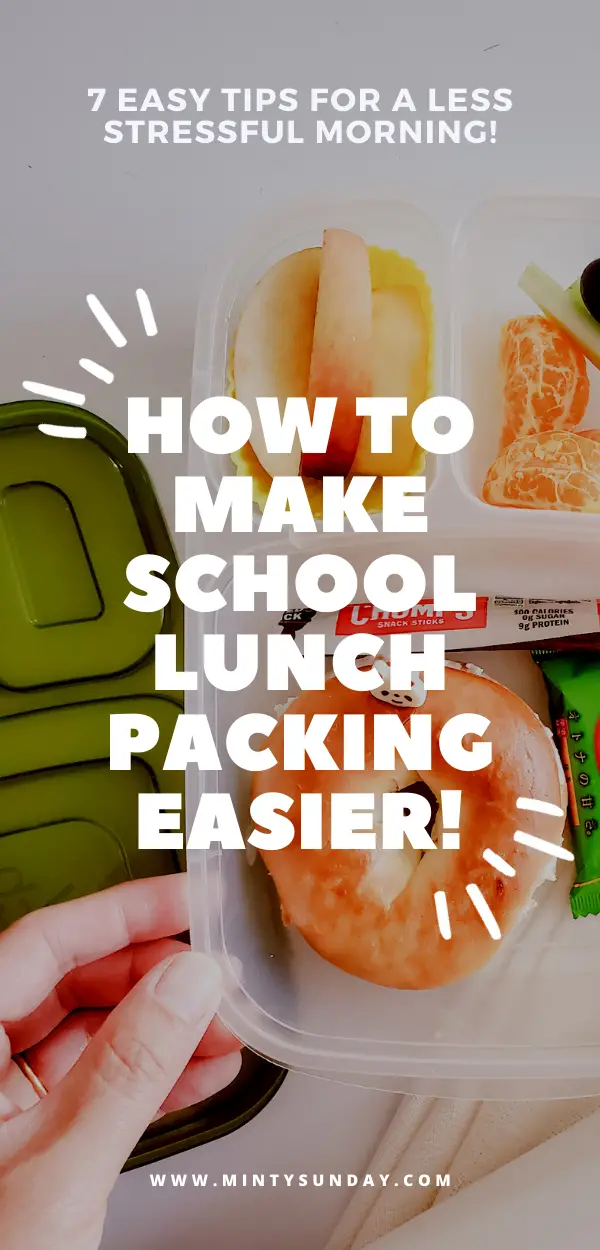 1. Simplify School Lunch Packing Supplies and Tools
You don't need a huge collection of supplies to pack school lunches.
Fewer things to buy = saving more money!
What matters most is you have good quality supplies (not necessarily expensive) that'll last you several years.
Here are the basic supplies you really need:
I like to have 2 bento lunch boxes for each kid so that I can prepare lunches ahead of time – more on this later.
Related Post: The Best School Lunch Boxes on a Budget
Keep School Lunch Packing Supplies Organized
Have all your lunch packing supplies in ONE designated space.
And this goes for packaged and refrigerated snack items, too.
So, how do we do that?
Create a lunch packing station!
Here's how to do it quickly:
Group all like items together – lunch boxes, bags, water bottles.

Put all your lunch gears in a cupboard, drawer or a basket. I have mine in ONE cupboard including optional supplies like silicone baking cups, picks, cutters, etc.

Find a designated space for the ice packs in the freezer – prevents you from searching for them in the morning!

Corral all refrigerated lunch items in the fridge.

Corral all snack items in your pantry.
You don't need fancy bins and baskets for this.
Here's what I use (pictured above)
repurposed fruit white plastic bins – these are thick and sturdy for handling them daily
bread pan (that I hardly use) to corral picks and silicone cupcake molds, straws, and utensils
wire shelf from Dollar Tree
Look around your house and use what you have!
2. How to Stop Stressing About What to Pack for Lunch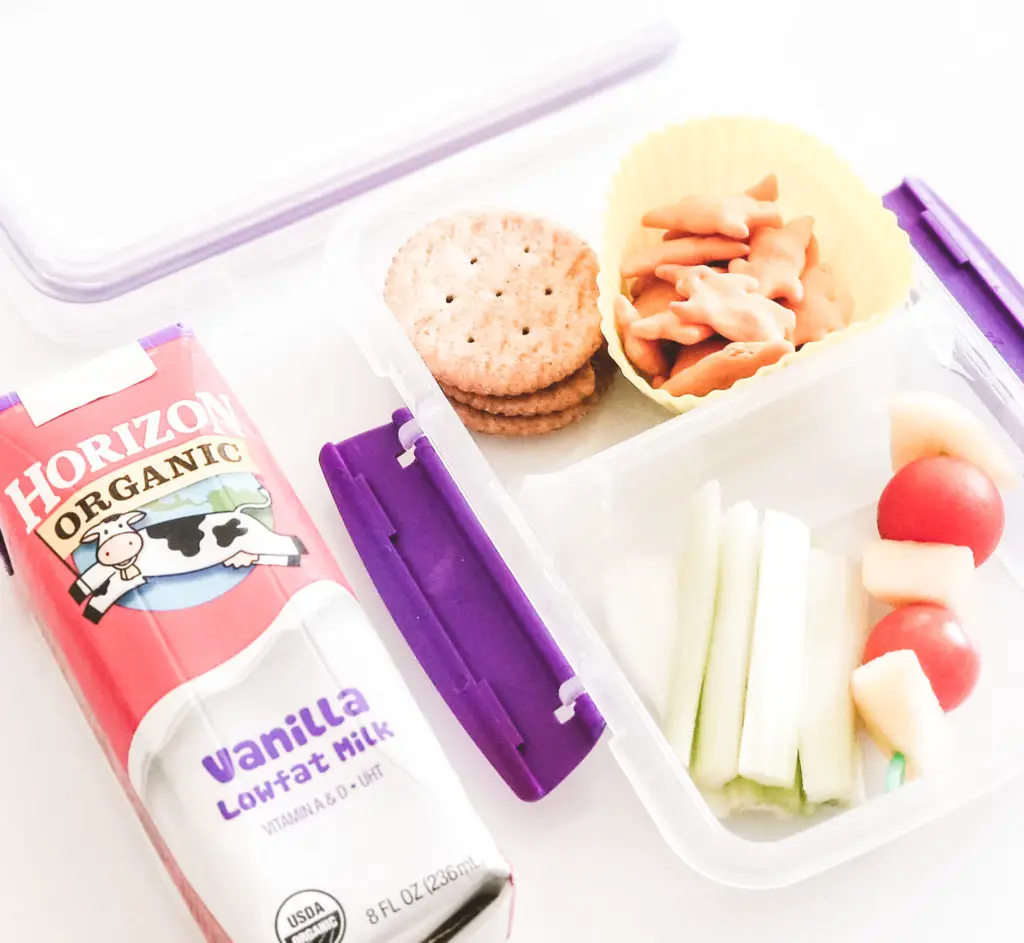 This is the most obvious but overlooked thing about packing lunches for kids.
And it's the most important!
Ask your kids what they want to eat for lunch at school.
Like what Steven Covey said:
Kids like to eat what their peers like to eat for lunch, too.
Some kids like or even prefer the same food every.single.day.
And that is okay!
Seriously, asking and truly listening to my kids about their school lunches blew away the dark clouds hanging over my head! (Dramatic I know but #truth!)
Now:
I'm not saying to let them only have cookies and chips for lunch!
Nor am I saying to abandon your school lunch packing fantasy behind (You can still make it cute!)
No, not at all.
You can have both but just lower your expectation down a notch.
Here's what to do:
Give paper and pen/pencil to each of your children.

Ask them to write down their favorite fruits, maybe discuss and help them think of other fruits they might have forgotten.

Do the same for their favorite vegetables, main dishes, grains, treat etc

You can make it into an activity and have them design, color draw, whatever.
Then, ask them to post it on the fridge.
Don't forget to take a picture for a digital backup.
Plan School Lunches and Create a Lunch Rotation
Now, that you talked to your children about school lunches, it's time to create a plan.
You might be lucky if your child prefers the same food.
But if not, here's what you can do:
Using the list you created earlier, plan for a couple or more weeks of school lunches

If you can't do that, create a plan for just one week.

Keep those records

Refine the lunch menu by taking notes throughout the week such as:

What did your kids like and dislike about their lunches

How was their food at lunchtime? Was it soggy, too warm, too cold?

Serving sizes – too much, too little, too much variety?
Here's another way to do this without planning:
Keep a record of what you pack for school lunches.

Take notes of what they've eaten and leftovers.

Get some feedback from your children – very important! We don't see how their lunches are at lunchtime.

Do this for 2 school weeks.

Now, you have 2 weeks of lunch ideas! -You can alternate or mix it up!
So easy right!?
Do this using paper or digital; I use Google Keep for my notes. 
This is a total game-changer for my school-lunch-packing life and overall #momlife!
Plus I save money because I don't waste so much food!
Here's another idea: post the lunch menu on the fridge and get your kids to help pack their own lunch!  WIN-WIN! 
3. Prepare Vegetables and Fruits Ahead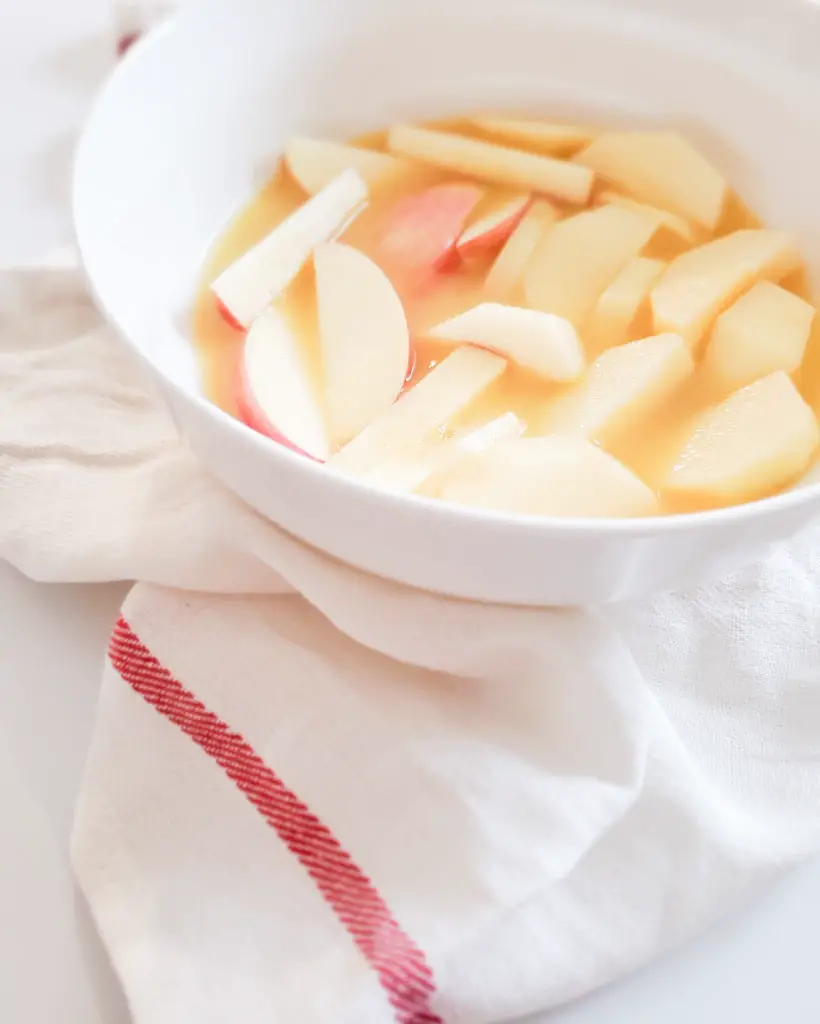 There are 3 main reasons why I prep fruits and veggies:
They're ready for school lunch boxes

My family can easily choose and grab them for snacks because they're ready to eat!

Makes for prepping meals faster and easier.
Even if you don't prep ALL of your fruits and veggies, you can just prep the ones that your kids will have for lunch.
Here are some tips to keep them fresh:
How to Keep Apples from Browning
Apples turn brown when exposed to oxygen – also known as oxidation or enzymatic browning.
To prevent this, you can use citric acid – but you can also use liquids with citric acid (like juice) you may already have on hand.


I've tried salt, lime juice, lemon juice, pineapple juice and vinegar. 
All failed because my kids didn't like how they altered the taste of the apples.
Here's what worked for us:
Cut the apples however you like, and then soak them in 1 part orange juice and 1 part water right away!

Drain and store them in an airtight container.

I store mine in a mason jar. I found some jars cheaper than Amazon for you here.
How to Keep Carrots and Celery from Drying
There's only one problem with these two veggies:
They dry out when you store them in the fridge.
Here's what to do to prevent that:
Cut them up into sticks, wheels, flowers or any shape you like.

Place them in a container and add water to keep them from drying.

Replace the water every couple of days. 
How to Pack Bananas for School Lunch
This tip is for little ones.
Since lunchtime is very short, help them eat a little faster by cutting a small slit in the banana making it pre-peeled (if you will).
This way, they won't waste time waiting for someone to help them peel it.
4. Pack School Lunches the Night Before
If you're stressed, your kids absorb it, too.
Reduce stressful morning by packing school lunches the night before.
Or pack partial lunch boxes for the next several days.
Maybe even have your children help pack after dinner. 
If you create a lunch menu, you can post it on the fridge (or somewhere your kids can see) to guide them with lunch packing.
5. Batch Bake and Cook and then Freeze
Do you cook waffles and pancakes?
Do you bake muffins or pizzas?
How about doubling the recipe and freeze them for future meals!
This includes breakfast, school lunches, snacks, and dinner!
This is a lifesaver especially when you wake up late.
Or when you have no school lunch plan prepared.
Pro Tip:
Freeze them separately on a baking sheet first. 

This way, it'll be easier to grab one at a time because they're not stuck to each other.
6. Preheat and Prechill Insulated Containers (Thermos)
These instructions are sometimes in the fine print of insulated food containers like this Thermos or Lunch Bots.
But they're easy to miss. (I sure did!)
Your thermos will keep food warmer longer if you "preheat" it first. 
Here's how: 
Pour boiling water into the thermos, close, and let it sit for a few minutes. 

Dump out the water and wipe dry.

Add the hot food into the container and it's ready!
What about cold food?
You can use a thermos, too.
Here's how to prechill your thermos:
Put it in the freezer the night before and fill it up in the morning.

Or pack the cold food in the thermos the night before and keep it in the fridge until you're ready to pack it in a lunch bag the next morning.
How to pack milk in a lunch box?
You can use a thermos using the prechill instructions above. I use a Thermos water bottle.
There are also shelf-stable 8oz milk boxes – we buy these ones – my kids like all the flavors.
My son likes them cold so I keep them in the fridge and include an icepack for his lunch.
How to pack yogurt for school lunches?
There are different ways you can go about packing yogurt.
Here are my tried and true ways:
Use an insulated container like

this

. It'll keep them cold until lunchtime and it's leakproof! Use the prechill instructions I mentioned above.

You can freeze yogurt tubes the night before – I keep several in the freezer. It'll act as a second ice pack and thaw just in time for lunch.

Or use a

leak-proof container

 (I've been using a Thermos and small Snapware container) and place it on an ice pack.
7. Be Kind to Yourself, Give Yourself Grace
Sometimes life gets super busy.
Even more so if you have to take care of a baby in addition to your school-age kids. 
It's tough!
So if budget permits, have your kids buy food at school or buy pre-packaged food.
No shame in that, momma!
Easy School Lunch Packing Tips: Final Notes
Life is busy.
Life with kids is busier and challenging!
These tips (especially #2) help me make my school-lunch-packing life go smoother in the morning.
I'm happier and less stressed out (aka less yelling and running around like a headless chicken).
We have extra time for cuddles and conversations.
And I can be there for them when they need help instead of telling them I'm too busy packing their lunch.
Lastly, I'm not stressed out.
You can do it, too! Good luck!
xx Glenda
Your Turn! Have you tried any of these school lunch packing ideas? 
Which tip will you try first?
Enjoyed this blog post? Don't forget to share it with your friends and follow me on Pinterest!