Did you know that a lunch box can cost up to $60?
You'd probably have to sell a kidney if you have a big family!
Don't forget that you'd have to buy lunch bags and water bottles too.
So, how do you find a good but budget-friendly lunch box?
I've packed about 1200+ school lunches since my kids started school – not including snacks and lunches outside of school- and I've tried many budget-friendly options since.
In this blog post, I'll help you navigate through the sea of lunch boxes and choose the best one for you and your child(ren) on a budget.
Plus, I'll share the best budget-friendly lunch box containers I've found and the one kind of lunch box you need to avoid.
Table of Contents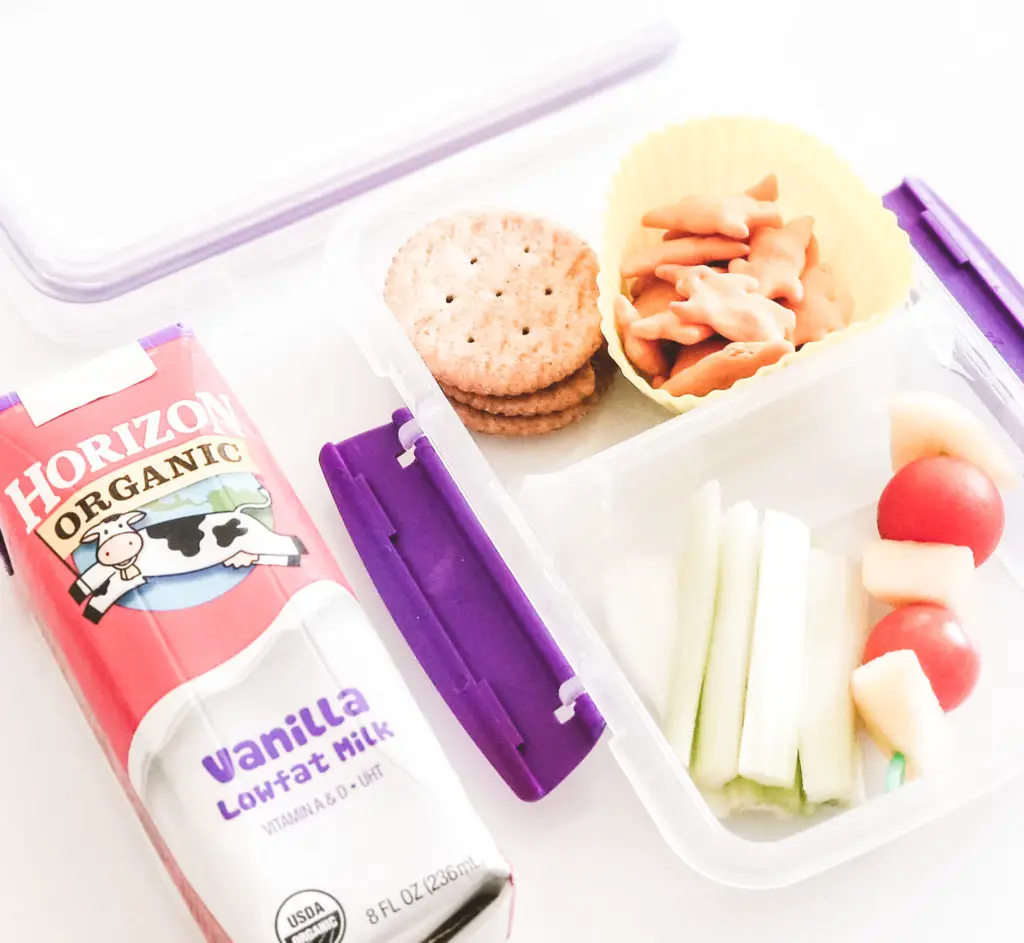 How to Choose the Best School Lunch Box for Kids
I can't tell you that a certain product is the best because we're all different humans with different preferences and needs!
What works for me and my family might not work for you.
But I can tell you this:
The best school lunch box for your child is the one that suits your preferences and your child's preferences and eating patterns.
Your Preferences
Ease of cleaning
Type of material
Durability
Budget
Your Child's Preferences
Color or pattern
Motor skills + strength
Type of food they like to eat
Amount of food they eat
My Criteria for Budget-Friendly School Lunch Box for Kids
Here are my criteria for choosing a lunch box.
1. Durability
Lunch boxes should hold up to the daily trips to the dishwasher, rough handling of boys (or in my case a boy), and of course daily usage. I don't want to keep buying lunch boxes even if it means paying a little extra.
2. Budget-friendly
I don't want it to cost an arm and a leg. I don't want to pay for unnecessary features or a fancy brand name. I want a good quality lunch box that's easy on the pocket.
3. Dishwasher-safe
I don't want to hand wash lunch boxes every. single. day.
4.  Easy to store
Lunch containers must be storage-friendly, preferably something that nests.
5. Easy to open and close
This was important when my children were little. But when they grew a little older it was more about me not screwing the Funtainer too tightly.
6. Material
I'm not very picky with the type of material as long as it's BPA-free if it's plastic and/or 18/8 stainless steel (aka 304 grade).
Avoid These Types of Lunch Boxes Like a Plague
I've gotten rid of several lunch boxes (one of them is this here) because they leaked- the compartments aren't completely separated!
I'm talking about lunch boxes with different compartments, also referred to as bento boxes.
Make sure the lunch box doesn't have a gap between the top of the compartment separation and the lid. Otherwise, you'll end up with a soggy, mushy mess.
Save your hard-earned money and avoid headaches. Don't buy these types of bento boxes.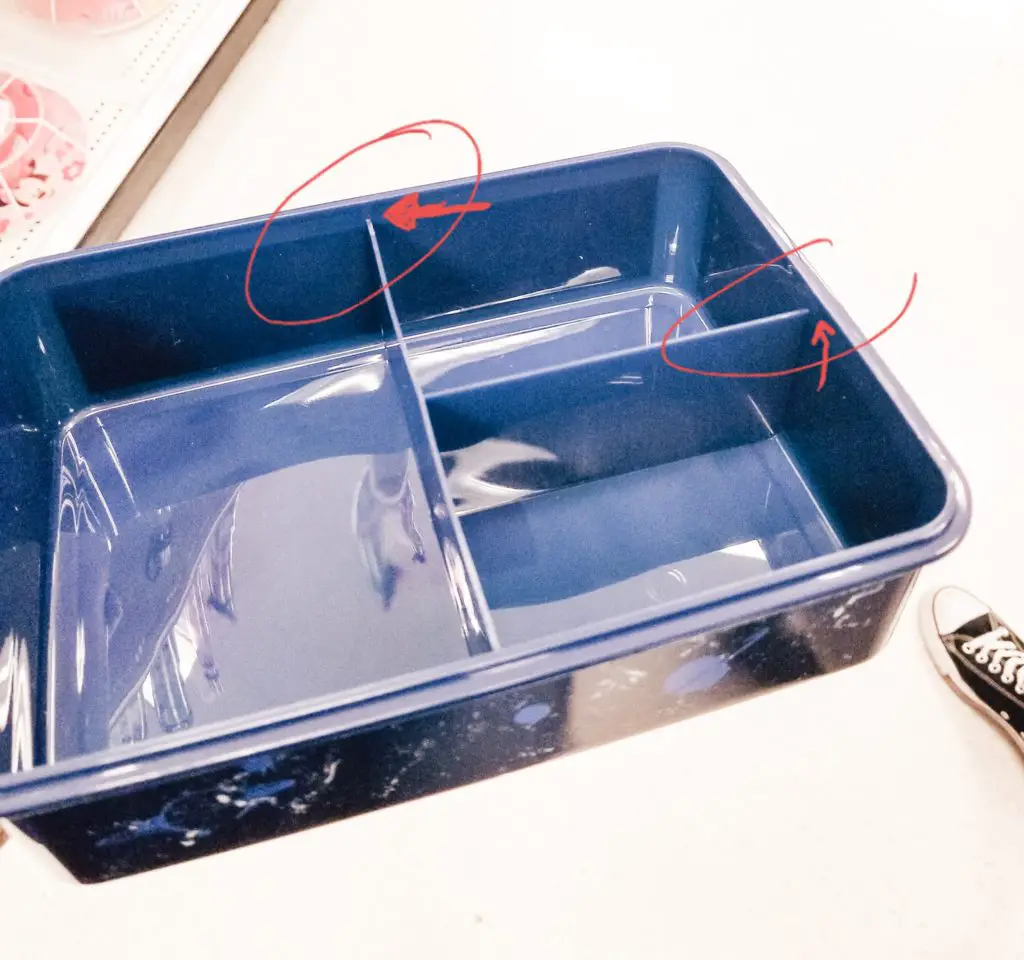 For the following stages, I'll give tips, lunch box recommendations, and share my experiences.
Easy to Open Lunch Containers for Toddlers and Pre-K
The main thing to consider during this stage is your child's motor skills. Can he/she open the lunch box or unzip the lunch bag without your help?
I recommend introducing snack containers to your child early. This way, you can help your little one develop his/her motor skills and become familiar with opening and closing containers.
You can pack a lunch or snack for each child when you go out on the weekends or even doing errands like picking up your groceries.
When you're shopping for a lunch box or containers for this stage, consider the following:
Can your child open and close it?
Can your child carry the lunch box in the lunch bag with his/her water bottle? Will it be too heavy?
How much food does your child eat?
Is it an appropriate container for the type of food your child eats?
Make life even easier for you and little one, pack snacks that aren't sticky or messy such as: cut up fruits, Annie's bunnies, cherrios, cut up cheese or string cheese, etc., and maybe save the yogurt to eat at home.
Sistema KLIP IT Accents Food Storage Containers 6.7oz (3 pack)
by Sistema
$5.99
You can also find it sold individually at Target for $2.99. I found the Klip It variety easy for my kids' toddler hand.
Sistema KLIP IT Accents Food Storage Containers 1.3cup (3 pack)
by Sistema
$7.01
Single is $3.99. Also, at Target or Walmart. Compartments are not leak-proof- can pack dry or non-juicy fruits in them.
4-Compartment Snack Box Food Containers (Set of 4)
$12.99
$3.25 each! Not leak-proof. Some reviews have mentioned broken cover tabs and corners cracking. I haven't tried these. I suspect it's the same quality as the 3-compartment lunch boxes.
My kids never went to Pre-K or daycare so I mainly packed snacks for when we went for errands or out for the weekends. But it was enough preparation for kindergarten.
Separate containers were ideal for my kids at this age because:
If they drop the container, they'll have other foods to eat.
It was convenient during long trips – 30 minutes or more in the car. I can easily hand them a container or a baggie.
We have this notion that our child needs to eat a lot since they're growing. Also, we tend to compare it to our serving of food.
But they'll eat when they're hungry. In fact, children are more attuned to their hunger than adults (we tend to eat out of boredom or because of habit).
And the amount of food they really need is as big as their fist – which is a small amount.
Our pediatrician confirmed this and assured me every time we go in for a wellness check – every.time. She probably thinks I'm crazy.
So, if your child goes to daycare or pre-k, I don't recommend having too many pieces or packing too much.
The fewer pieces the easier for you and your child.
Affordable School Lunch Box Options from the Dollar Tree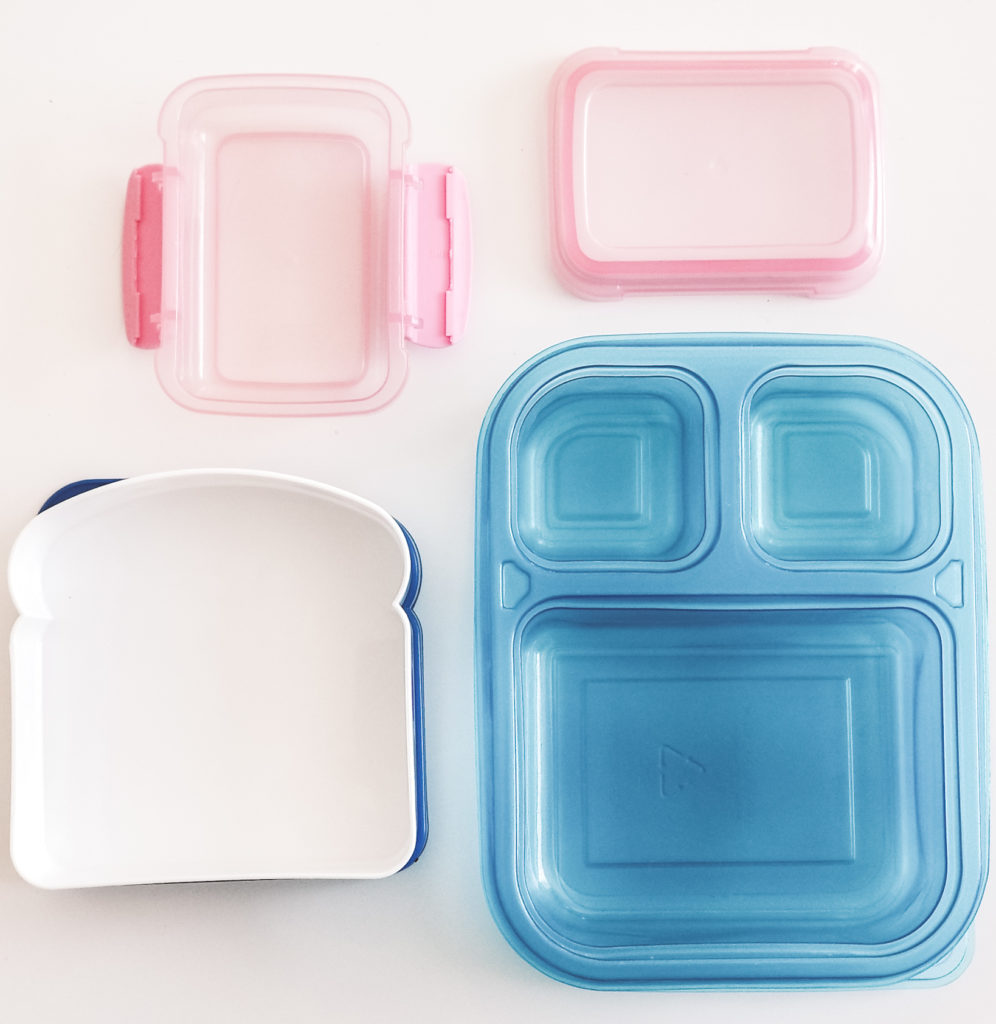 Here are some lunch box containers I've found and have been using for 3 years now from the Dollar Tree.
The pink container is perfect for snacks! It's a Sistema knock off.
There are tons of sandwich containers available and you can find silicone cups inside to separate different snacks!
The 3-compartment container is small and flimsier/thinner plastic compared to the Easy Lunchboxes. It also used to have a Disney Frozen sticker which I peeled off.
These are all BPA Free and not leak-proof!
I'm not sure if the pink container still available Dollar Tree but definitely check your local store.
Best School Lunch Boxes for Early Elementary (Kindergarten – 2nd Grade)
Bento lunch boxes, my friend, bento.lunch.boxes! It saved my sanity, and it will save yours!
It also will make for easy lunch experience for your little one. They only have a limited time to eat for lunch plus talking and playing with friends; they don't have to open many containers.
Here are some things to consider when choosing one for your child:
Is the size enough for the amount of food your child eats?
Does your child like to eat hot food and/or cold food?
Will the container actually contain the food? Make sure it won't burst open.
Can it take all the beating from an early elementary child?
Can your child carry the lunch box with a water bottle in his/her backpack?
I purchased the Bynto by Goodbyn when my oldest was in kindergarten and the Easy Lunchboxes when she started 1st grade. (She's in 5th grade at the time I published this blog post).
3-Compartment Bento Lunch Box Containers (Set of 4)
$13.95
$3.49 each! Not leak-proof but does a great job separating the food. I've packed yogurt in the small compartment with no leaks but anything with thinner consistency will leak (maple syrup leaks!). Ours started to chip after 4 years (mostly the corner and the tab). It lasted through my son's abuse for sure.
 Ziploc Container, Divided Rectangle, 2 Count
by Ziploc
$1.98
Bynto & Leakproof Dipper Set
by Goodbyn
$19
I bought a blue and pink one 4 years ago at Target. I got the pink one on clearance for $4.98 (50%). I've washed them both in the dishwasher and still use them today!
You can fit a Horizon Milk 8oz carton nicely with enough wiggle room all round in the middle compartment.
This bento box is longer and bigger than the Easy Lunchboxes. Make sure it fits your child's lunch bag.
 

 

 

 

View this post on Instagram

 

 

 

 
My kids are 21 months apart so while my daughter started kindergarten, my son was still 3 years old.
I still packed my son's snacks in separate containers and used bento lunch box for my daughter. This is when I discovered that not all bento lunch boxes are created equal hence the warning at the beginning of this post. You want NO GAPS between lid and compartment walls! 
A combination of both separate and bento lunch boxes worked for us at this stage.
The Best School Lunch Containers for Upper Elementary (3rd Grade – 5th Grade and beyond)
The bento lunch boxes mentioned above hold enough food for older kids. We still use the Bynto and I ordered another set of EasyLunch Boxes.
Maybe at this stage, you can add to your child's lunch box gear – I recommend an insulated food container.
Be sure to buy solid colors because, as you may already know, kids like to change their favorites often. They may not like Minecraft tomorrow!
My son likes warm and cold food – he won't cheese and pizza at room temperature, so we purchased a Thermos Funtainer this year.

Thermos Funtainer 10 Ounce Food Jar
by Thermos
$14.98
According to my son, his food is still warm at lunchtime (after 3 hours). We also have the Thermos water bottle which keeps the water cold for the whole day.
This Funtainer and water bottle sometimes go on sale for as low as $9.99 on Amazon.
Also, check your local Target and/or Walmart especially during and after back-to-school season.
I've seen them on clearance online and in-store at Target and on clearance in-store at Walmart!
Stainless Steel School Lunch Box on a Budget
Most stainless steel lunch boxes cost an arm and a leg – like this Planetbox that's $60 each!
Some people are willing to invest that much initially because:
they prefer stainless steel
trust the company, and
justify its durability and quality with the price
Girl, no #fomo. Don't feel like you're missing out on this product. Read this teacher review!
The main issue with stainless steel lunch boxes is that they're not leak-proof.
But if you're willing to spend extra, I've found some online and a workaround the issues.
Lunchbots is as popular as Planetbox and their lunch boxes are lighter and more affordable. They have different sizes available as well as insulated containers and individual leak-proof containers.


Here are the reasons why I chose Lunchbots:
lighter in weight (compared to Planet Box)
doesn't take much table space because the cover isn't attached (compared to Planet Box – read teacher review here)
has 1 – 5 compartment lunch boxes available and in different sizes
more affordable
made of 18/8 stainless steel
durable
the company is located in Northern California (heyyyy!)
While the LunchBots Small Protein Packer Toddler Bento Box is just $20.99 (sometimes goes on sale), it's too small for older elementary kids. You'll have to buy another container down the road. Remember that these last longer than plastic containers.
The price of this LunchBots Large Trio Stainless Steel Lunch Container at $38.99 is truly pushing it. That's expensive! Maybe wait for a sale.
This LunchBots Medium Trio II Snack Container is a compromise that will allow your child to use it from pre-k and beyond.
Small Protein Packer Toddler Bento Box
by Lunchbots
$20.99
LunchBots Large Trio Stainless Steel Lunch Container
by Lunchbots
$38.99
LunchBots Medium Trio II Snack Container
by Lunchbots
$24.99
Solutions to Stainless Steel Bento Box Problems
I haven't seen a stainless steel bento box that isn't leak-proof and with completely separated compartments.
Problem 1: Price
To get the best bang for your buck, you'd want to buy the medium size. Your child can use it from early toddler years and beyond. This one reviewer uses this size for her 6-year-old and a supplemental container for her 15-year-old. Many adult reviewers use it themselves as well.
Problem 2: Not leak-proof
Use a leak-proof or insulated container. To save money, consider purchasing an insulated container because it is also leak-proof.


Problem 3: Compartments are not completely leak-proof
Only pack dry foods or non-juicy fruits in the bento box. Make sure that the fruits are completely dry before packing and place a paper towel on the bottom to absorb extra moisture.
Budget-Friendly Lunchbox Containers Final Notes
Whew! You made it to the end!
But I want to make sure you didn't miss anything.
Here's a summary of what I covered in this post:
You don't have to spend a lot of money on school lunch boxes.
Make life easier for you and your child – use a bento lunch box like these Easy Lunchboxes.
Add an insulated container to enjoy warm or cold food for lunch – Funtainer.
You might find lunch box containers at the Dollar Tree.
There's a budget-friendly stainless steel option – Lunchbots plus workaround issues with this type of lunchbox.
Save on Thermos and Lunchbots on Amazon during the back-to-school season because they sometimes go on sale.
Save on Thermos Funtainer and water bottles at Target during and after back-to-school season for sales and clearance.
Check your local Walmart store for possible clearance on Thermos Funtainer and water bottles.
I hope this blog post helps you with your search for school lunch boxes on a budget!
Remember that you don't need to break the bank during this search.
Try one system at a time and course correct to improve along the way.
Good luck!
xx, Glenda