Updated: November 16, 2020
We love Christmas – the vibe, the feels, the joy…but let's be real, it can get stressful!
So, this year I opted for simple decor to bring on the holiday cheer.
The last 3 months of the year can get very expensive – especially Christmas!
And to add that expense is holiday decor.
The pretty ones usually cost an arm and a leg!
So, here are some ideas I've used to make our home festive without the stress and breaking the bank and still have a magical Christmas.
Don't have time? Pin to read later!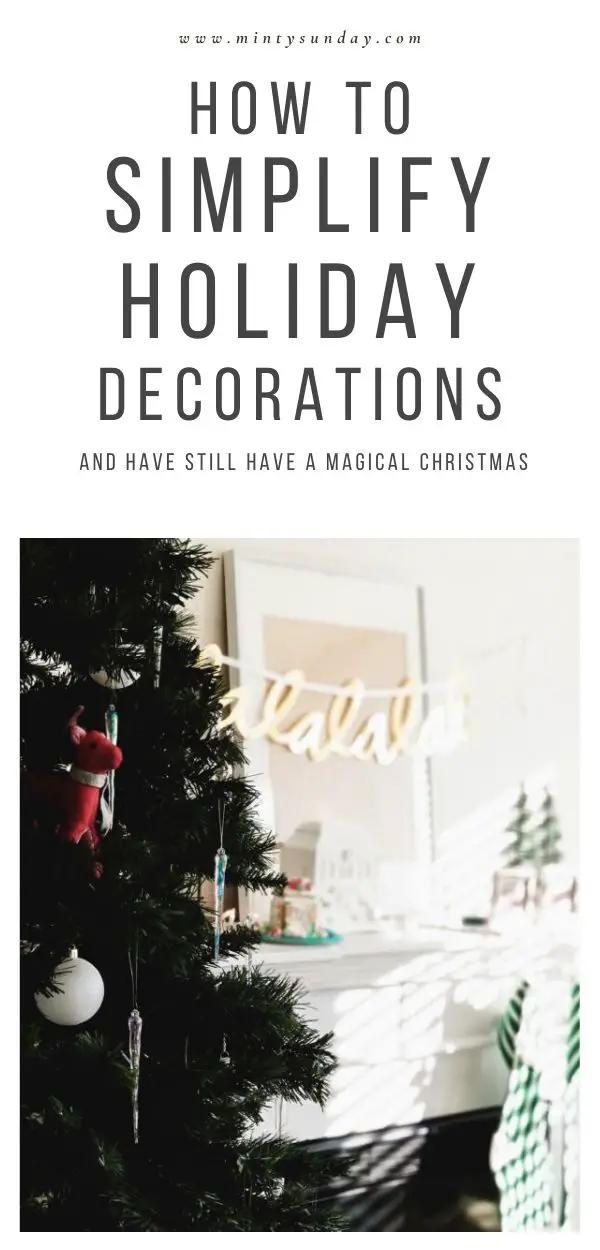 Related Articles:
1. Work with What You Have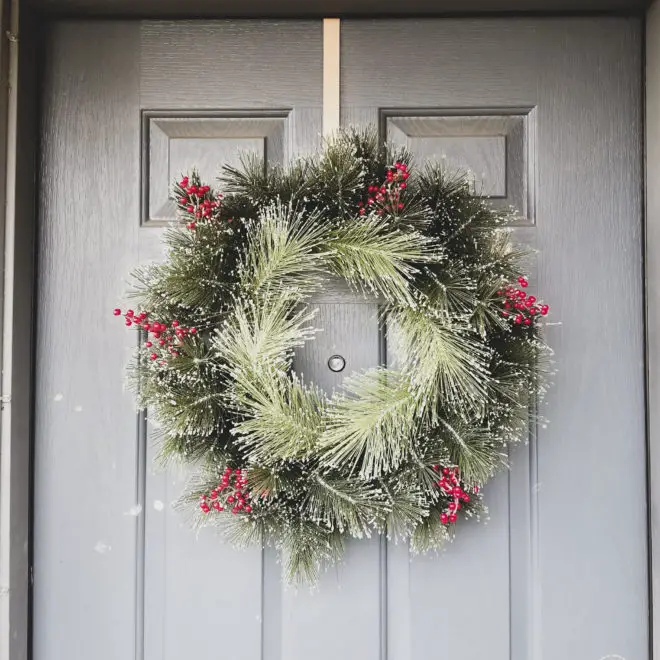 As much as I wanted to have a fresh wreath, I used this wreath instead (which was on our mantle last year) for the front door. Try to place your decor pieces in different places. I scored this wreath on sale at Target several years ago. I found similar wreaths for you here, here, and here.
2. Opt for Simple DIY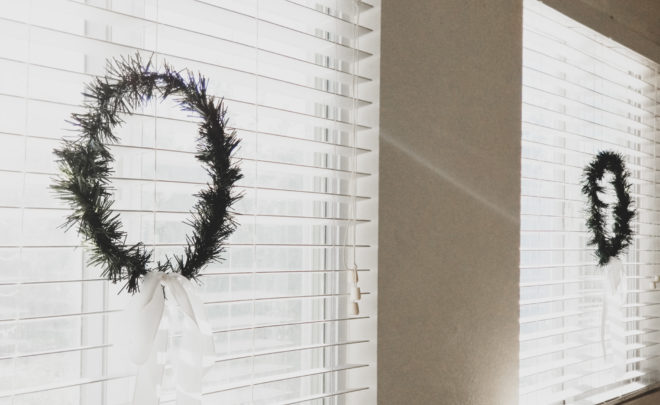 I love to create but the holidays are already busy.  Who has time to do DIY?
But if you really must do some DIY opt for fast and easy crafts.
Does it have to Pinterest worthy? Absolutely not! 
I DIY-ed a simple wreath:
While I liked the minimal look of the wreaths, I think I'll try to create a fuller one for next year like this one.

3. Be Okay with Imperfection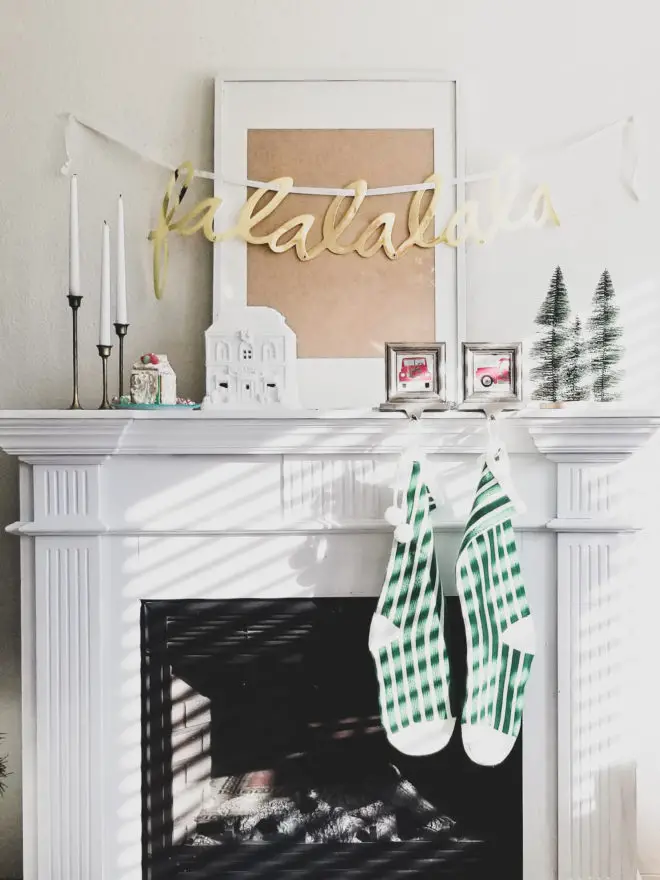 I kept our mantle simple with a few bottle brush trees, a ceramic Santa's workshop, and stocking holders.
And I really wanted to write something on that framed kraft paper but who am I kidding #aintgotnotimeforthat.
Do you see that mini house on a paper plate? That's my son's gingerbread house he made at school. He's proud of his work!
This mantle decor isn't Pinterest-worthy for sure and I'm okay with that. I put fairy lights to make it magical at night and my kids love it – that's all that matters.
I found similar items for you below:
4. Less is More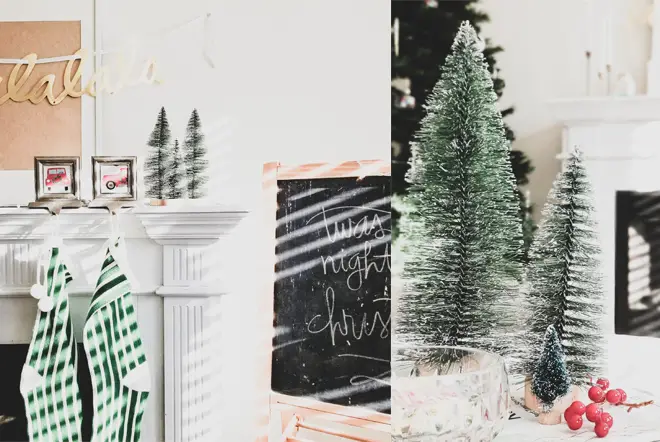 Try putting fewer ornaments on your tree and fewer decorations throughout your home.
I use sentimental ones my kids made at school, cute ones that make my heart happy and the ones my kids picked from Target from previous years. I try to create a special tree with everyone involved. That's what it's all about, isn't it?
I sprinkled bottle brush trees throughout my home – on the coffee table, tv console, side table to name a few.
They look great clustered together, no decorating skills required! My kids like to create a mini village on the coffee table with them.
5. Use Fresh Evergreen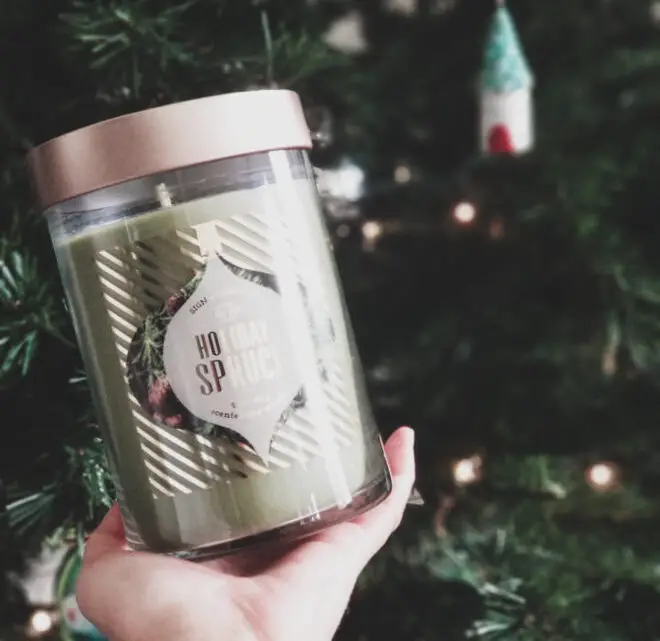 Simplify your vase displays by using fresh evergreen stems instead of flowers. They last longer and are inexpensive. I wish I had a eucalyptus or pine tree in my backyard.
Thank goodness for Trader Joe's I can purchase a bunch of eucalyptus stems for $3. You can also preserve them so they last even longer.
But if you can't use/find fresh evergreen stems and still want the holiday scents in your home, opt for a candle. No shame in that!
How to Simplify Holiday Decor and Enjoy the Season More- Final Notes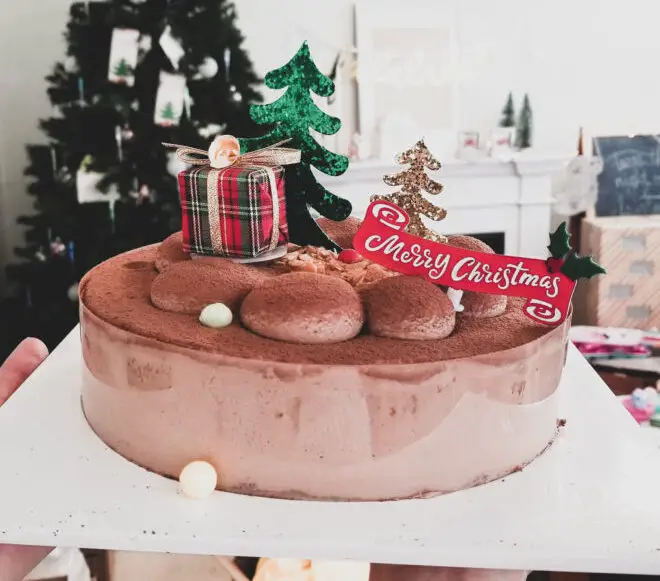 Throughout the years, I came to realize that the holiday season is more about the experiences I create with my family.
We sometimes forget this and get caught in the busyness of the season -ie.  shopping and parties – mostly shopping for decor, outfits, gifts, parties, etc.
Sure it's nice to have pretty decor, coordinating family outfits, and extravagant parties.
But the focus should always be quality time to be truly present with our family and friends and the rest are just icing on the cake.
My family and I take time to cozy up on the sofa to read some Christmas children's books, and have a sip of warm hot cocoa!
It's a wonderful feeling. I think you'll like it, too.
xx, Glenda
Related Articles:
I found budget-friendly items that are similar for you below: