UPDATE: This blog post was originally written to feature Janie and Jack Mommy and Me outfits Holiday Collection. To keep it current, I added this year's holiday collection and give you more mommy and me outfit ideas just in time for the holidays.
Have you planned your coordinated Mommy and Me outfits yet?
How about coordinating family outfits?
Our to-do list is a mile long during the holidays!
And thinking of outfit ideas and finding where to buy Mommy and Me holiday clothes should be the least of our worries, right?
Thankfully, Janie and Jack launched a Mommy and Me holiday collection.
It features new, coordinating looks for girls, boys, and women, ranging from polished outfits to sophisticated separates, perfect for this season's celebrations, family gatherings, and beyond!
Don't have to read? Pin to read it later!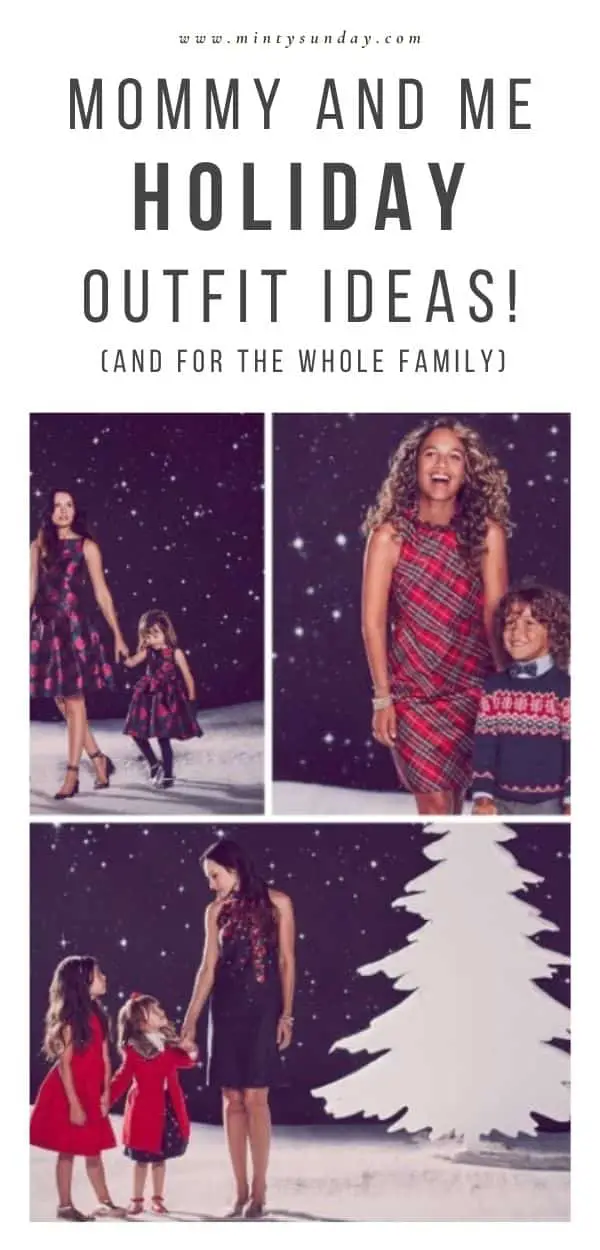 Related Articles:
Janie and Jack Mommy and Me Holiday Collection
Janie and Jack clothing designs are classic and fun.
I've never seen any dinosaurs or snowmen on their clothing, ever.
I love that this collection doesn't have any holiday dedicated prints as well, except maybe for tartan. But I'm sure you can wear that any time of the year.
This means we can wear the pieces throughout the year; not just for the holidays thereby getting the best bang for our bucks!
So, if you love coordinating outfits with your mini-me or if you're like me who loves to coordinate family outfits, this collection is definitely for you!
This collection includes printed skirts and polished dresses for women along with embroidered sweaters, tartan dresses, pants, and blazers for children.
Styles for girls and boys are available in sizes 0–12 years, with prices ranging from $7–$129. Women's styles are available in sizes 0–16 with prices ranging from $26–$169.
Check out the collection below:
Mommy and Me Christmas Dresses 
I really love that the pieces from the collection go together so that the outfits aren't too matchy-matchy.
But you can also go the matchy-matchy route if you want!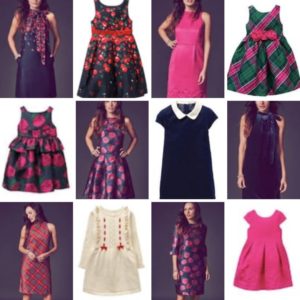 Mommy and Me Outfit Ideas
I have a son and daughter and I want to include my son as much as he allows me.
This Janie and Jack Mommy and Me holiday collection includes the boys!
Yes – from newsboy cap to luxe velvet blazer, the boy's collection has awesome pieces, as well!
So, here are outfits I put together for all 3 of us.
I picked the a-line skirt separates because I can mix and match each piece with other pieces in my wardrobe;
for my daughter: dress, ballet flats
for my son: velvet blazer, dress pants, loafers
for me: matching separates, ankle strap heels
The skirt can be worn for the office or other parties. You can wear the top with your favorite jeans to dress it down or with your favorite pants.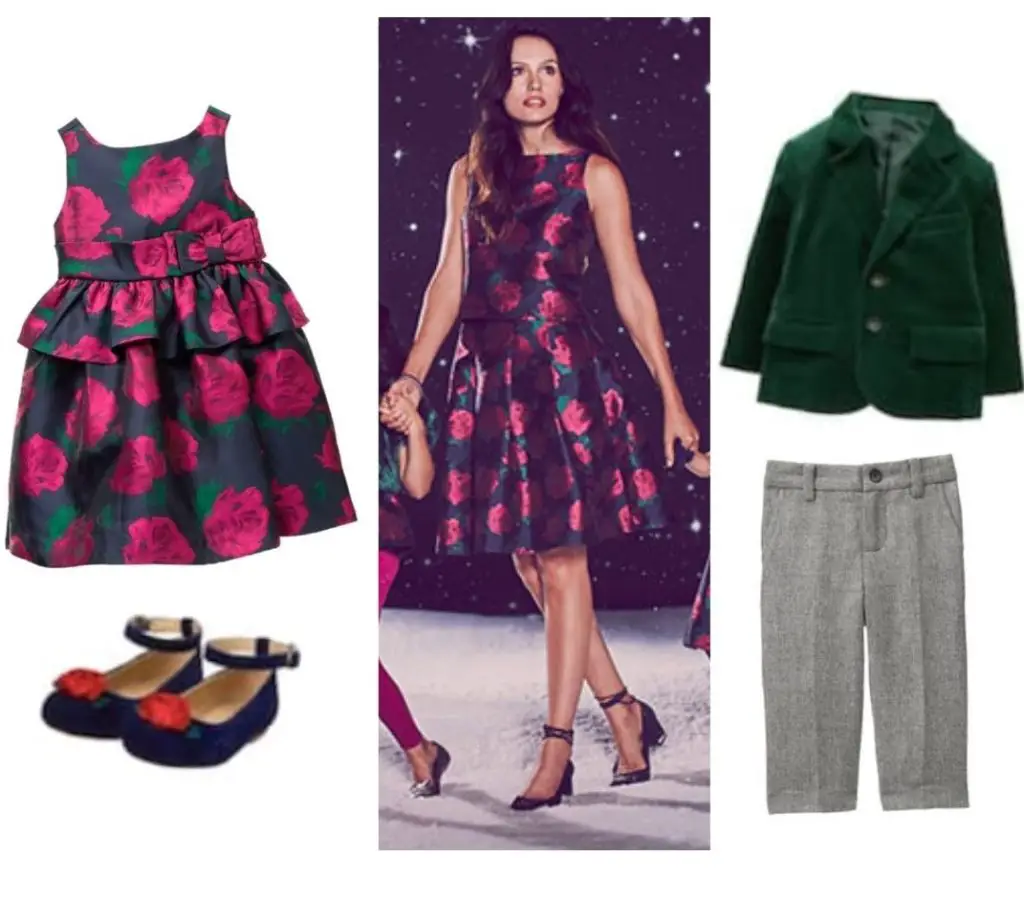 Coordinated Family Holiday Outfit 2019
There is no Janie and Jack Mommy and Me collection this year.
But they released a holiday collection similar to the previous collections and added some subtle toile prints, too!
I love that they kept the luxe textures and featured non-Christmassy prints this year, as well.
In the photo below, I took pieces from Janie and Jack's Holiday collection and created coordinated holiday outfits for the whole family.
This time, I included Dad and baby: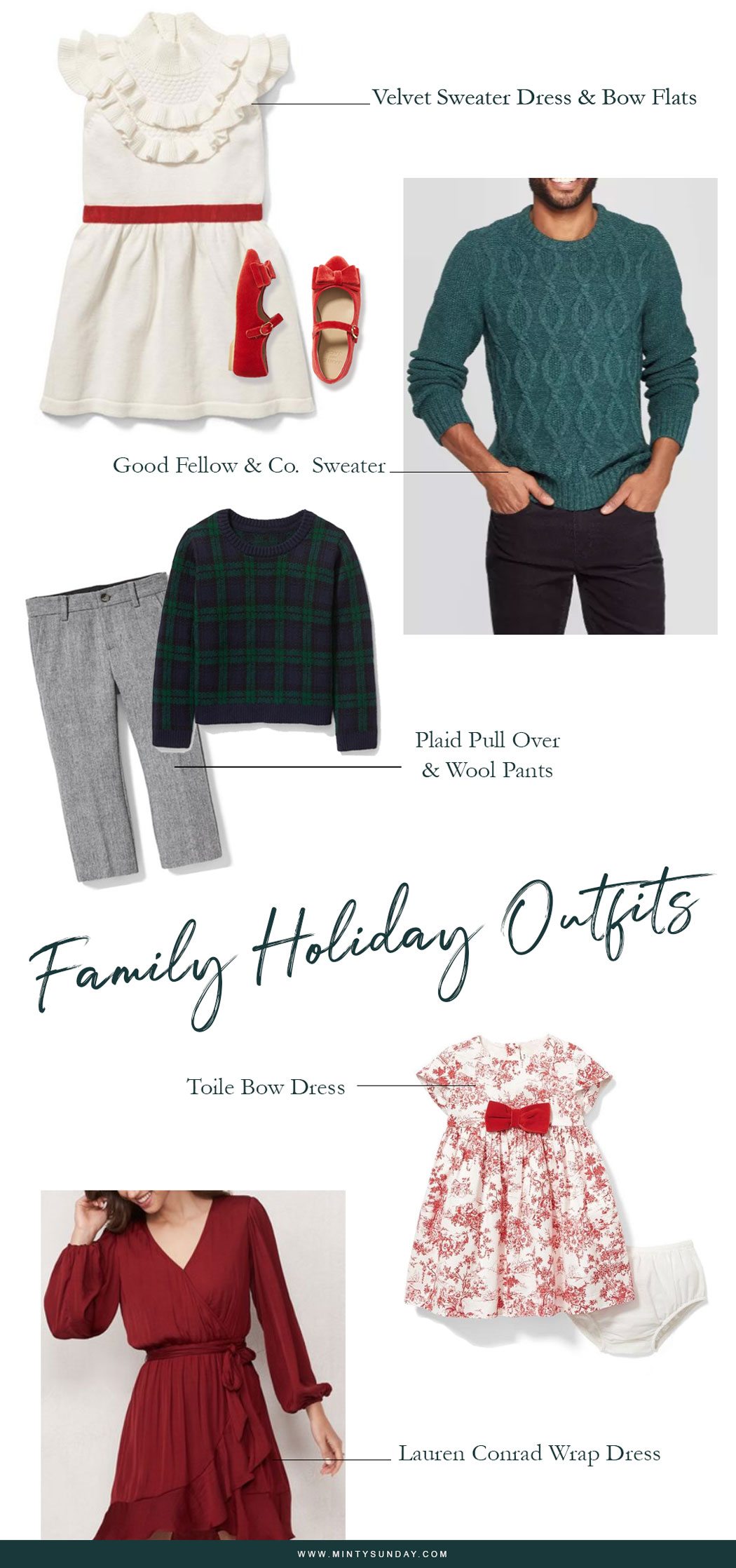 Janie and Jack Mommy and Me Holiday Collection – Final Notes
So there you have it. I hope this post was helpful.
We all have that one kid who never corporates in a photo, right?
I learned to embrace my son who makes funny faces and my daughter who refuses to smile in photos.
Still, the photos turn out decent despite the lack of cooperation.
All thanks to our coordinated outfits! Seriously, you know what I'm talking about.
Remember that Janie and Jack often have sales before and during the holidays.
Be sure to take advantage of that; you can sign up for their newsletter so that you hear about it first. Plus, there's usually a percent off incentive when you sign up.
Have fun!
xx, Glenda
Related Articles
Over to you!
 Do you coordinate your family's outfit for the holidays?
Enjoyed this blog post? Don't forget to share it with your friends and follow me on Pinterest!