Don't you just hate when you come across a list of free Kindle books but list only crappy titles?
Better yet, they won't even show you how to look for free titles on Amazon! 
In this blog post, I'll show exactly how to find them!
Plus, I listed 50+ free Kindle books including children's books!
Don't have to read? Pin to read it later!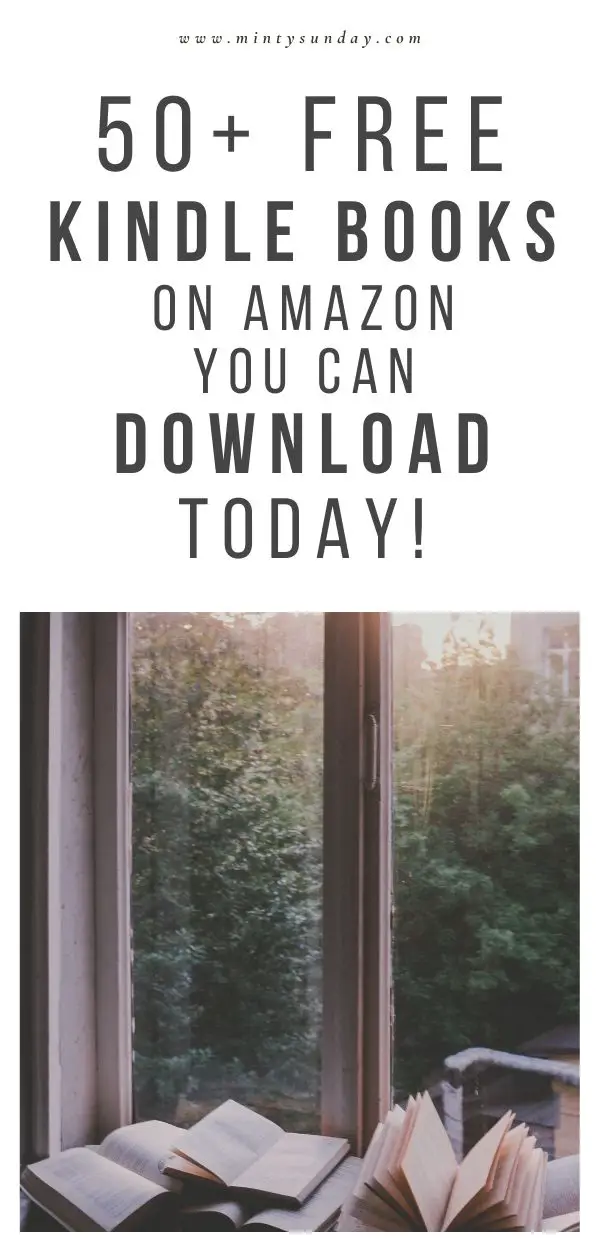 What is a Kindle and how does it work?
A Kindle is a portable ebook reader device developed by Amazon where you can shop, download and read different electronic reading materials – from books to magazines and everything in between.
It looks like a tablet but it only has one purpose – to read books!


Here are 7 benefits of buying a Kindle:
Download millions of book titles (free or paid) and ready them anytime and anywhere

Kindle

battery lasts for weeks

compared to using your smartphone or tablet!

It's easy to read with a built-in light that doesn't make your eyes tired

It's extremely portable with its size similar to a small, thin paperback book

You can bookmark, highlight and search for the meaning of a word in a dictionary

You'll have your library right at your fingertips rather than having to create and purchase shelves for actual books

You'll actually read more because you get no distractions from other apps you have on your smartphone or tablet
Check out the different Kindle devices comparisons here.
Is it worth buying a Kindle?
If you're an avid reader, getting a Kindle is probably a no brainer. 
If you want to start a habit of reading then a Kindle is definitely worth checking out.
This is because it eliminates all the hurdles of developing such a habit – read all 7 benefits I mentioned above.
You don't need a fancy version – the basic Kindle will do.
Do I need a Kindle to read Kindle books?
Nope! 
I love to use my phone for everything including reading.
If you're like me, you can just download the Kindle app and you're good to go!
It's free to use on any device.
Kindle Deals
Amazon wants to dominate the e-reader market, so they always have a competitive price.
With that said, bookmark the Kindle page and set it on a notification when it goes sale using Amazon assistant.
They also offer them on sale during Black Friday and Amazon Prime Day.
The lowest price for a Kindle is $59.99 according to CamelCamelCamel.
Related Read: How to Shop Amazon Prime Day – Guide + Shopping Tips 2020
How to download the free Kindle app and sync your device?
If you use multiple devices, you can sync your Kindle app so that you can access the same reading material on any of these devices.
Here how to download and sync:
Log in to your Amazon.com account

Download the free Kindle app –

click here

Sync your devices by going to your Account>Your Devices and Content
Do I need Amazon Prime to Get Free Kindle books?
Nope!
There are Kindle books that are completely free without Amazon Prime.
However, you get even more free titles if you have Amazon Prime membership.
Free Kindle books for Prime Members
Prime Reading is a prime member benefit where you can choose from 1000 curated books, magazines, comics, and kindle singles. New titles are added every month.
You can borrow 10 titles at a time. Don't worry there are no due dates. If you reached the 10 titles limit simply return the books you've borrowed to be able to add new titles to your library.
Click here to see the free books currently available in Prime Reading.
Amazon First Reads is another prime membership benefit where you can get access to the latest books. Prime members get early access to ONE FREE book each month.
Get your free 30-day Amazon Prime membership trial here! And good news, if you do decide that you love your membership, you can now subscribe monthly (instead of annually like before)!
How to find free Kindle books for non-Prime members
Fret not my non-prime member friend. You can still get free Kindle books.
Again, you'll need to download the free Kindle app here and again no Kindle device required!
Method 1: Go here and type for these words in the search bar:
Free kindle books

Top free kindle books

(enter genre here) free kindle books
Method 2: Here's an easier way to sift through all the free books
Scroll down, and look at the listed categories on the left, click on a category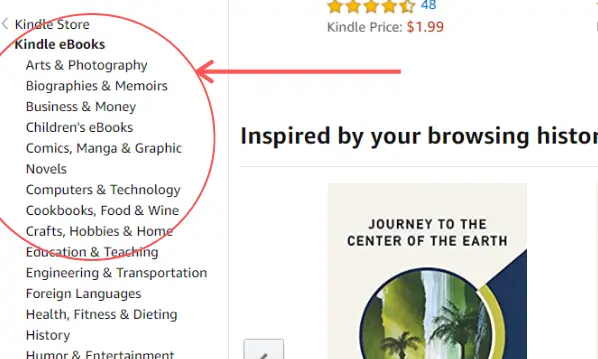 Scroll down the page and sort your results to lowest-highest price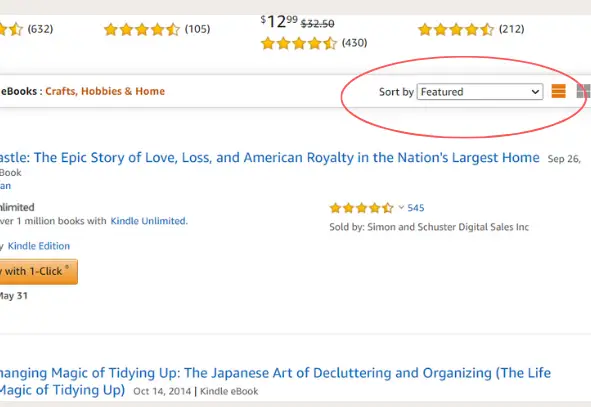 Anything that says Kindle Edition $0 is FREE!

Anything that says Kindle Unlimited $0 is NOT free – only free if you're subscribed to Kindle Unlimited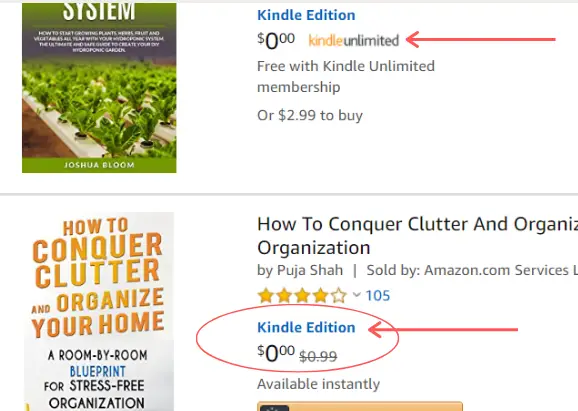 You can further narrow your search with the menu on the left. I usually pick titles that have 4+ stars.
But to save you some time, I found 50+ free kindle books for you!
50+ Free Kindle books on Amazon
Please keep in mind that these titles cost $0 when I posted this blog post and may not be the case at the time you come across this post.
However, I'll try to keep this list updated.
Advice & How-to
The Power of Your Subconcious Mind by Joseph Murphy
The Richest Man in Babylon by George S Clason
Think and Grow Rich by Napoleon Hill
Mindfulness: The Most Effective Techniques: Connect with Your Inner Self to Reach Your Goals Easily and Peacefully by Ian Tuhovsky
Hygge: Introduction to The Danish Art of Cozy Living by Amy White & Ryan James
Declutter Workbook: How to Declutter your Mind, Organize Your Life and Set Mindful Goals Using Meditation and Practical Exercises by John Wood
7 Steps to Stunning Images: A Guide to Mastering Your DSLR Camera by Heather Hummel
Jump-Start Your Photography in 30 Minutes: Intro to Digital Photography by Raymond Salisbury
Social Skills – Social Fluency: Genuine Social Habits to Work a Room, Own a Conversation, and be Instantly Likeable…Even Introverts! by Patrick King
What Everyone Should Know About Super-efficient Learning by Jennifer April
Classics
The Importance of Being Earnest (AmazonClassics Edition) by Oscar Wilde
Jules Verne: The Complete Works – including these popular titles:
Journey to the Center of the Earth (1864)

Twenty Thousand Leagues Under the Sea (1870)

Around the World in Eighty Days (1873)
Little Women by Luisa May Alcott
Pride and Prejudice by Jane Austen
Les Miserables by Victor Hugo
Don Quixote by Miguel de Cervantes
War and Peace by Leo Tolstoy
The Hunchback of Notre-Dame by Victor Hugo
The Adventures of Sherlock Holmes by Arthur Conan Doyle
Click here for more free classic Kindle books
Teen & Young Adult
After the Darkness (A Mark of the Least Novella) by Kendra Merritt
The Secret Garden by Frances Hodgson Burnett
The Prince by Niccolo Machiavelli 
Black Beauty by Anna Sewell
Through the Looking Glass by Lewis Caroll
20 Masterpieces of Fantasy Fiction – includes:
Peter Pan

Beowulf

The Wonderful Wizard of Oz
Click here for more free teen & young adult Kindle books
Cookbooks, Food & Wine
Savory Pies: Enjoy Tasty Savory Pie Recipes for Quiches, Soufflés, and More
The Family Dinner Solution: How to Create a Rotation of Dinner Meals Your Family Will Love by Mary Jacobsen
The Central American Cookbook: Authentic Central American Recipes from Belize, Guatemala, El Salvador, Honduras, Nicaragua, Costa Rica, Panama, and Colombia 
Omelet Cookbook: An Omelet Cookbook Filled with 50 Delicious Omelet Recipes
Click here for more free cookbook, food & wine Kindle books
Literature & Fiction
Death in the English Countryside: An English Village Murder Mystery by Sara Rosett
Afterlife: A Dark, Fantasy, Paranormal Romance (Afterlife Saga Book 1) by Stephanie Hudson
The Strongman And The Mermaid (The Donora Story Collection Book 2) by Kathleen Shoop
Timid (Lark Cove Book 2) Devney Perry
Science Fiction & Fantasy
Pit Perfect Murder (A Barkside of the Moon Cozy Mystery Book 1) by Renee George
Betrayal (The 1000 Revolution Book 1) by Pippa DaCosta
Rippler (Ripple Series Book 1) by Cidney Swanson
Click here for more free Science Fiction & fantasy Kindle books
Amazon Free Kindle Books for Kids
Comics & Graphic Novels
Scooby-Doo Team-Up (2013-) Vol. 1
Free Comic Book Day 2018: Avengers/Captain America #1
Children's eBooks
Dragon's Breath: (Children Books About Dragon, picture, preschool, ages 3 5, kids books) (Emotions & Feelings Book 1) by Michael Gordon
Wiggly the Worm: Fun Short Stories for Kids (Early Bird Reader Book 1) by Arnie Lightning
I Don't Want to Eat Bugs (Lisbon's Misadventures Book 1) by Rachel Branton
Bedtime Stories for Kids: Short Bedtime Stories For Children Ages 4-8 by Uncle Amon
The Imaginary Friend by Kelly Hashway
Click here for more free children's Kindle books
How to find free Kindle books + Final Notes
And there you have it! Whew! That was a lot.
I hope this was informative and helpful for you.
I'll keep this updated and add more titles whenever I come across some really good ones.
Good luck
xx, Glenda
Over to you!
Let me know if you need help find particular genres. And please share or link titles you've found in the comment!
Enjoyed this blog post? Don't forget to share it with your friends and follow me on Pinterest!