Are you ready for Amazon Prime Day?
What the heck is it anyway?
Well, it's the days (used to be a day) when there are amazing deals on Amazon!
But we aren't saving if we're buying just because it's a good deal. Also, are you really getting a good deal?
In this blog post, I'll let you in all the details and shopping tips to help you save time and money!
Also, I created a dedicated blog post for The Best Amazon Prime Day Deals, you can check it out here.
Amazon Prime Day 2020 is October 13-14!
Don't have time now? Pin it for later!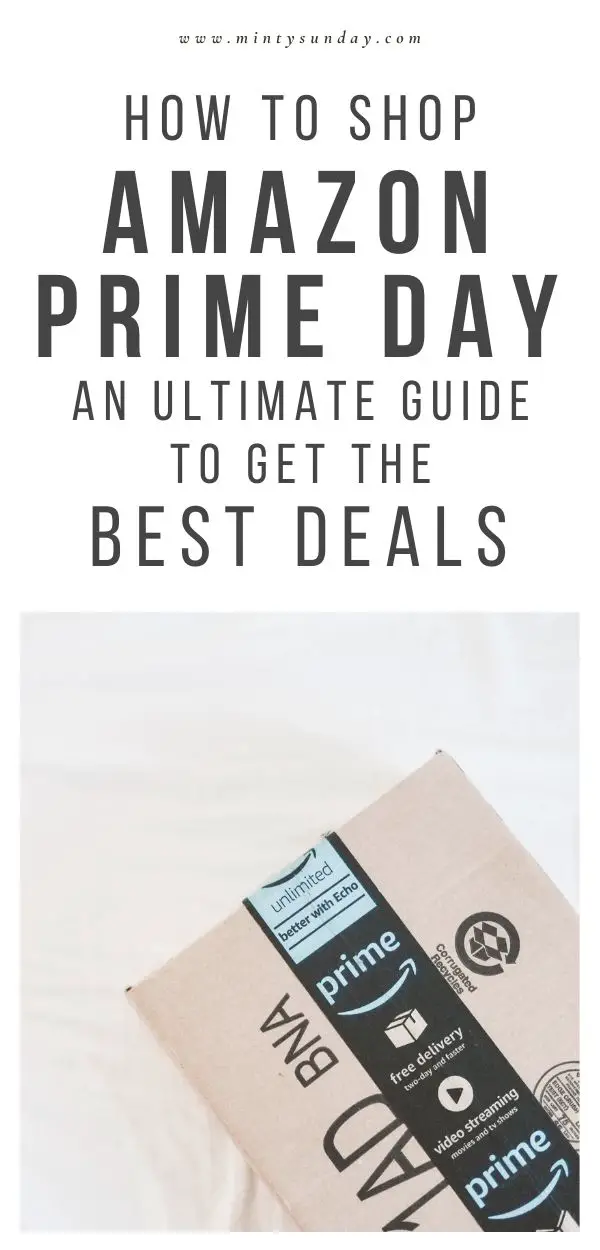 When is Amazon Prime Day 2020?
Amazon Prime Day this year will start on Tuesday, October 13, and run through Wednesday, October 14.
What is Amazon Prime Day?
Prime Day is an annual celebration with epic deals and new product launches exclusively for Prime members. 
It started in 2015 to celebrate Amazon's 20th anniversary. Since then, it grew into a massive success being celebrated in 19 different countries.
Prime members in the following countries can participate in the event: the US, UK, UAE, Spain, Singapore, Netherlands, Mexico, Luxembourg, Japan, Italy, Germany, France, China, Canada, Belgium, Austria, Australia, Turkey, and Brazil.
Should I sign up for Amazon Prime now?
Prime Day is exclusively for Prime members.
If your main purpose is to get deals during Prime Day, you have these choices:
It's best to sign up early because there will be early Amazon Prime Day deals.
But don't forget that other major retailers will compete with Amazon prices namely eBay, Target, Walmart, Old Navy Nordstrom, Best Buy, and Macy's.
Quick link: Here is Walmart's The Big Save Page – a Prime Day deals page
How to Gain Access to Amazon Prime Day Deals for Free
I definitely recommend signing up for a free 30-day Prime trial – for new customers only – to participate during Prime Day.
Remember to cancel BEFORE your trial ends to avoid paying for the membership if you don't want to continue.
Get a Free 30-day Amazon Prime Membership Trial
If you've already used your trial membership, here are other ways you can get it on the cheap.
Sign up for a Monthly Subscription ($12.99)
Amazon Prime membership used to be only available for an annual subscription; a one-time payment of $119.
It's now being offered as a monthly subscription for just $12.99.
Sign Up for Amazon Prime Monthly Membership Here
Government Assistance ($5.99)
Amazon Prime is only $5.99 a month to families who are on government assistance such as TANF, Medicaid, or SNAP (also known as Food Stamps).
College Student Discount ($6.49)
If you're currently a college student you can get Prime for 50% off or $6.49 a month. This is the monthly subscription price.
You can also pay for it for the year for $59.
All you need is an .edu email address or prove that you're a college student.
Get more info and sign up here
Share Prime Membership
Did you know you can share a Prime membership via Amazon Household?
Maybe you and a buddy can share or you know someone who's willing to share their membership with you temporarily.
I personally share mine with my sister.
You can easily set up your Amazon household here
Here are some benefits you can enjoy being a Prime member even after Prime Day.
What do I get with an Amazon Prime Membership?
Click here for more membership benefit information
How and Where Do I find Amazon Prime Day Deals?
Amazon Prime Day Deals are usually linked from the main page. 
However, you can also download the Amazon App to view sneak peeks and deal alerts.
You can also use your Alexa or Alexa-compatible devices. Just be sure to configure your Alexa for voice purchasing.
In a little bit, you'll see a list of pages within Amazon on where deals are posted – under "How to Shop Amazon Prime Day."
Quick Link: You'll find all of Amazon's Prime Day deals on this landing page, including early deals.
How to Earn Amazon Credits to Use for Prime Day?
You can start collecting Amazon Credits you can use for Prime Day.
Here are available offers:
Get $100 When You Sign Up and Get Approved for Amazon Prime Rewards Visa Signature Card
Available until October 31
Eligible Prime members who apply and are approved for the Amazon Prime Rewards Visa Signature Card will instantly receive a $100 Gift Card.
Cardmembers receive 5% back at Whole Foods Market and at Amazon.com with an eligible Prime membership, plus 2% back at restaurants, gas stations and drugstores, among other benefits. Restrictions apply. Click Here for more information.
More Info on Amazon Visa Card Here
Spend $10, Get $10 When You Shop Small Businesses
Participating small businesses only
You can shop until October 12 to get the credit, which is sent to you via email.
Look out for "Spend $10 on small business, save $10 on Prime Day" on the product page.
Spend $10 at an Amazon Physical Stores, Get $10 Credit
You can earn up to $50!
You'll need to checkout with your Amazon Prime account to snag the credit.
Spend $10 ordering online or shopping at any Whole Foods Market store get $10 credit.
The offer is also available to Prime members who shop in-store at Amazon physical stores including Amazon Fresh, Amazon Go or Amazon Go Grocery, Amazon Books or Amazon Pop Up, and Amazon 4-star.
Visit the stores for more details.
Tip: Did you know that Amazon accepts SNAP EBT Card? Add your card here.
Earn $5 credit with Amazon Cash
This service lets you shop Amazon without a debit or credit card by adding cash at participating locations.
First-time Amazon Cash customers can get a $5 Amazon credit when they add $30 in their Amazon Cash bank.
Check prices on CamelCamelCamel
So, how do you know if a deal is really a good deal?!
CamelCamelCamel will give you data on the price history of a specific product.
This information will help you decide whether the Prime Deal you're getting is a good deal.
Add the browser extension to make it even easier to compare prices.
How to Shop Amazon Prime Day 2020

There are literally thousands of deals happening daily during Prime Day.
In this section, I'll help you create a sense of direction so that you can snag all the best deals you want/need without having to wander around Amazon's virtual shopping aisles!
Make sure you have a Prime Membership:

Download the

Amazon App

– also great when you're on the go

Install the

Amazon browser extension.

You can receive notifications on the upcoming deals you're watching

Start collecting Amazon credits I've previously covered

Did you know there are different deal sections? Be sure to be familiar with these:

Create your list of things to buy – don't forget Christmas and back-to-school

Check CamelCamelCamel for the lowest price of the items on your list

Add them to your Amazon list for easy access during Prime Day

Using Amazon.com go to Account > Lists

Using the browser extension click on Add to List tab

Using the Amazon app, click on the hamburger menu on the top left corner > You Lists > View Lists > Create List

You can also just bookmark the products using your browser – that works, too!
Quicklink: Shop all Amazon Device deals early here!
Amazon Prime Day Best Sellers 2019
So, what did people buy last year?
The Fire TV Stick was the most popular item people purchased worldwide.
People from the US purchased the Instant Pot Pressure Cooker, while the Lifestraw Water Filter was a best seller in Canada.
Here's a list of best sellers from the other 16 countries.
Early Amazon Prime Day Deals You Can Get Right Now!

Echo Show 5 – Smart display with Alexa,  Reg. Price $89.99, Now $44.99
Echo Dot (3rd Gen) – Smart speaker with Alexa, Reg. Price $49.99, NOW $18.99
Fire HD 10 Tablet (10.1″ 1080p full HD display, 32 GB), Reg. Price $149.99, NOW $79.99
All-new Fire HD 8 Kids Edition tablet, 8″ HD display, 32 GB, Blue Kid-Proof Case, Reg. Price $139.99, NOW $79.99
All-new Ring Video Doorbell, Satin Nickel (2020 release) with Echo Dot, Reg. Price $149.98, NOW $69.99
Echo Studio – High-fidelity smart speaker with 3D audio and Alexa, Reg. Price $199.99, NOW $149.99
Ring Video Doorbell 3 with Echo Show 5, Reg. Price $289.98, NOW $149.99
Blink Mini indoor security camera, Reg. Price $34.99, NOW $25
Toshiba 55-inch smart 4K UHD Fire TV 2020 Release, Reg. Price $449.99, NOW $299.99
Insignia 43-inch smart 4K UHD Fire TV 2020 Release,  Reg. Price $299.99, NOW $199.99
Roku Express HD streaming media player, Reg. Price $29.99, NOW $21
Bose QuietComfort 35 II Wireless Bluetooth Noise Cancelling Headphones, Reg. Price $349, NOW $299
Roborock S5 MAX robot vacuum and mop, Reg. Price $549, NOW $439
Quicklink: Shop all Amazon Device deals early here!
Related Article: The Ultimate List of the Best Amazon Prime Day Deals
Other Amazon Prime Day Happenings
AmazonSmile – Customers can visit smile.amazon.com and find the exact same Amazon experience but AmazonSmile will donate a portion of the purchase price of eligible purchases to the charity of their choice.
Climate Pledge Friendly Customers can discover and shop for products that have one or more of 19 different sustainability certifications, which help preserve the natural world. Click here for more information.
Amazon Photos Prime Day Photos Sweepstakes: Enter for a chance to win $1000 by sharing a photo!
Customers can enter for a chance to win the Prime Day Photos Sweepstakes by downloading the Amazon Photos app, sharing a photo that shows how Prime delivers joy, tagging Amazon Photos (@amazon.photos on Instagram and @amazonphotos on Facebook and Twitter), and using the hashtag #PrimeDayPhotos. A total of 30 winners will receive $1,000 Amazon.com Gift Cards good for purchases on Amazon.com. Check it out here!
How to Shop Amazon Prime Day – Final Thoughts
Amazon Prime Day is overwhelming with the millions of products they offer.
Just like going to the supermarket hungry with no list – you'll end up buying things you don't need.
It's crucial to have a list and be prepared so you won't miss or forget the things you do need.
Also, this is a good opportunity to cross things off your Christmas list.
Remember to only buy things you'll use, love, and value.
With the exception of Amazon devices, competitor stores like Best Buy, Walmart, and Target will most likely have the same deals.
I hope this post was helpful.
 Good luck!
xx, Glenda
PS. I posted a dedicated blog post just for The Best Amazon Prime Day Deals – HERE! I'll update it frequently during Prime Day