Couponing is overwhelming and, quite frankly, a little bit scary.
Several months in my couponing journey, I questioned if I was actually saving.
I was spending so much time on it and added stress to my already hectic mom life.
So, I decluttered my couponing life and streamlined my process so that I'm only spending 30 minutes to 1 hour a week.
I promise that it isn't difficult to do but like anything in life, you'll need to do some work in the beginning.
This simplified couponing guide will hold your hand to help you start your adventure today without wasting your precious time.
So, are you ready?
Here's a simple 5-step guide on how to coupon to get you started.
Don't have time to read now? Pin it for later!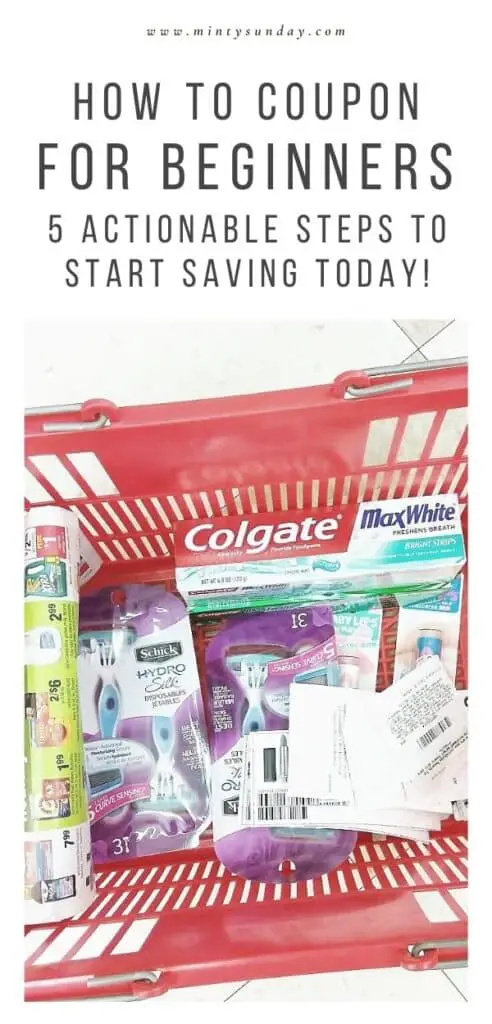 1. Get Coupons – you'll need coupons, of course!
The easiest way to get coupons is to print them! ANY printer will do! If you don't have a printer, you can print at the library.
Here are some ways to get coupons:
Sunday papers – You can purchase them at a Dollar Store, gas stations, grocery stores or subscribe to Sunday paper only.
Printable coupons – These are print-at-home coupons. You can find those Coupons.com, Smartsouce.com, Redplum.com to name a few.
E-coupons – Some stores have them available when you log onto your account online or using store app
Mobile coupons – Coupons that are sent to you via text messaging service to your mobile phone.
Mail – I get some coupon inserts in the mail with the grocery ads and flyers, be sure to check yours!
Here's a list of 60+ legit websites from which you can print – Where to Get Coupons
Action Steps:
 Figure out how you can print your coupons! Also, grab a pair of scissors, you'll need them to cut your coupons.
 Have a quick read of this post >>  How to Read a Coupon << I explained how to read a coupon in detail there!
Anatomy of a Coupon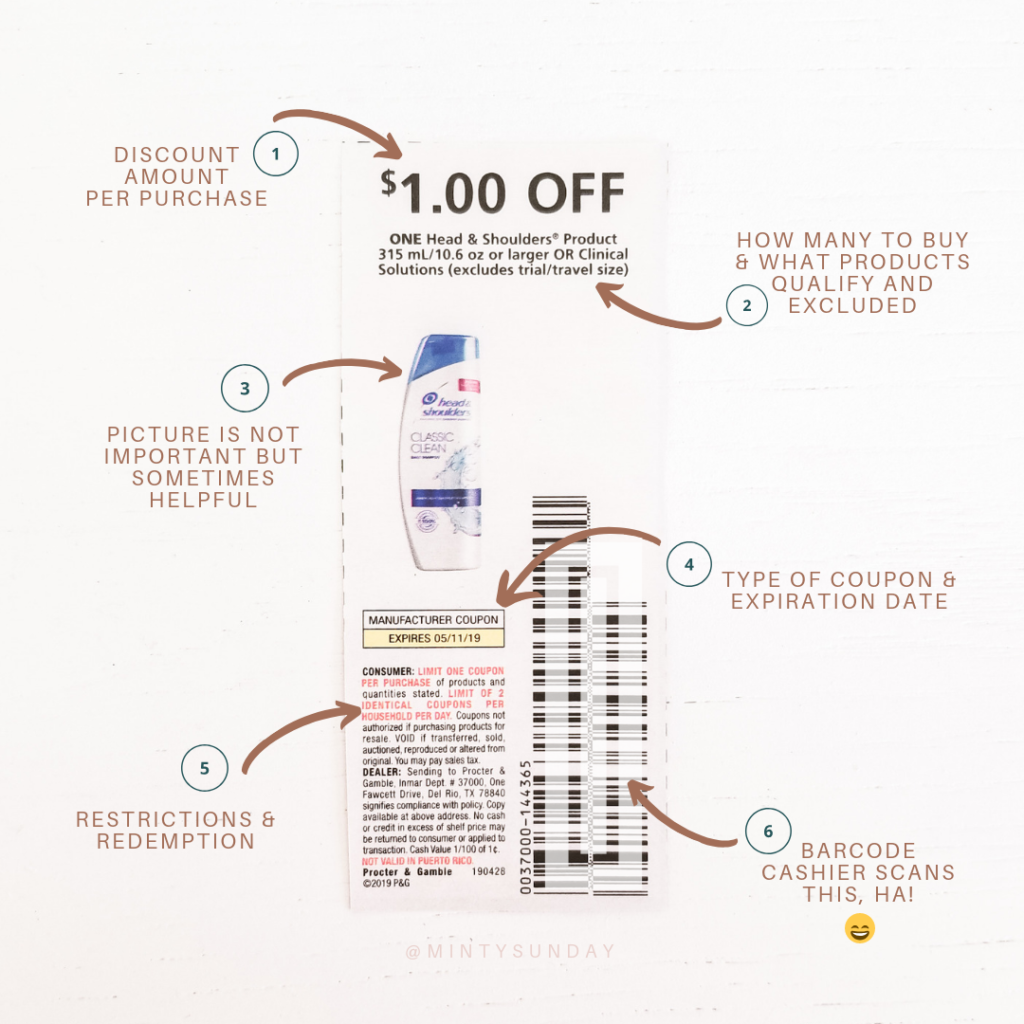 2. Organization Methods – keep coupons together.
Use whatever you have for now.
Don't go all out just yet. This is a mistake I made when I started – I went ahead and created a coupon binder.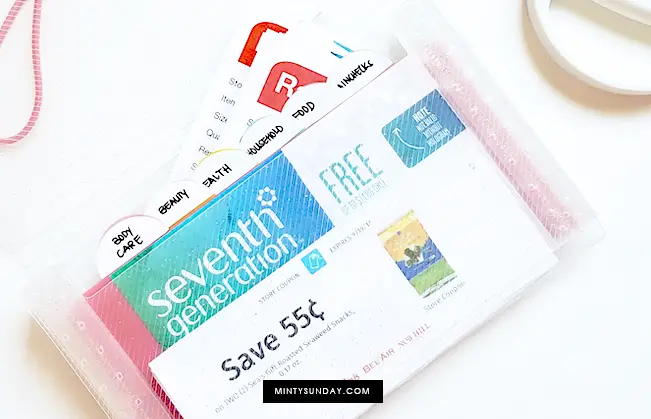 Methods of organizing coupons:
Mini accordion file – You can find these are Target Dollar Spot, Dollar Stores or office supply stores. They're great to organize your coupons into separate categories.
Filing method – This method requires you to file whole inserts by date using file folders in a crate, filing cabinet, etc. It takes literally minutes to organize your coupons.
Binder method – You'll need to clip the coupons and file them in a 3-ring binder using baseball card holders for this method. A very time-consuming process but you can take your coupon binder with you when you go to the store.
Mini binder – Same idea as the binder method but more travel-friendly.
Action Step
Find an envelope, ziploc bag, paperclips – really anything to keep your coupons together. Got it? That's it for this step.
Related articles: How I Organize My Coupons in 5 Minutes or Less  and How to Organize Coupons
3. Know the Store Policies – keep away from trouble.
Pick your preferred store and sign up for the loyalty card if needed! You need the loyalty card to get the sales and rewards at CVS, Rite Aid, Walgreens and some grocery stores.
You don't need a loyalty card to coupon at Target and Walmart.
There have been many instances when a cashier has no idea about the store policy. It's best that you know so that you won't waste your time at the store.
But please be courteous and friendly. If the cashier can't help you, kindly ask for the manager or person in charge to help.
Helpful tips:
Store policies – Know your store coupon policies and guidelines! You can find those at the store websites or ask the store. Print and read them carefully. Here are some links: CVS, Walgreens, Rite Aid, Target.
Double coupons – Some stores may double the coupon value or some will take any value of the coupon and raise to a certain value (ex. Fry's grocery store will take a $0.20 value coupon and raise it to $1). This is done at the register. There's no doubling in California.
Loyalty cards – Many stores require you to have a loyalty card to get the sale prices. Loyalty cards are FREE!
Stacking coupons – Many stores allow you to combine manufacturer's coupons with store coupons for even more savings!
Printable coupons – Be sure that your store accepts printable coupons and know the restrictions if any.
Competitor coupons – Some stores accept other stores' coupons.
Expired coupons – A very rare privilege, some stores accept expired coupons. Don't hesitate to ask.
Price matching – This is done at the register or customer guest service depending on the store. Know your store's price matching policy.
Action Steps:
Pick a store you want to coupon at (preferably the one closest to you to save on gas).
Sign up for the loyalty card. This is FREE and can be done at the store or online.
Sign up for the online account and be sure to connect your store card there.
Download app for your store. CVS, Rite Aid, Target, Walgreens have apps where you can send e-coupons to your card.
Read your store's coupon policy. Print it or save on your phone for quick access.
Related Article: Couponing Language – Abbreviations and Definitions
4. Plan Your Trip – preparation is key.
Yay! The fun part. Give yourself a budget. I recommend $5-$10 to start. A budget will prevent you from spending too much.
I know you're probably tempted to do more than ONE deal but baby steps!
I want you to be confident with couponing first and be able to troubleshoot your transaction if needed.
Now, pick a coupon site you love that posts deal breakdowns and matchups – this includes your favorite Instagram accounts.
Here are my favorite coupon matchup sites.
More tips
Be certain – Always check your weekly ad and read coupons carefully when you're working on your deal scenarios. Don't just blindly follow a deal match-up you found on social media or blogs. Some deals are regional. Sometimes people make mistakes and matches-up the wrong coupon.
Weekly ads – If you didn't get weekly ads in the Sunday paper, you can find them on the store website. CVS also uploads early weekly Ad for the following week. Here are the links: CVS, Walgreens, Target, Rite Aid or their respective apps. You can also view early weekly ads here; iheartcvs, iheartwags, iheartriteaid and slickdeals drugstore forums.
Coupon matchups – Keep this magic formula while looking for deals:
Want to save even more? Use cashback apps like Ibotta and Fetch Rewards for a quadruple stack of savings! These are the two apps I use most often.
Make a list – Create a list to help keep track of what you need to buy, what coupons to use and how much you are supposed to pay at the register (with or without tax calculated). You may have to modify this list accordingly when you're at the store.
How to create your own scenarios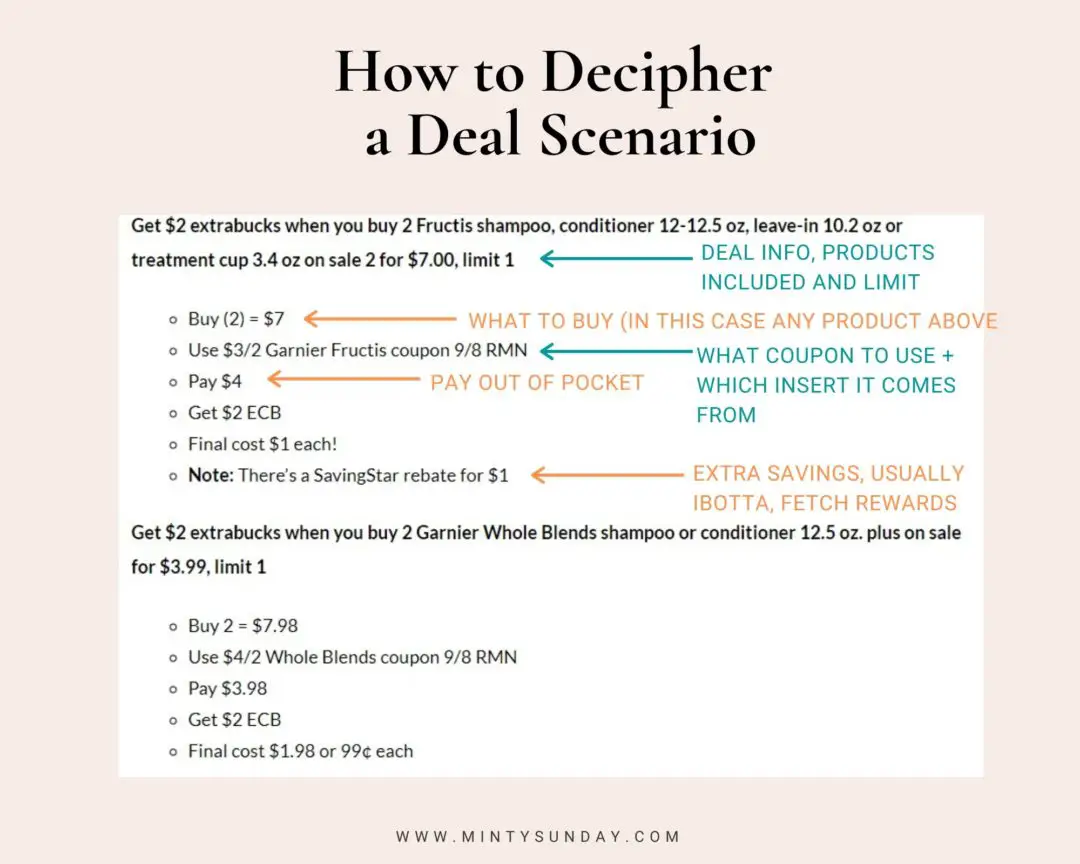 You'll need the store's weekly ad, a coupon database, pen, and paper. This just an example of how I do my own, you'll eventually create your own process as you go along with your journey.
Look through the store weekly ad.

Pick a deal that gives back store rewards (for example deals at CVS will give you extrabucks back). Those deals you can usually pair with a coupon. 

Check the coupon database for available manufacturer coupon and check the store coupons you may have on hand.

Calculate the deal to see if you end with a price within your price point and budget.
NOTE: This is the best coupon database ever, so use it. It lists almost ALL coupons available in different regions!
Here's an example:

Okay, let's move on. We're going to keep it simple for now so that you can start.
Action Steps:
Pick ONE deal you want to try to do from your favorite deal blogger. Pick one which requires only printable coupons or whatever coupons you have available.
Verify the sale with the weekly ad (sometimes deals are regional) and verify that the coupon is correct using a coupon database.
Write down that deal scenario on a piece of paper.
Print or gather the coupon(s) you need.
---
5. Field Trip + Good Things to Know
Now that you have your printable coupon(s) and your scenario written down, it's time to try it out at the store!
But first keep the following in mind:
Watch the cashier at checkout – This is crucial especially when you are doing a big transaction. There have been times where a cashier missed a coupon, coupons didn't scan properly or the item didn't ring up on sale. Watch the cashier like a hawk, lol.
Check your receipt – Before leaving the store, make sure all your coupons were scanned and everything rang up accordingly. Step 4 (planning your trip) should give you an idea of how much you're supposed to pay out of pocket at the register. If there is a problem, it's easier to get it fixed right away rather than going back to the store days later.
Deal limits – Many drugstores have limits on rewards that you get back. Be sure you are aware of this and read the weekly ad carefully.
Rainchecks – If the item you want is out of stock you can get a raincheck. Staple the piece of the ad you got the raincheck for to your raincheck slip. CVS and Walgreens rainchecks NEVER expire! You can't combine rainchecks that produce extrabucks with current sales with extrabucks at CVS
One per purchase – Most coupons have this restriction stated on the fine print. This means you need to use 1 coupon per item you are purchasing. Some cashiers understand this as 1 coupon per transaction. This is to enforce that you're not using 2 manufacturer coupons per item.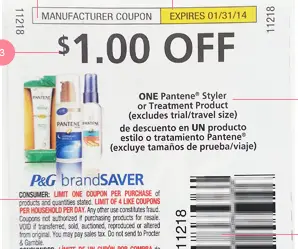 Look at the example coupon above. It states "Limit 1 coupon per purchase" but also states "Limit 4 like coupon per day."
10/$10 – This means to buy 10 for $10 which makes an item $1 each. You don't always necessarily need to buy 10 to get the $1 price unless the sale sign says you must. The same goes for sales such as 2/$5 (2 for $5), 2/$1 (2 for $1), etc.
Action Steps:
Have these items when you go to the store: loyalty card, scenario paper and coupon from Step 4 and money
If you chose CVS – go scan your card at the Red Box Machine.
Pick up the items for your deal scenario.
Check out – cashier will ask for your loyalty card to scan.
The cashier will tell you how much you owe – double check with your scenario paper to confirm.
Your rewards will be printed on your receipt!

Target – it'll be a gift card which will be given to you plus will be stated on your receipt
CVS – extrabucks will be printed on your receipt
Rite Aid – points will be added to your account – also shown on your receipt
Walgreens – points will be added to your account – also shown on your receipt
---
Congratulations!
Woo-hoo you did it! How was it? Not too bad?
Were you about to pee in your pants because you were so nervous? This was me!
Or the good kind, pee in your pants excited?
Now, I'm going to give you another challenge.
Try to do another deal and use the rewards you just received instead of cash. We call that ROLLING in the coupon world. Your goal is to have a subtotal of $0, but anything close to that is great!
PS. Don't worry about stockpiling at this point. Just repeat the steps above until you're comfortable doing several deals in one transaction.
---
Final Notes
Okay, that was a lot of info!
But let's recap:
Make sure you have a printer to print your coupon. This is my favorite to print my coupons from.
Have something to keep your coupons together.
Pick a store you want to coupon and sign up for the loyalty card (some stores don't require a loyalty card like Target and Walmart)
Pick ONE deal you'd like to do – write it down and print the coupon(s) you need to do the deal.
Go to the store and try it out!
I wrote this guide to follow in sequence.
Do one step at a time and move only once you've completed it.
Don't forget to check out The Free Ultimate Coupon Guide and Resources for more couponing tutorials and tips.
Good luck!
xx, Glenda
Over to you! Was this helpful? Feel free to leave your questions on the comments.
Enjoyed this blog post? Don't forget to share it with your friends and follow me on Pinterest!