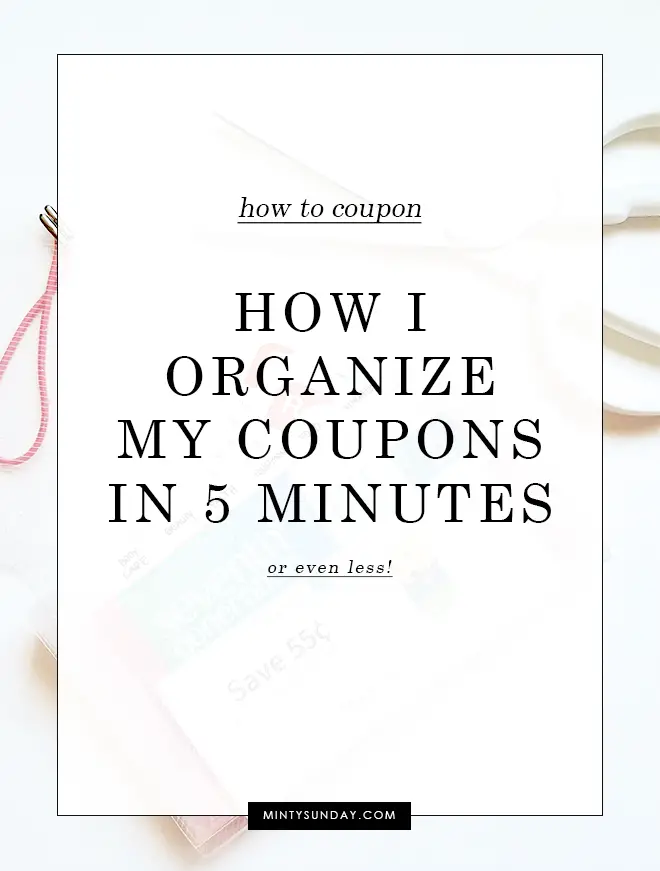 I hate clipping coupons. I know, it's ironic because I'm a couponer.
I used the binder method when I started couponing. Clipping and organizing my coupons using baseball card protectors took about 2-3 hours!
OMG! I hated couponing after that. My desk was literally buried in coupons, inserts, newspapers.
I literally ignored the coupon mess for a month! Okay, maybe two. There had to be a better way.
There was. And I found it. I want to share it with you.
I use TWO methods to organize my coupons in less than 5 minutes!
Filing Method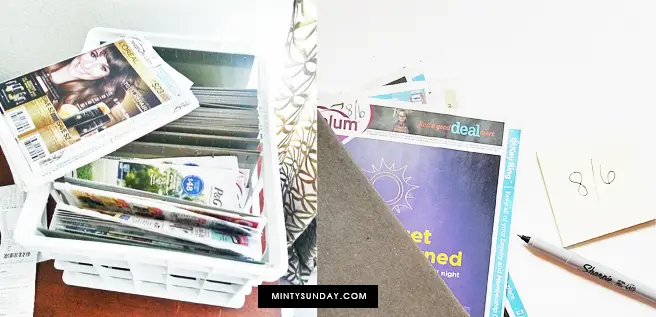 I've had this filing crate since college but there are cuter options now.
You will need:
pen or marker
post-it notes or labels


How to organize:
Write the date of the insert on the front (for example: Red Plum insert that came out on August 6th, write 8/6 on the front of all your Red Plum inserts. Insert dates are located on the spine which are tiny!
Place all inserts that came out on the same date in ONE folder and label folder with the date of the insert using post-it notes.
If I ever need to find a coupon, I just use the coupon database. I only clip the coupons I need for my couponing trip.
Sometimes if I see a coupon I know I'll use, I clip it and file it in my mini accordion file (ex. Shea Moisture, Seventh Generation, Aveeno etc.). I like to bring coupons for products I regularly use in case there's an unadvertised deal or clearance.
Mini Accordion File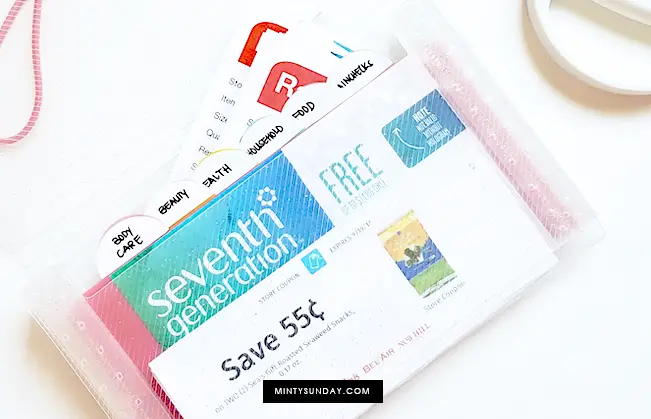 I use this to organize clipped printable and random coupons. It's tiny and fits my bag very nicely. I got it from the Dollar Tree. You can sometimes find some at the Target Dollar Spot. This is what I bring to the store.
How to organize:
by categories – example: baby, cosmetics, body care, hair care, cleaning, laundry, breakfast, beverages, etc
really, however you want  😎

Both of these methods keep my coupons organized without sacrificing precious time. It takes me less than 5 minutes to write dates and file my inserts away. I hope this post saved you a lot of time!
Want to learn how to coupon? Check out my Ultimate Couponing Guide + Resources!