Abbreviations and codes are cool but you'll be an even cooler couponer if you know the couponing lingo (ha! half-kidding!).
For reals though, you'll encounter couponing terminology everywhere in the coupon community – in the forums, Instagram and Facebook.
Don't worry, you don't need to know every single one of them and in time you'll know all of those acronyms especially if you hang out in these communities long enough.
First things first, the ONLY terms you really need to know now are the inserts: SS, RMN, and PG. You'll need to know where the coupon is located in a deal post (see example below).
For Instagram breakdowns, you'll need to know the acronyms for each of the store's rewards (ie. ECB, BC, RR) and OOP, IP, Q, CRT, S2C or L2C, and MQ. The rest will follow as you gain more experience.
Couponing Language You Need to Know Now
These are the main couponing terms you need to learn right now to decipher breakdowns you find on the internet.
Inserts
RMN – RetailMeNot inserts, formerly known as Red Plum
SS – Smart Source insert
PG, P&G – Procter & Gamble insert
Couponing Breakdowns
ECB, EB – CVS extra care bucks, extrabucks
RR – Walgreens register rewards
BC – Rite Aid bonus cash
CRT – cash register tape, coupons from CVS red machine, coupons you get printed with your receipt
OOP – how much you pay out of pocket
BOGO, B1G1 – buy one get one
WYS – when you spend
WYB – when you buy
Q – coupon
IP, IPQ – internet printable coupons
MQ – manufacture coupon
DQ, MQ – digital coupon or mobile coupon
L2C – load to card (refers to digital coupons you can send to your account)
S2C – send to card (same as above)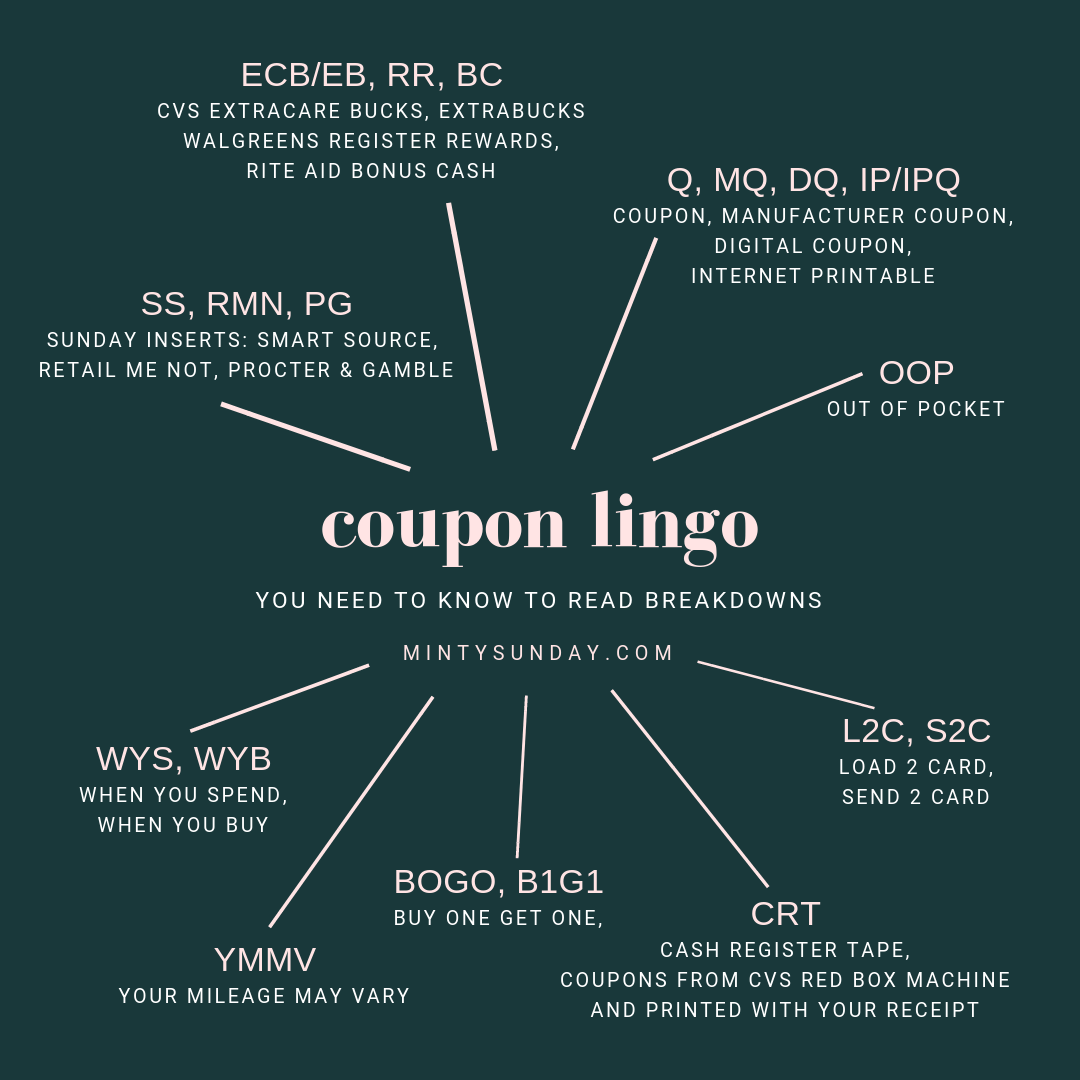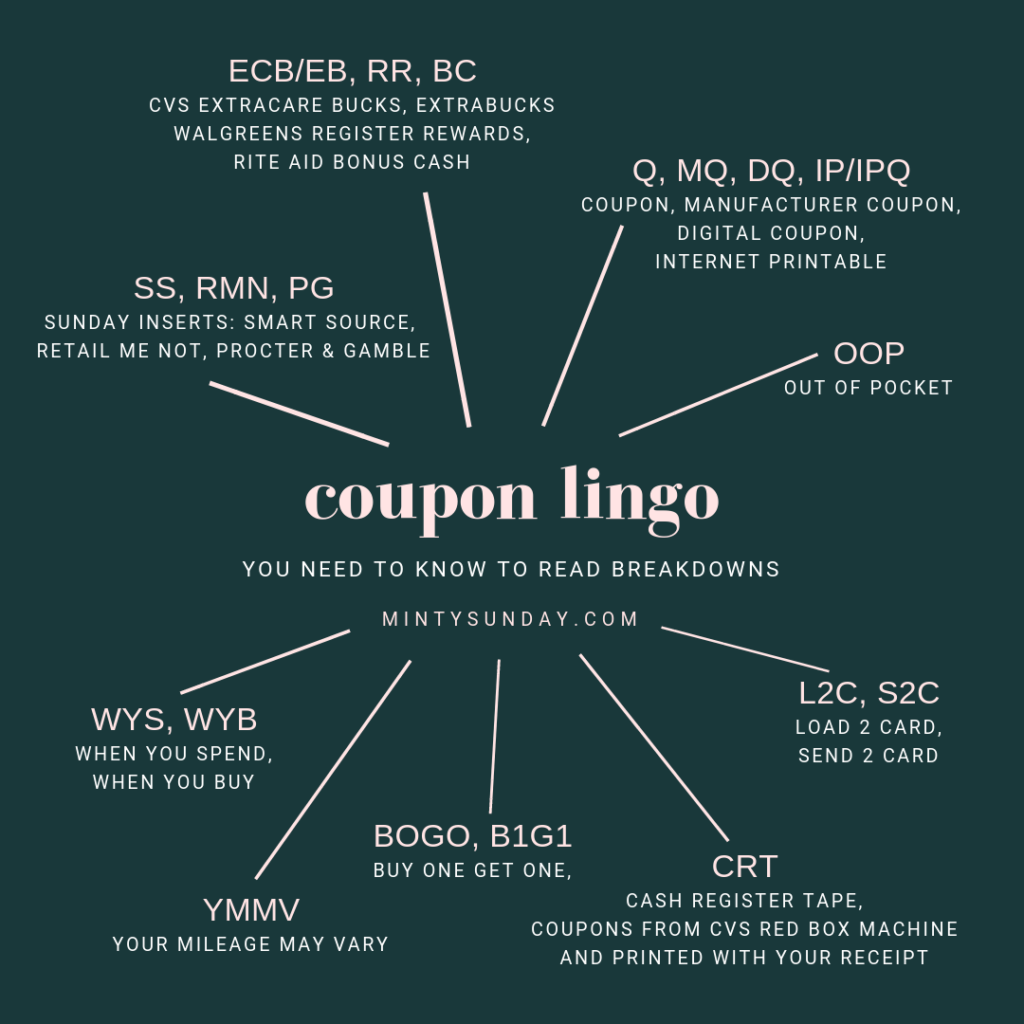 So now, let's dissect a sample breakdown below.
How to decipher a coupon breakdown from a blog
Buy (1) Garnier Fructis Shampoo, Conditioner or Stylers $2.49
Use $2/1 Garnier Fructis Shampoo, Conditioner, Treatment or Styling Product, exp. 10/4/14 (RP 09/07/14)
Pay oop: $0.49
Buy (1) Garnier Fructis Shampoo, Conditioner or Stylers $2.49 (What product to buy and how many of items you need to buy)
Use $2/1 Garnier Fructis Shampoo, Conditioner, Treatment or Styling Product, exp. 10/4/14 (RP 09/07/14)  (Where the coupon is located)
$2/1 – means save $2 off ONE item purchased (ie. you are only required to buy 1 item to use the $2 coupon)
exp. 10/4/14 – coupon expiration date
RMN 09/07/14 – coupon is located in RED PLUM insert that came out on 9/7.  You can find the date of an insert on the spine. Be sure to look carefully because it's very tiny.
Pay oop: $0.49 (How much you're paying out of pocket. Sometimes it'll just say OOP)
---
Forums & Instagram Lingo
GC – gift card
YMMV – your mileage may vary
PSA – prices starting at
ETS – excludes trial size
MIR – mail-in rebate
MM – moneymaker
RC – raincheck
DB -database
UFT – up for trade
DND – do no double
PP – Paypal
ISO – in search of
UPC – universal product code, bar code printed on product packages
CAT – catalina, coupons printed at a catalina machine – usually found at the grocery stores
Bonus Terms
WAGS – Walgreens
Stacking – many stores allow you to combine a store coupon along with a manufacturer's coupon on a single item.
Red Machine – CVS coupon center machine where you can price check a product and scan your card to print CVS coupons. It is also referred to as Red Box and Red Machine
Double Coupon, Doubling – some stores double the coupon value (no doubling in California
Roll or rolling – when you use rewards on hand to pay for out of pocket and you'll receive the same amount of the rewards back
Coupon Fairy Meaning
I think there are two sides to being a coupon fairy and as time passed, the definition of being a coupon fairy (in my opinion) has changed.
The actual definition of a coupon fairy is someone who'll *sprinkle* excess coupons throughout the store in hopes that others can use them. Be careful doing this because some stores don't want you littering in their establishment. Serious. Please don't leave stacks of coupons randomly in a store.
I think a couple of coupons is fine but stacks make for a very messy store. If you really want to play coupon fairy maybe send them to people online, share them with fellow couponers at the store or talk to the manager to see if you can leave them at a designated spot. I've had a stranger share her extra Colgate coupon with me at CVS. It's legit awesome, right?
Nowadays, a coupon fairy is someone who sells clipped coupons and printable coupons. I have no qualms about someone's hustle but these people are coupon sellers NOT coupon fairies.
Be careful doing this, as well. Selling printable coupons can be trouble because people might make copies of those printed coupons and your IP will be banned. I know that people are selling their SERVICES and not the actual coupons but some coupon verbiage states that the coupons are void when transferred.
I'm not a lawyer nor do I know the legalities of transferring coupons. All I can say is that just be careful playing any type of coupon fairy.
What is Glittering
This is new. People say it's a glitch. It's not. It's coupon fraud.
Glittering is coupon misuse. It's when someone uses a coupon not intended for that product but scans fine at the register.
Don't do it. Here's How to Read A Coupon so that you know to properly use a coupon.
---
Final Notes
So what do you think of coupon fairies and glittering?
When I started couponing I traded coupons online. I also frequented a forum, which no longer exists, and I'd send random people coupons they need that I wasn't going to use. These were the norm back in the day.
If you haven't already done so, check out this Ultimate Couponing Guide & Resources page.