Save the date!
The epic Nordstrom Anniversary sale is coming up!
The big sale is open on August 13th for all cardmembers and even earlier for some members (more on this later).
And like any big sale event, we want to take this opportunity to SAVE on things we need and not fall into the FOMO trapped!
Here's a guide to let you in all the sale details plus tips and tricks to help you save!
Don't have time now? Pin for later!
What is the Nordstrom Anniversary Sale?
The Nordstrom Anniversary sale is the biggest Nordstrom sale of the year. It's also THE best sale of the year! 
Unlike the Nordstrom Clearance Sale or Nordstrom Half Yearly Sale where items from the current and/or previous season are on clearance, Nordstrom Anniversary sale offers an epic discount on upcoming fall items. Only select items will be included in the sale.
And you bet your favorite brand names are included from different departments including baby and beauty!
Click Here to Shop the Sale Now!
What Day is Nordstrom Anniversary Sale?
Nordstrom has different membership levels depending on you how much you've spent in a year – similar to Sephora with VIB and VIB Rouge status. You can learn more about Nordstrom Anniversary sale – it's free to join.

(image Nordstrom)
Different levels of membership have their own perks and even more so when you become a Nordstrom Cardmember. 
Important Dates
This year, Nordstrom is changing the dates on when everyone can shop. This is probably because of the website crashing in previous years.
You can shop the sale in open stores during normal business hours. Online shopping begins at 9:30am ET/6:30am PT.
Thursday, August 13, 2019 – Nordstrom cardmembers shop Early Access in-store and online
Wednesday, August 19, 2020 – The Nordstrom Anniversary Sale is open to everyone. Yay!
Sunday, August 30, 2020 – The last day of the sale!


Best Nordstrom Shoes and Sandals Deals

Best Pajamas and Loungewear Deals

Best Activewear Deals

Best Handbags & Accessories Deals

Nordstrom Anniversary Sale Ultimate Guide 2020
Shop Early
Unfortunately, popular items sell out fast and it's not guaranteed whether Nordstrom will restock or not. 
The only way to do this is with a Nordstrom card, cardmembers are able to shop 10 days before the public. Sign up here if you haven't already.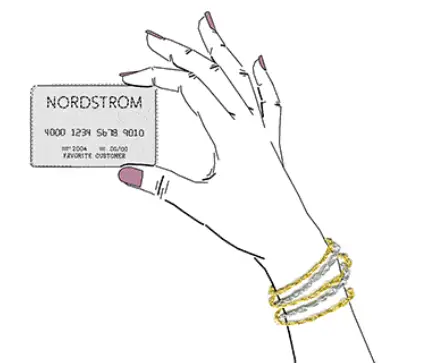 (image Nordstrom)
Here are some additional perks if approved for the Nordstrom card:
Earn points 3x faster

as opposed to earning 1 point per dollar spent

Get a

$40 bonus Note

when you make any Nordstrom purchase on your new card the day you're approved. Yay free money!

Now through July 14, get a

$10 reward

when you place an online order for pickup! More free money! In previous years, anyone who subscribes to their email gets a $10 note towards the sale.
Make a List
Even if you're not a list maker, it's always a good idea to know what you really need to prevent wasting time and money.
Go through your closet. Do you need a pair of jeans? How about a pair of nice but comfy sneakers that also is a good pair of running shoes? Are you on the market for a pair of leggings with POCKETS? 
This is a good opportunity to add classic and versatile pieces to your wardrobe that you'll wear over and over
One quality piece is better than having multiple of okay pieces. But quality doesn't always mean expensive.
Establish a Budget
Creating a budget can refine your list even more. This way you'll focus on the things that you actually need/want more. Plus it will prevent you from over-spending. So, create a budget and stick to it.

Buy Discounted Nordstrom Gift Cards
Check out Raise.com for discounted Nordstrom gift cards. I've purchased discounted gift cards from them before – Sephora, Old Navy, and Target just to name a few.
Check for Restocks
A lot of popular items will sell out quickly. Be sure to check the website daily in case Nordstrom restocks those items.
In-store Shopping VS Online Shopping
This all comes down to personal preference, really.
But if you're the type who likes to shop in-store because you can try things on, don't forget to shop online because EVERY item on sale is available online.
Items on sale in-store might be limited depending on your location.  
Nordstrom Anniversary Sale Ultimate Guide – Final Thoughts
You may have noticed that I didn't include many items from the home and beauty departments.
This is because you can totally get better deals at Home Goods and/or TJ Maxx for your home things. Plus, most beauty items that are on sale are not must-haves in my opinion.
You don't need an expensive moisturizer like La Mer. But then to each their own.
My ultimate goal with my wardrobe (and my life) is to have quality and timeless pieces – saves time, money, and sanity.
I think that's your ultimate goal as well, right?
So, let's keep this in mind:
And thanks to this epic Nordstrom Anniversary Sale, we can afford higher-end pieces (and hopefully quality, return if not) without breaking the bank.
Happy Shopping!
xx, Glenda
Over to you! What's on your shopping list?
Enjoyed this blog post? Don't forget to share it with your friends and follow me on Pinterest!