Nature's Gate Natural Toothpaste Review (Creme de Anise)
We don't need to use toothpaste to clean our teeth.
Let that sink in.
So, why am I doing a toothpaste review?
Because I want my mouth to have that clean and fresh feeling preferably using natural products if possible and I'm sure you do, too.
I'll review this post completely from an average consumer point of view (as per usual) since I'm not a dentist or a scientist.
And hopefully, you'll find it helpful.
Don't have time? Pin to read later!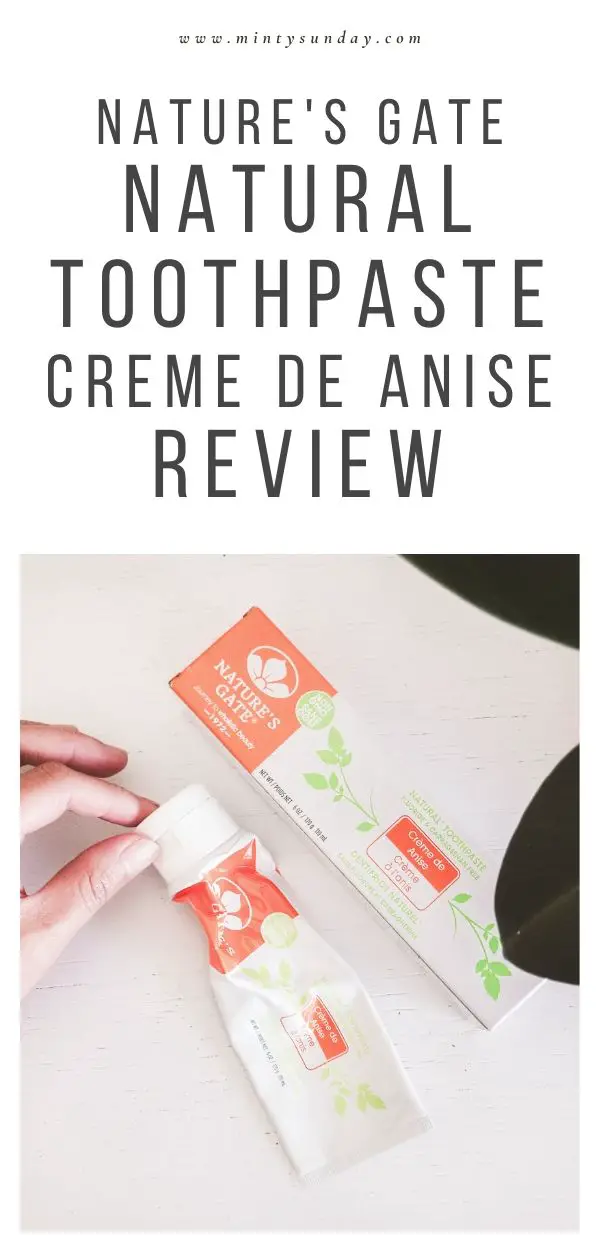 Nature's Gate Natural Toothpaste Product Info
Name – Nature's Gate, Natural Toothpaste, Flouride and Carrageenan Free, Crème de Anise
Price – $4.23 each (the price depends on where you buy it)
Size – 6 oz
Where is it available? – Amazon, iHerb, Vitacost, Raley's
It might be available at Sprouts or Whole Foods but I haven't checked.


Nature's Gate Natural Toothpaste Product Description + Claims
Taken directly from the packaging description:
Nature's Gate signature AntioxiDental blend of aloe, ginger, bisabolol, cranberry, pomegranate, white tea, and grapeseed work together with calcium carbonate and baking soda to help refresh and clean teeth and gums.
NonGMO, Gluten Free (certified), Carrageen Free, Soy Free, Flouride Free, Paraben Free, Sulfate Free, No artificial flavors, Cruelty-Free (bunny logo) and Vegan
Box is printed on recycled stock and printed with soy ink. Cool!
Nature's Gate Natural Toothpaste Ingredients
Calcium carbonate, glycerin, water, aloe barbadensis leaf juice, sodium lauroyl sarcosinate, xanthan gum, illicium verum oil*, quillaja saponaria (soap bark) root extract, camellia sinensis (white tea) leaf extract, punica granatum (pomegranate) fruit extract, vaccinium macrocarpon (cranberry) fruit extract, vitis vinifera (grape) seed extract, zingiber officinale (ginger) root extract, sodium bicarbonate, calcium glycerophosphate, bisabolol
*natural flavor
Nature's Gate Natural Toothpaste: How to Use
Brush teeth thoroughly after each meal or at least twice a day, or as directed by a dentist.
Nature's Gate Natural Toothpaste: My Experience
I bought this toothpaste from Raley's. My friend was the one who spotted it on clearance and I decided that I'd give it go for $1.75, regularly $6.99.
Plus, the fact that it has anise (a spice used in Vietnamese noodle soup, pho) intrigued me.
Packaging
The toothpaste is packaged in a box made with recycled materials and printed with soy ink. While it gives that high-end feeling for a product, I think this adds to the price.
This is my qualm about many natural products – excessive packaging.
The actual toothpaste tube comes in plastic! I don't think the plastic is made with recycled materials either otherwise, they would have indicated it on the tube.
My initial impressions
Consistency: The toothpaste has a slightly thinner consistency than what you're probably used to – like a Colgate toothpaste. Perhaps, it's the reason why they called it a creme. Ha! But overall I like the consistency.
Smell: The anise they use for pho is dried anise. It has a strong, pungent aroma for me; I'm not fond of it. So, I thought that maybe I wouldn't like this but I was wrong. This anise has a fresher aroma similar to licorice with a tiny hint of mint.
Taste: Much like the smell, I didn't expect it to be fresh but this also has a bit of sweetness. It took me 4 times to acclimate to the taste.
My kids hate the burn of regular Colgate or Crest toothpaste. They're also aren't fond of artificial bubble gum or cotton candy flavor of the kids' toothpaste variety. However, they do find Tom's silly strawberry tolerable but it didn't make them want to use it.
I've consulted with our dentist before about the toothpaste issue and he explained that toothpaste is like soap but it doesn't really clean the mouth. Therefore, it's not necessary.
Brushing and flossing properly prevent cavities.
But I'm happy to report that my kids ACTUALLY like the anise toothpaste taste! They're bigger kids now, though, ages 8 and 10.
This toothpaste doesn't really foam up like a regular non-natural toothpaste – might take some getting used to if you're just switching to natural toothpaste.
Does Nature's Gate natural toothpaste dry the mouth?
My whole family used this toothpaste and none of them complained about dry mouth.
Does Nature's Gate natural toothpaste cause sensitive teeth?
I have a sensitive tooth, this toothpaste didn't exacerbate the sensitivity and didn't create any new sensitivity for all us.

What about sodium lauroyl sarcosinate?
I've read in some reviews that sodium lauroyl sarcosinate shouldn't be in a natural toothpaste.
What is it anyway?
According to EWG website sodium lauroyl sarcosinate is used for: antistatic, emulsifying, foaming, skin conditioning, and viscosity controlling agent. EWG gave it a rating of 3.
Are people confusing it with another compound with the same SLS initials – sodium lauryl sulfate which is a more potent foaming agent used in soap and shampoos?
This article cited studies that have shown that SLS (sodium lauryl sulfate) actually breaks down the protective lining of the mouth and leaves irritation that can lead to canker sore breakout. Are people confusing the two?
EWG website rates sodium lauryl sulfate a 1-2, which lower than sodium lauryl sarcosinate rating. What?!
Maybe Nature's Gate should just leave out sodium lauroyl sarcosinate because we don't need the foaming action when brushing anyway – just to be safe. What do you think?
What are the benefits of the ingredient anise?
While essential oils ingredients in toothpaste should be avoided because it kills the beneficial bacteria in your mouth, this website suggests that anise essential oil is not harmful.
According to this article, studies have shown that the anise essential oil is antifungal and antiviral. It's not a strong antibacterial, therefore, it won't kill the helpful bacteria but rather help with the mouth flora.

Final Notes
This website is a gold mine!
The dentist blogger lists his sources from medical journals which you can read as well. I urge you to browse around his blog – I wish I found this blog sooner!
I didn't want to go down the rabbit hole of researching the anise essential oil and sodium lauroyl sarcosinate more in-depth as it would've taken me longer to write this review. Plus, the highest chemistry class I took in college is Chemistry II – it'll take me even longer to understand the medical journals.
Do I believe that the anise essential oil is an okay ingredient? Yes, because we only really need a pea-size amount of toothpaste to aid with brushing and a study has shown than it's a weak antibacterial.
However, there are other natural toothpaste available in the market without sodium lauroyl sarcosinate or anise essential oil. I'm sure I'll find one without these ingredients. I will try those next.
Do I recommend this toothpaste?
No, because, as I said above, there are other natural toothpastes without the ingredients I'm not sure about.
If you're curious about an anise-flavored, natural toothpaste and not worried about SLS, then definitely give it a go.
Will I buy it again? Maybe.
Your Turn
Have you tried Nature's Gate Natural Toothpaste in Creme de Anise? Or maybe in the regular mint variety? Do you like anise?