This blog post was last updated on February 18, 2021.
I tried on 4 different jeans appropriate for the mommy lifestyle at Target.
It includes 4 main things you should look for in a pair of denim shorts.
If you're looking for an affordable alternative and some tips on finding that perfect pair, then keep reading.
Don't have time? Pin to read later!
Shop the top picture:

Target Try-On Shorts: Mom Summer Uniform
The temperature is getting just a bit warmer here in Northern California and I'm finding myself bringing out the pairs of shorts I currently own.
Can you believe I only own 2 pairs? Yup! – an olive twill, and these jean shorts.
However, I always keep an eye out for that perfect shorts that fit a mom's lifestyle.
Something that'll keep everything PG and comfortable enough for squatting, bending and sitting crisscross applesauce!
Can you relate?
Just in case you love Target, too, don't forget to check my Instagram page where I share my favorite Target finds – I update daily!
How to Find the Perfect Jean Shorts for Moms
Because #momlife can be physically demanding especially when you have little ones, here are 4 major things to look for when hunting for the perfect pair of jean shorts:
Won't show your butt crack when you crouch down
Long enough to not show your butt cheeks when you bend down or walk
Flattering for your body type
A pair you absolutely love and feel good wearing – of course!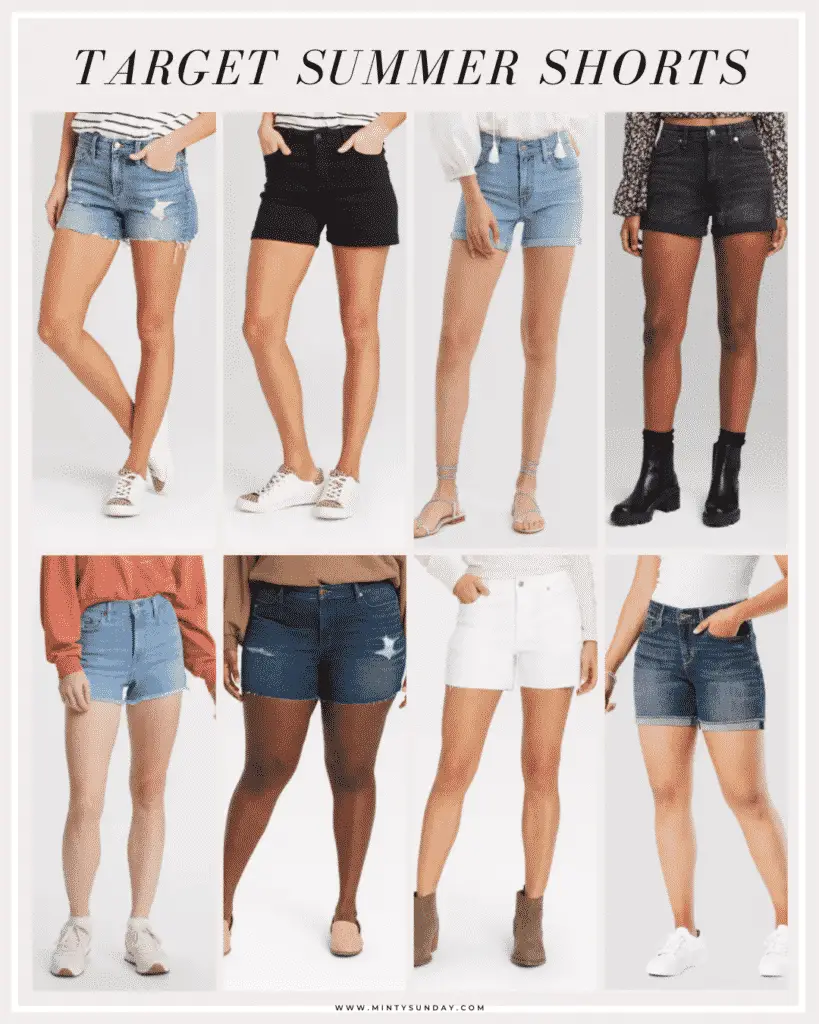 Now, on to the Target Try-On!
The Most Popular Jean Shorts 2019 High-Rise Button-Fly Midi Jean Shorts by Universal Thread

This is by far the most flattering among the shorts I tried. It checks all 3 criteria AND sucks in my mom pooch to boot! Yes! Sold!
The rise is high enough to eliminate muffin top and the 4-inch inseam hits just above mid-thigh. I'm 5″5′.
It's made of 91% cotton, 2% spandex, and 7% polyester. It's soft and comfortable especially when you're running around, bending, crouching and living your best mom life.
This pair was available last year and it was VERY popular (2019), however, there are similar pairs available this year.
Check them out below:

The Most Popular Jean Shorts 2020 – High-Rise Distressed Jean Shorts by Universal Thread

Probably the most popular pair of shorts from Target this year!
And I think I know why:
it's high-rise!
right amount of distress
flattering
4″ inseam – works for many
It's made of 91% Cotton, 7% Recycled polyester, 2% Spandex which gives just the right amount of stretch!
I usually wear and 4 or 6; I'm wearing a 6 here. I recommend getting your regular size and try one size smaller to see which fits you the best.
You might also want to keep in mind that shorts with spandex usually loosen up throughout the day.
Click here to check out the most popular pair of shorts at Target!
Black High-Rise Double Cuff Midi Jean Shorts by Universal Thread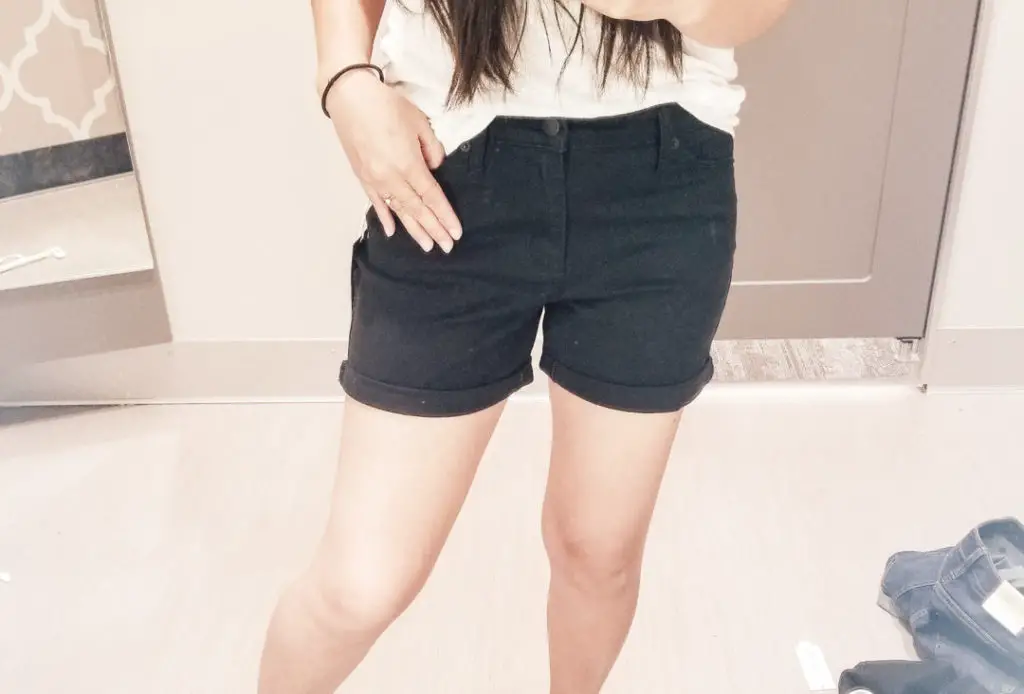 I really hoped that this pair worked for me. This particular pair is size 6 and I'm usually a size 4 or 6.
The rise is high enough and the double cuff kind of gives an illusion of thinner thighs. But it has this weird fit in the crotch area. Maybe I should've tried a 4?
This pair checks 2 of my mom shorts criteria and if you want to check it out maybe try on different sizes.
Click here to check out the Black Slim Fit Jean Shorts
Mid-Rise Rolled Hem Boyfriend Jean Shorts by Universal Thread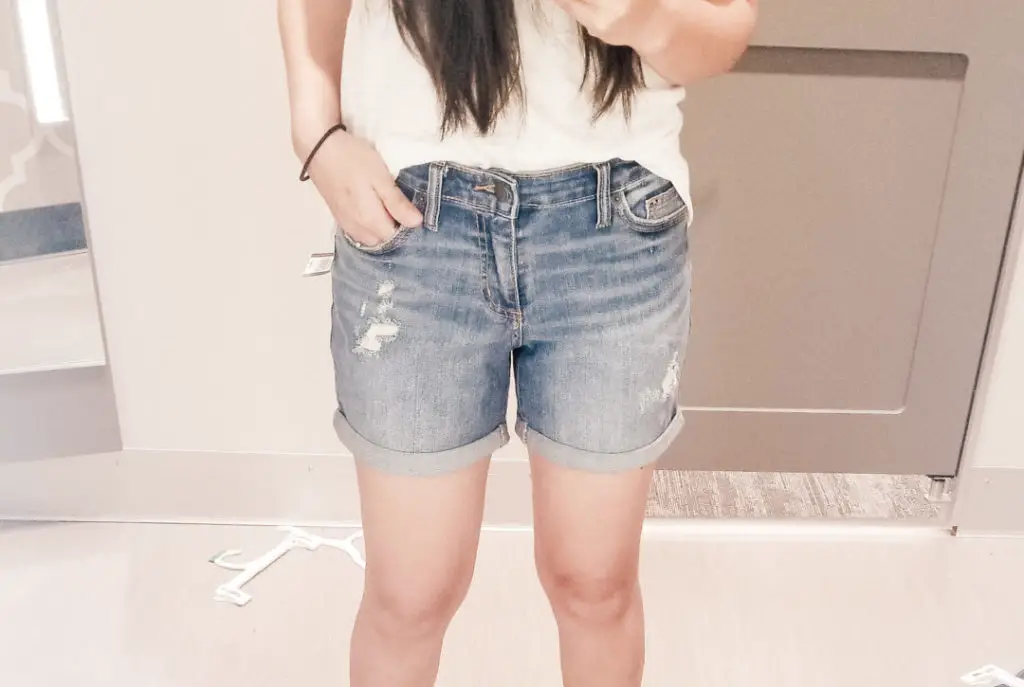 This pair is a total no. Boyfriend cut bottoms are not flattering for my body type.
However, if you like a boyfriend style anything, you might like this pair. Like the previous pairs, this one is soft because of the spandex blend. Again, maybe I should've tried a smaller size but my time was limited.
This boyfriend jean shorts check 2 of my criteria except for the flattering bit.
The light wash is no longer available – check out the medium wash here!
Target Try-On Jean Shorts for Moms – Final Notes
I now own 3 pairs of shorts as part of my capsule wardrobe!
I hope that this post helped you in some way because I know the struggle of finding that perfect pair of shorts that works with our mom lifestyle.
The best advice I've ever received is:
Be sure to purchase something that fits your wardrobe, lifestyle and something you know you'll wear regularly.
Good luck!
xx, Glenda
Shop the Post!

Over to you! What's that one thing you look for in a pair of jean shorts? Have you found your favorite jean shorts?